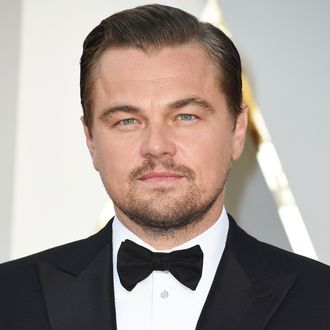 Noted bankable white guy Leonardo DiCaprio.
Photo: VALERIE MACON/AFP/Getty Images
David Franzoni, who wrote the script for 2000's Gladiator, and Stephen Joel Brown have a plan for an exciting new movie: it's a biopic of the 13th-century Persian poet and philosopher Rumi, who — and this is just objective fact — wrote some of the best poetry ever written. Cool idea, right? Plus, Franzoni and Brown told The Guardian that they want to challenge the stereotypical portrayal of Muslim characters in Western cinema. … And then they revealed their dream cast: Leonardo DiCaprio as Rumi, and Robert Downey Jr. as Shams Tabrizi, a teacher and spiritual adviser to Rumi.
Though the producers told The Guardian that they have plans to start shooting the Rumi film next year, the casting, at this point, is all speculation — the equivalent of pinning a photo of Leo on your vision board and hoping he'll Secret his way into your film. Still, Franzoni and Brown's comments have come under fire from Persian and Muslim audiences, fans of Rumi, and anyone who remembers that Leonardo Wilhelm DiCaprio is pretty dang white. Plus, those fed up with the continued trend of whitewashing on film have Jake Gyllenhaal's turn as a not-so-Persian Prince of Persia, or the more-recent performances from Alfred Molina and Christopher Abbott as Afghan characters in Whiskey Tango Foxtrot, to remind them that Hollywood tends to think of most Middle and Near Eastern people as simply "white." Luckily, there's a hashtag for that: #RumiWasntWhite.