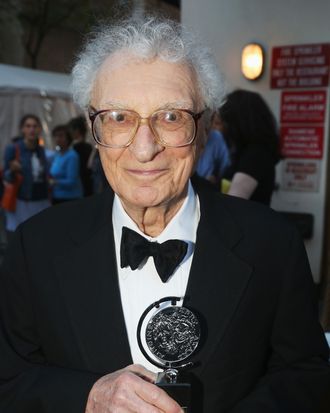 Photo: Bruce Glikas/FilmMagic
When Vulture ran into lyricist Sheldon Harnick on the Tony Awards' red carpet, we asked who would be presenting him with his lifetime-achievement award that evening. "I have no idea. Obama, I think," Harnick joked. It was apt timing to recognize Harnick's legacy and work: The 92-year-old's musicals Fiddler on the Roof and She Loves Me are both enjoying revival runs on Broadway; both productions were nominated for Best Revival of a Musical at the 70th annual Tony Awards.
"They both mean different things to me," Harnick told Vulture. "She Loves Me perhaps, in a way, is the more gratifying, because it was not successful in its first production. We ran about eight and a half months, I think. They lost their entire investment, and then over years it's come back and has become a very successful show. That's extraordinarily gratifying, because all of us who were connected to it loved it."
We pointed out that most of the songs he wrote for Fiddler back in the early 1960s — "Sunrise, Sunset," "If I Were a Rich Man," "Miracle of Miracles," and so on — are now a part of American pop-culture vernacular. "All I can say is, from your mouth to God's ears," said Harnick, who has won a Pulitzer Prize and several Tony Awards. We assured him that his lifetime-achievement award was well-deserved. "Thank you very much. I tend to agree with you," he laughed.