The 2016 Emmy race has begun, and Vulture will take a close look at the contenders until voting closes on June 27.
For as long as she can remember, Shiri Appleby has been hearing the words "cut" and "action." Since the age of 3, to be exact, when she booked her first part, in a Raisin Bran commercial. But today it's Appleby, 38, who's sitting just outside camera view, calling out the orders for Lifetime's UnREAL. "I'm having the best time," she says, grinning, at a cemetery near Vancouver on a crisp, May morning.
Appleby is directing her first episode of television, the sixth installment ("Casualty") in season two of Lifetime's breakout drama, which sets things in motion for the final stretch of the season. The actress, nicknamed "Tiny" by her family for her petite frame, has a brighter, warmer disposition than Rachel Goldberg, the world-weary reality TV producer she plays on UnREAL. "Welcome to my romantic set!" she announces, while prepping to shoot a scene between Quinn (Constance Zimmer) and her new love interest. "You want to watch Constance make out? I told her to really go for it!" she smiles, in a nod to one of her UnREAL character's first lines.
In many ways, though, she's just as single-mindedly ambitious as Rachel. This is Appleby's most high-profile role since she played Liz Parker on the WB sci-fi series Roswell, 14 years ago, but for the past five years, the actor has been more focused on climbing the ranks behind the camera.
"Being able to be the person that's finally calling the shots and saying, this is how I read it and how I imagine it — it's very liberating to be able to speak your mind with confidence," Appleby says. "I definitely say things on set when I'm just the actor, but I'm kind of hiding and secretive about it."
While more TV actors are breaking into directing these days, landing your first job, especially for a woman, is a challenge. (UnREAL, a show that's run by three women, is an anomaly — four of the ten episodes this season are directed by women.) Appleby decided to make a career shift when her CW show, Life Unexpected, was cancelled in 2011 after two seasons. On the show, she'd played the mother of a teenage daughter when she was barely over 30. Afterwards, she says, "the industry really iced me for a solid year."
"I couldn't count on acting anymore," Appleby recalls. "My career after Life Unexpected took a really big dip, and I realized you have no control as an actor over the process of going to work. I decided I was not going to sit at home and wait for the phone to ring. At least with directing, you can be proactive — there's a lot more opportunity."
Her first brush with directing came when she starred in, and produced, Alloy Entertainment's 2012 web series, Dating Rules From My Future Self. She hired director Liz Allen, who mentored her in everything, from running the production to casting to selecting wardrobe. When Alloy asked Appleby to return for a scene in the show's second season, Allen advised her to take the job — if  the production company would also let her direct. They did. "I showed myself that I knew how to at least take the first baby steps with confidence," Appleby says, "so then I went and met with studios."
She started with the CW and ABC Family, hoping her connections at those networks and their affiliated studios would open doors. Executives counseled her to land a lead role, make that show a hit, and then ask to direct an episode. Appleby took the advice to heart, but decided she needed more practice first. So she spent the last five years shadowing directors on shows like TNT's Franklin and Bash, where she also had a part in two episodes, and the CW's 90210. She also kept busy acting, with a six-episode stint on Chicago Fire, one episode of Law & Order: SVU, and a Lifetime movie, Kristin's Christmas Past.
"Shiri looked at all the people she idolized in the industry and saw the common thread was that they had their hand in more than just acting," says her husband, Jon Shook, a Los Angeles chef and restarauteur, who won a James Beard award last month with his partner, Vinny Dotolo. "It's not like she was acting on [UnREAL] and just decided she wanted to direct. She was yearbook editor of her high school — she's that person. Shiri likes to be the boss."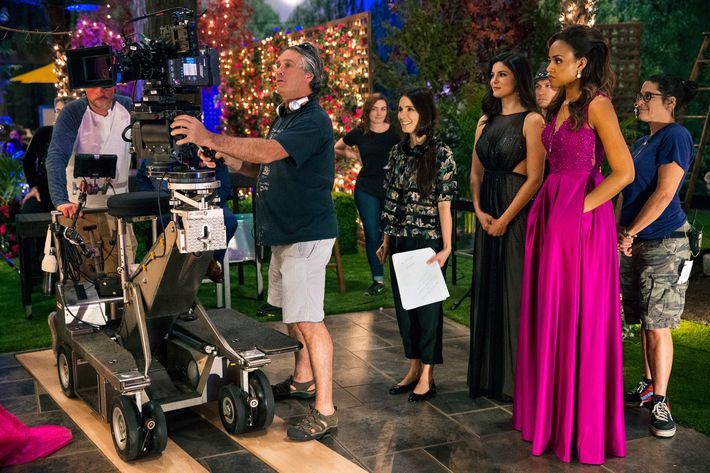 Eventually, Appleby's directorial apprenticeship led her to the show that reignited her career: Girls. Her friend, Girls showrunner Jenni Konner, arranged for her to follow director Jesse Peretz, an invitation that unexpectedly changed everything for Appleby when she also landed a racy, four-episode arc on the HBO series.
"Before I left to go to New York, I got the script and told my husband there was a part in it that I thought I was really right for, but I don't want them to think I'm coming out there trying to get the job," Appleby recalls. "I really respect how they are telling the story creatively, and I wanted to see how they make that show versus a lot of the other shows I've made. On the second day, I went to a production meeting on set, and Lena Dunham was like, 'You're so cute, you should come do the show. Do you want to do it?' The table read ended up being my audition."
Appleby discussed her infamous Girls nude scene "endlessly" with her husband, but ultimately decided she'd trust in Dunham, who directed the episode that left viewers wondering if Adam (Adam Driver) had raped Natalia (Appleby). "It was shocking, but I thought it was powerful. I've had moments like that in my 20s that are sexually uncomfortable and ugly, and I know a lot of other women that had, and it was an incredibly respectful set," Appleby explains, noting the role had the added benefit of showing she could go darker than the sunny, good girl roles that tended to go her way. "It literally changed my career," she says. "It changes the way people look at you when you're on a show like Girls and you do a good job, and it's so different than what you've done."
Girls led straight to Rachel Goldberg, a character that UnREAL co-creator Sarah Gertrude Shapiro first introduced in Sequin Raze, a short film she wrote and directed for the American Film Institute Conservatory Directing Workshop for Women, in 2012. Ashley Williams played Rachel in the film, but she was unavailable to star in the TV show when Lifetime ordered the pilot in 2013.
"I had initially conceived her as being a bit heavier because she lives behind the scenes and eats pizza all night and is a schlubby production girl, like I was," Shapiro laughs. "We also saw actresses that were a bit younger. Nothing was feeling right. I was really distraught and just wanted to make it work with Ashley. Then Shiri walked in the door."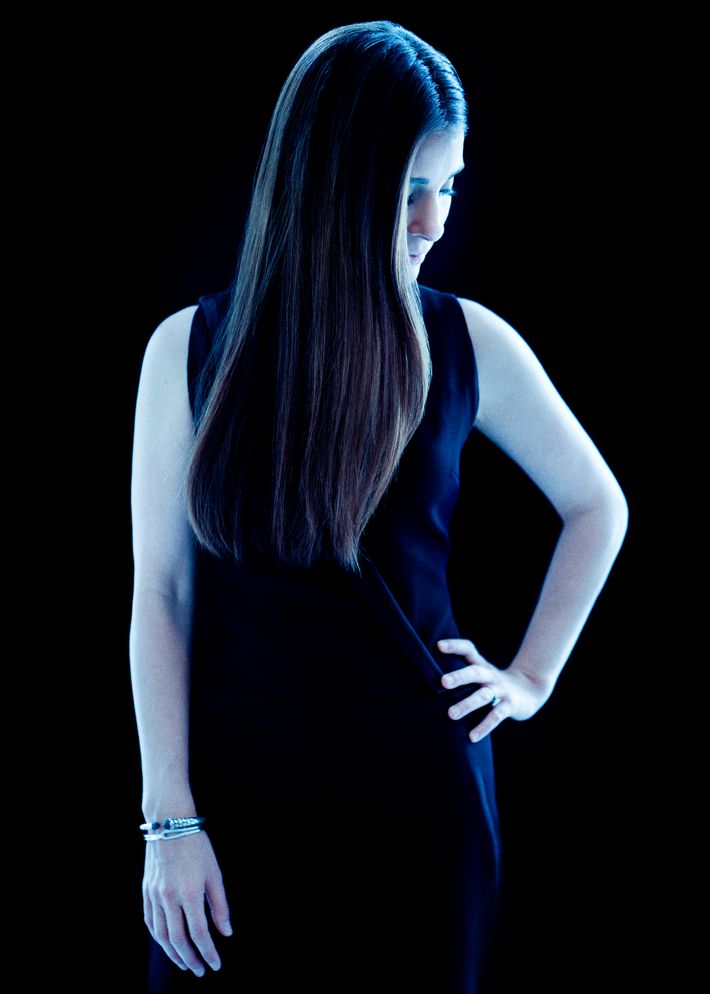 Appleby had seen Sequin Raze and knew this role was different. "Most of the roles I've had, usually the story's about how the man affects my character," she says. "[On UnREAL], the women are the leads and that was very exciting to me." Without warning, she launched straight into her audition as she entered the room. "She was so natural at performing the scene I had written, I didn't even know she was doing the lines," Shapiro recalls. "She brought this whole new color to Rachel, a vulnerability and girl-next-door-ness, which was something I had actually been looking for. There's a sweetness to Shiri that is really disarming."
Appleby turned her attention to acting, hoping that if that show was a success, it could also lead to her first directing credit. During the 16-month hiatus between seasons one and two, she appeared in four episodes of Code Black, got pregnant, and gave birth to her second child. In her free time, she shadowed former Lifetime head of development Nina Lederman; Barry Jossen, head of A&E Studios; and A&E Television Networks president Nancy Dubuc to learn about the business side of television. She mentioned her interest in directing, and while they were supportive, they told her she'd have to work it out with UnREAL's producers. When Appleby met with showrunner Carol Barbee to discuss the possibility, she came armed with a list of 50 actors who had directed episodes of their shows.
"We gave her the opportunity because it's really important for people to grow and for her to be happy because she's a huge part of the show," Shapiro says. "We thought she could bring a lot to it as the star, too. Shiri's got a super-strong point of view, she's really visual, and she's an incredible actor who grew up in the craft. It's a no-brainer, really."
A few days before "Casualty" began shooting, Appleby went to Aritzia, a Canadian women's boutique, to buy a wardrobe suited for her new role. "I didn't bring any nice clothes with me to Vancouver that I would want to wear while I'm directing and not acting. I bought pants and dresses and shirts so that when I'm on set, I can look together," she says. "You know, like, yeah, I'm the director! And then I stole Rachel's sneakers." She created a shot list of every scene in her episode to prepare for unexpected hurdles. It was a tool she picked up from some of the directors she's worked with over the years, and it paid off. When an actor got sick on the first day, Appleby had to rearrange the production schedule at the last minute. She asked for Zimmer to be picked up and ready in 40 minutes to shoot.
"That was what was really exciting to me: How am I going to create solutions as quickly as possible and not lose any time because our show shoots in seven days," Appleby says, explaining the type-A tendencies that drew her to directing. "I get really high off of it because it's also a lot of power. There's a problem, and I'm the person that fixes it: That makes me feel like I have a lot of control." Appleby often comes back to the feeling of agency directing brings, the kind she can never quite get as an actress. But she also points to an earlier attachment.  "Growing up on set," she says, "the director is the person that, as a child, you admire and gives you validation."
Appleby picked up techniques on camera angles working with a number of veteran directors, including UnREAL's Peter O'Fallon, and David Nutter and David Semel, both of whom directed her on Roswell. Executive producer Adam Kane, who worked side by side with Appleby for the duration of the episode, sees her approach to directing as similar to her acting. "Shiri thinks like a storyteller, first and foremost," he explains. "For her, in order to make her character moments work, they should work in regards to the story first. So when she started directing her episode, I was not surprised that she was as passionate and as driven and as organized."
Actor B.J. Britt, who plays new Everlasting suitor Darius Beck, nicknamed Appleby "06" for her directorial debut. "I started that up around episode four," Britt says. "I teased her every time I see her. What up, 06!" Britt and Appleby share a lot of scenes together this season, so the two have developed an easy rapport. "It's been great having her in charge because it feels good to talk to another actor about your scene. They can relate to you a little bit more," he says. "Great directors can direct you no matter what, but it feels good to be able to talk with your colleague, your partner that you see every day."
To fulfill both roles on set, Appleby says she's constantly weighing what's most important in a given moment. When it came time to shoot a scene in which Rachel breaks down in front of Darius, Appleby couldn't watch the footage on set. She established the shots with stand-ins (all camera blocking during filming is done with stand-in performers) and "trusted in what the camera department and the producer behind the monitor said about it when I was in the scene. If I watch it, it will be too intense and it will impact my performance."
It was also the scene where she met the most resistance. Appleby wanted to use a steady cam to shoot Rachel walking down the Everlasting stairs, around the room, and out into the courtyard where she flips out. But the camera operators were against filming it as one swooping shot. "If we break it up, there's just no way to get to those high emotions in the same way," she explains. "I understood their point — that the cameras would see each other, but I explained I wouldn't use that part. I would cut it down for the big emotional breakdown."
In the end Appleby got her way, but she felt, as she put it, "hazed" ("politely and with the most respect," she adds). "This set is so supportive and they were just protecting themselves and pushing back," she explains. "But I was really firm, and once we got it, it was exciting. When you're asking for a lot, you're challenging everybody."
Later, a short but pivotal scene focused once again on Rachel, and featured Appleby with Zimmer, Craig Bierko (Chet), and Michael Rady (Coleman, Everlasting's new showrunner) in the control room. It's a tense sequence that squares Rachel and Coleman off with Chet and Quinn. Coleman wants to call the police and help Rachel, who's in the middle of her latest crisis; Quinn and Chet want to shut it down. Appleby steps back to survey the scene and adjust the tone in the room.
They run through the scene once, and Appleby asks Bierko to "hit it really hard" when he delivers his line, "No one is calling the cops. It's already been decided." The second time, Bierko follows her direction, becoming visibly angry and slamming his hand the table. "That's awesome!" Appleby tells him. Bierko's not sure. As they shoot it over and over, he experiments with different levels of anger and intimidation so Appleby and the editors have choices.
"Emotionally, I just couldn't relate to it," Bierko says later. "It didn't feel right when I would lose my shit, but it also didn't feel authentic when I would lean back. I was really struggling, and Shiri was there [to assure me]. She has all the confidence you need to have."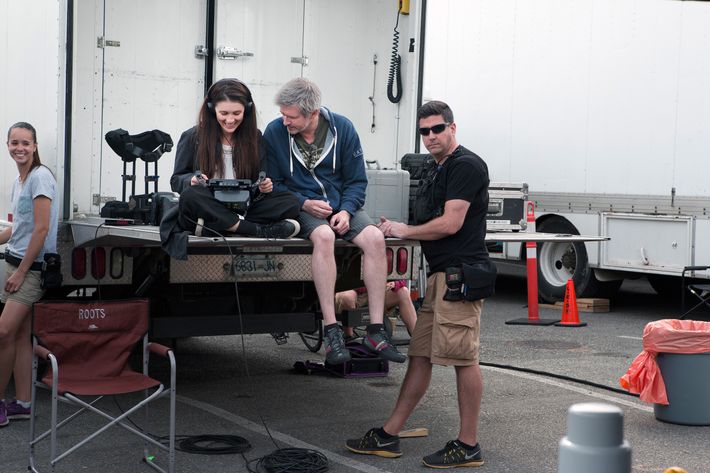 When they start up again, Appleby gives the opposite note to Rady. She wants his frustration to rise slowly as he interacts with Quinn and Chet. "That heat, that conflict, wasn't necessarily on the written page," Kane says. "It was implied somewhat, but she took it to a level where, as a storyteller, it elevates the entire series arc for where we're going. Inside the episode itself, it won't reverberate that hard. But it will pay off later, and she saw that."
The next morning, at Fraser Cemetery, on day five of shooting, Appleby is in a good mood, downright giddy, even, as she prepares to film the scene between Quinn and her love interest, John Booth, a tech billionaire played by Ioan Gruffudd (Fantastic Four). Days earlier, she had convinced Barbee, the showrunner, to add Quinn and John's first kiss to an otherwise solemn moment. Zimmer is still trying to wrap her head around it. She asks her, "doesn't this seem too somber a place for this?"
Moments like this highlight how awkward it might be to direct a fellow cast member, not just logistics-wise, but also, there is the delicate matter of shifting power dynamics between colleagues. Appleby breezes right through these moments, keeping a playful and familiar rapport, even when it's clear she's in directing mode. "Who cares that you're at a funeral," Appleby replies. "You guys don't care! You're just into each other. Keep flirting!"
Appleby recalls being unsure of how to navigate these boundaries on her first day in the director's chair. She asked Zimmer, her close friend, if she was talking too much or going overboard with instructions. "She's like, 'Shiri, I know you. You talk this much anyway. You're just being yourself,'" Appleby laughs.
The episode's most rewarding test for the new director was a scene involving several Everlasting contestants who get into an argument during a therapy session with Dr. Wagerstein (Amy Hill). The scene took eight hours to complete, the longest to film of the episode. "It required a lot of blocking and was really technical in terms of how I was going to cover it," Appleby says. "But it was the scene that showed me I know what I'm doing because I wasn't in it, so I could step back and be the director. I wasn't worried about getting eaten by the clock and could focus on the performance and the camera." She also used the opportunity to give the actresses pointers she picked up long ago. "Some of them have more experience than others, but since we're on episode six now, we've really seen them blossom," she says. "I realized no one's teaching camera classes, so what's been exciting is to take the monitors over to them and show them their shots."
To this day, Appleby herself practices with a coach before every episode of UnREAL to work through all the nuances of Rachel's scenes. And as much as she's put into building a directing career, she's still fiercely committed to acting. Now back in Los Angeles, having wrapped UnREAL season two, Appleby considers herself an actor for hire. "Steven Spielberg, Woody Allen, you name it, I'm interested, I'm free, I'm looking for acting work," she says. "At the same time you have to find a role you're right for, and then there's a slew of other actresses. That's why I will pursue more directing. It's like, who needs a boss? I'm right here."