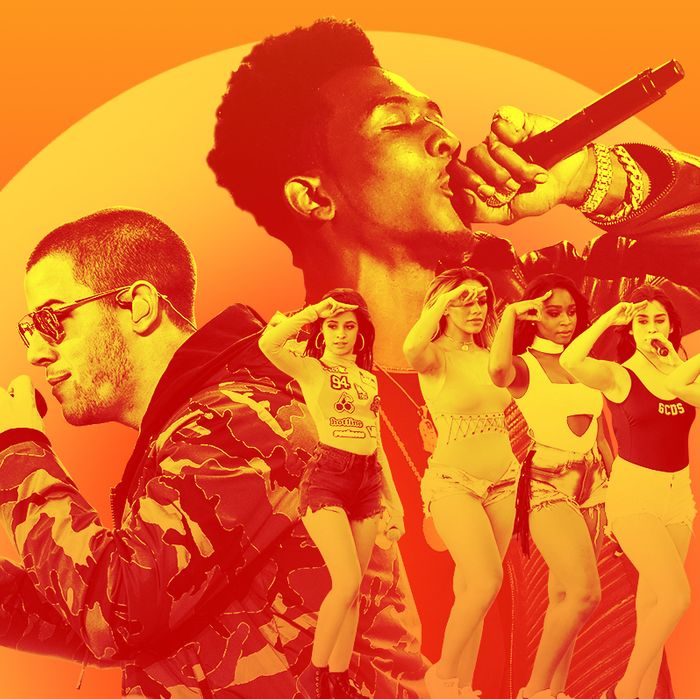 Photo: Maya Robinson and Getty Images
We're trying something different in our search for the Song of Summer this year. From now through August we'll be rounding up the biggest smashes of each month, declaring a winner and four runners-up, while also highlighting five songs to watch over the next month. The criteria will be general ubiquity (Billboard chart showings, video views, airplay), quality, and season appropriateness. You can't have a Song of Summer nobody hears, one that people seem to hate, or — gasp — one doesn't sound like summer. The competition will conclude with a declaration of the official Song of Summer and a roundtable discussion about the three-month ride. Below you'll find June's list and possible contenders for July. Check in and let us know what your picks are.
WINNER: Desiigner, "Panda"
You may ask yourself: "Why Desiigner?" And you may find yourself grumbling about why Drake is just a runner-up. But the difference between "Panda" and "One Dance," dueling platinum-selling Billboard Hot 100 No. 1 singles in the same span, is scope. The Drake single dropped out of the sky as inevitably as summer rain but for now it's just a big warm-weather single. Brooklyn newcomer Desiigner's tenure at the top of the charts is the culmination of a six-month slow burn that carried him from the anonymity of Soundcloud to the brink of the rap elite. Every rapper in the city made a remix. Pusha T and Kanye West became advocates, the latter tacking it on as frenzied sequel to the godlike sunburst "Father Stretch My Hands, Pt. 1." "Panda" is carelessly irrational, structurally unsound, totally wired. The verses are inscrutable, but we know them by heart. Until Drake fires off whatever meme platter of a video he's doubtlessly got planned for "One Dance," this one's capturing the reckless, rowdy spirit of summer '16. –CJ
RUNNERS-UP
Drake, "One Dance"
Song of Spring just wasn't enough. How does the No. 1 song of June — six weeks and counting — not also hold the title of Song of Summer for June? Because it's only getting started. After becoming Drake's first No. 1 song as a lead artist back in May (a feat that previously evaded him with "Hotline Bling"), and giving him the No. 1 album for eight consecutive weeks, the "Summer Sixteen" Drake prophesied hasn't peaked yet. There's no higher than No. 1, that's true; but there's also no declaring the summer yours without the undisputed Song of Summer to support the tall talk.
With its Afropop appropriation and repurposed U.K. funky parentage, "One Dance" is about as shameless a ploy for summer domination as you'll get short of name-dropping the season in its title. (Nice try, "Summer Sixteen.") Following the model of ubiquity set by "Hotline Bling," Drake will once again scheme to release the video for "One Dance" just as other Song of Summer contenders make their respective chess moves — meaning however inescapable "One Dance" was in June, it'll be unstoppable come July's end. (So long as it's not another Apple Music exclusive.) –DL
Justin Timberlake, "Can't Stop the Feeling!"
If you're aiming for "Happy 2.0," you can't go wrong with mimicking its trajectory, too. Pharrell debuted his big Despicable Me 2 soundtrack paycheck in November 2014, giving it time to marinate during the winter months until it reached No. 1 in March the following year. Luckily for Justin Timberlake, his was a shorter ascent: It only took Trolls' "Can't Stop the Feeling!" one week of eligibility in May for it to debut at No. 1 (his first-ever song to do so), becoming the only track to knock Drake's "One Dance" off its throne in the time since. And in a year when no artist has been able to outsell Drake and actually chart higher than him, JT did it just the once, nabbing the biggest-selling sales week for a song since Adele's "Hello" the week it went No.1. Where "One Dance" appeals to the multicultural, "Feeling" aims for the monoculture — that rare one-size-fits-all, Middle America hit. For that reason, it's trailed "Panda" and "One Dance" this month in streams, but was the most downloaded and most-heard song on radio for the entirety of June. "Happy" didn't leave the top ten until mid-July; "Feeling" will likely be with us until the leaves drop. —DL
Fifth Harmony, "Work From Home"
Where are all the girl groups? In South Korea, of course. But lo and behold, America has one of its own, a five-piece manufactured on X Factor (not entirely unlike their predecessors, the Pussycat Dolls). And now, for the first time in eight years, an American girl group has a top-ten hit: "Work From Home" is 5H's biggest song to date, having gone as far as No. 4, and hanging out in the top five for all of June. Its shamelessly on-the-nose video has been viewed half a billion times (more than any other June contender so far), proving that being a cog in the teen-pop machine works, no matter what decade. They're clearly chasing a Fetty Wap–like summer, already dropping the video to their summer-obvious "All in My Head (Flex)," featuring — you guessed it — Fetty Wap.  —DL
Nick Jonas ft. Tove Lo, "Close"
The early reception of Nick Jonas's new album Last Night Was Complicated is going over a little better than his 2014 self-titled career reboot record on both the album charts (where it bowed at a respectable No. 2 the first week) and in singles sales. The Tove Lo collaboration "Close" hangs just outside the Hot 100's top ten, and it's been certified as platinum much faster than the last album's "Jealous" and "Chains" did. This is thanks, no doubt, to Jonas and Tove Lo's intimate vocals and lumbering, sultry steel-drum sounds rising from "Run Away With Me" and "Cake by the Ocean" hitmakers Mattman & Robin. "Close" is darker and thirstier, the perfect soundtrack for nights where you find yourself with a cold drink against your forehead for a moment's relief from the heat. —CJ
JULY CONTENDERS
Calvin Harris ft. Rihanna, "This Is What You Came For"
Can lightning strike thrice? Calvin Harris and Rihanna are already two for two, with "We Found Love" giving Rih her longest No. 1 streak ever, and "Where Have You Been" hitting the top five. But they've never had a bona fide Song of Summer … until now? The two debuted "This Is What You Came For" just after reuniting at this year's Coachella, a.k.a. summer's pregame, even using Taylor Swift as free promo. It then debuted at No. 9 and has only risen since, up to No. 6 — and that was all without a video. Now that its mini light show has racked up 67 million views, those streaming gains will likely leapfrog it over several June runners-up into July dominance. —DL
Kent Jones, "Don't Mind"
Major key alert: DJ Khaled has truly taken over in 2016, so it's no surprise that one of his We the Best signees has been groomed to do the same. Every summer, there's at least one buzz track from a virtual unknown that comes out of nowhere to run away with the summer. Last year, it was Silento's "Watch Me"; this year it started out as "Panda," but that song has since exceeded all expectations. This summer's sleeper hit looks to be a year-old song from Florida newcomer Kent Jones, who now has a top-ten hit with a song that's like the Rosetta Stone of pick-up lines, if your only flirt-game strategy is saying hello. Much like "Trap Queen," it's a bubbly song that sounds innocent enough that parents won't notice it interpolates Barry White and is about as sexed-up as its inspiration. (Unless of course you actually listen to the hook.) —DL
Rihanna, "Needed Me"
There's an unwritten rule about being a black pop star: You drop one song for the mainstream, and one song for the culture. Drake dropped "One Dance," but he also dropped "Pop Style" in tandem. For Rihanna, it meant servicing her rock ballad "Kiss It Better" to top 40 and her gospel of savagery, "Needed Me," to so-called urban radio. But the joke's on the broken industry system because "Kiss It Better," the presumptive hit, hasn't charted higher than No. 62. Meanwhile, "Needed Me" has shot to No. 7 (despite "Kiss It" being viewed slightly more often on YouTube). —DL
Sia ft. Sean Paul, "Cheap Thrills"
Here we go again: another cautionary tale about reckless abandon disguised as a mindless pop song, another late-blooming hit for Sia. Like "Chandelier" before it, "Cheap Thrills" has been a grower, first debuting back in February, but only now just entering the top ten at No. 8, largely thanks to a big radio push. The Maddie Ziegler–starring video's been out since March, but it's actually a peculiar remix from Song of Summer king, Sean Paul, that's put it in contention. (Weirdly, that lyric video has been viewed 200 million more times than the original's actual video.) —DL
Adele, "Send My Love (to Your New Lover)"
With Adele's 25 album nearing nine million units sold just seven months out from release, it's hard to imagine people not having heard its latest single, "Send My Love (to Your New Lover)." But the tart, acoustic Max Martin and Shellback team-up is zooming up the charts in the weeks since the 2016 Billboard Music Awards premiere of its video, which has nudged it neatly into top-20 status. Arriving on the heels of the notably downbeat "Hello" and "When We Were Young," the pep of "Send My Love (to Your New Lover)" might be the wind in its sales as warm weather officially sets in. —CJ