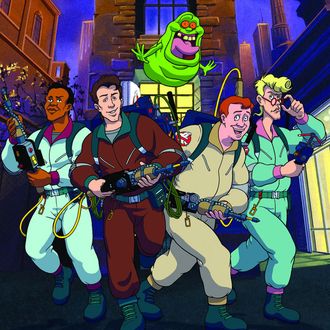 Still from The Real Ghostbusters.
Photo: ABC
If there's some IP / In your neighborhood / Who you gonna call? / TV executives! The big Ghostbusters reboot is only a few weeks away, but Sony is ready and waiting with a follow-up. Today, the studio announced plans for an animated Ghostbusters TV series (the studio had previously been developing a similar project as a film, but it's 2016, and TV is king). Titled Ghostbuster: Ecto Force and directed by Ivan Reitman (who helmed the original 1984 movie), the series is set in the year 2050. It bears no relation to the original animated Ghostbusters spin-off The Real Ghostbusters, except that it is also animated, also about people fighting ghosts, and also produced by executives looking to mine some of that sweet, sweet preexisting intellectual property. Ghostbuster: Ecto Force is aiming for a 2018 debut.
In other news about Sony and preexisting intellectual property, the studio also announced Monday that Bob Persichetti will direct its upcoming animated Spider-Man movie, which is being written by Phil Lord and Chris Miller (of 21 Jump Street and The Lego Movie) and aiming for a December 21, 2018 release. Finally, that much-awaited Emoji movie has a release date — August 2017 — and a new name: Emojimovie: Express Yourself. Given that imperative, we choose :-|.