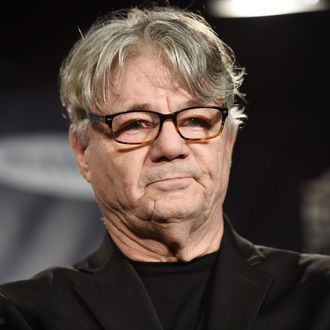 Speaking from the the pompitous of love?
Photo: Nicholas Hunt/Getty Images
Steve Miller didn't have a great time being inducted into the prestigious Rock and Roll Hall of Fame in April. After his induction speech and brief performance, Miller made his way backstage for a mandatory press conference, where he proceeded to rip the Hall of Fame a new one, proclaiming "this whole process is unpleasant" while criticizing the organization's high ticket costs and lack of appropriate inclusion of women rockers. A publicist attempted to put a stop to Miller's comments, only for him to fire back with an explosive piece of sass: "No, we're not going to wrap this up — I'm going to wrap you up. You go sit down over there and learn something." Now, appearing on The Howard Stern Show, Miller has expanded on how exactly he's "planning to investigate" the Hall of Fame.
"It's gonna get better. I'm gonna get these guys. They're gonna be sorry that they treated all these people this way," he told Stern. "I'm planning to keep it in the news. I'm planning to investigate them. I've already got all of their public documents. I want to see where they're spending the money. I wanna see who's being paid. I wanna check it all out … The Rock and Roll Hall of Fame's actually going to go to Cleveland. The Museum's actually gonna mean something. The funding they raise is actually gonna be used for music education before I'm done." Miller, who also called the nominating committee "so fucked-up," "inbred," and "off course," then offered his side of the story regarding his uncomfortable encounter with the Black Keys, who gave his induction speech.
"I never was introduced to the Black Keys," he said. "I walked in through security, and there's this guy [Dan Auerbach] looking at me, making goo-goo eyes at me or something. I walk up to him, and I go, 'What are you doing tonight?' And he says, 'I'm reading your speech.' I say, 'Oh, great. I can't wait to get the fuck out of here.' And I didn't know who he was! If we had been introduced, I'm sure we would have gotten along because we like the same kind of music and they're working musicians and stuff." Keep on a rock'n me with your awkward anecdotes, Steve.