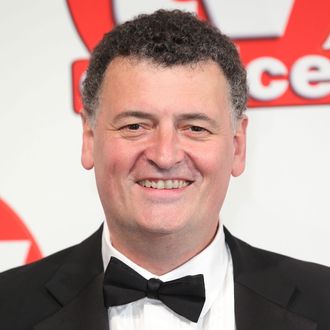 Steven Moffat.
Photo: Mike Marsland/Getty Images
Just like James Bond, the Doctor in Doctor Who is an iconic figure in British culture who, so far, has only been played by white men. In both cases, fans have started public campaigns for producers to hire a black actor for the role, and now, Who head writer Steven Moffat has confirmed earlier rumors that the show tried to cast a black Doctor in the wake of Matt Smith's departure, but were turned down by the guy they had in mind. "For various reasons, it just didn't work out," Moffat told the show's official magazine. (Peter Capaldi got the part instead.) Still, though, he swears the sci-fi series will cast a black man at some point: "I certainly don't think there's ever been a problem with making the Doctor black, which is why it should happen one day."
Though Moffat says that the show's guest cast is "among the most diverse on television," he admits that Who had "no excuse" for not hiring more actors of color in major roles. The series just cast Pearl Mackie as the Doctor's new companion, after what Moffat calls "an absolute decision" to choose a non-white actor: "We need to do better on that. We just have to." Whether or not the show is more diverse in the future is not up to Moffat, though: He's leaving the show next year. It's someone else's problem now!