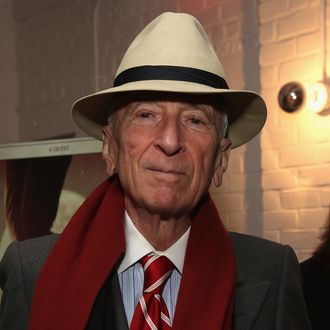 Gay Talese.
Photo: Robin Marchant/Getty Images
After distancing himself from his latest book, The Voyeur's Motel, in an interview with the Washington Post posted last night, Gay Talese has taken back his comments in which he vowed not to promote his book in light of revelations that some of his source's accounts of supposedly real events may not be true. "When I spoke to the Washington Post reporter," Talese said in a statement acquired by NPR, "I am sure I was surprised and upset about this business of the later ownership of the motel, in the '80s. That occurred after the bulk of the events covered in my book, but I was upset and probably said some things I didn't, and don't, mean. Let me be clear: I am not disavowing the book and neither is my publisher. If, down the line, there are details to correct in later editions, we'll do that." Talese's publisher, Grove/Atlantic, adds that the book will come out as planned on July 12, though it did not specify whether Talese would still promote it.
In The Voyeur's Motel, Talese explores the account of Gerald Foos, a motel owner who allegedly spied on his guests using an annex he built in the motel from the late '60s to the early '90s. The book garnered a lot of early buzz, with Steven Spielberg snapping up the film rights and tapping Sam Mendes to direct the adaptation. The only problem: Foos did not own said motel from 1980 to 1988, when some events referenced in The Voyeur's Motel are said to have taken place. When the Washington Post presented Talese with this information, gleaned from property records, Talese promptly begged off some of the book's claims. He told the paper: "I should not have believed a word he said," and added that he would not promote the book "when its credibility is down the toilet."
In the work, which draws largely from Foos's own journals, Talese does express skepticism about some of Foos's claims, writing, "I cannot vouch for every detail that he recounts in his manuscript." But the pioneer of New Journalism also concedes that he had no knowledge of the sales and purchases of the motel that occurred between 1980 and 1988. He admitted: "I did the best I could on this book, but maybe it wasn't good enough."
Still, Talese insisted in the interview that, while he may have failed to properly vet the "certifiably unreliable" Foos's account, he did not knowingly put forth false information. He stated: "I can swear to this, and I can say this unequivocally and without recourse, that I have never purposely told a lie. […] Everything I said in that book is the truth."
This post has been updated throughout.