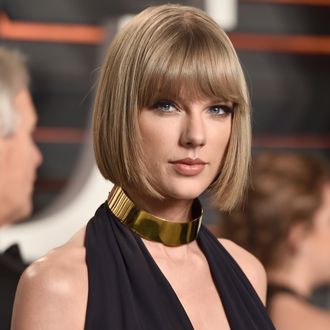 Photo: Pascal Le Segretain/Getty Images
If there's a scene that tells you the kind of show Cameron Crowe's Roadies will be, it happens about three minutes into the pilot. Luke Wilson, who plays a member of the road crew named Bill, explains that he and Carla Gugino, who plays a production manager named Shelli, work together. Shelli's husband, who's also a production manager, works for Taylor Swift.
"I love her," says Bill's latest conquest, a girl who is young and excited about room service, and therefore, in the moral universe of Roadies, is wrong about music. After that line, Shelli's eyes do a barrel roll that establishes what exactly our heroes think of America's country turned country pop turned full-on pop sweetheart.
This is not a one-time occurrence. Later in the episode, Shelli gets into a tiff with a man who runs the venue where their band is playing. He doesn't want anyone to step on the sport team's logo at the center of the basketball court. "I know about the special rug you put down over the Pelican for Taylor Swift," Shelli says (read: Taylor Swift breaks the rules). When things are too exhausting, Shelli later laments, "I can't do this. I'm going to work for Taylor Swift." "Oh, the Planet Swift Tour," Bill says. "Hey guys, we lost another one. Another Swift boat attack." (Note: The Planet Swift tour doesn't exist, but can you imagine the T-shirts?) Finally, after a British suit arrives and fires a long-time road crew member, Bill comforts Kelly Ann (Imogen Poots) with the knowledge that first, said crew member is a felon who murdered two people, and "second, he's already working with Taylor Swift, for twice the pay and free legal." Taylor Swift may never appear on the show, but her presence hangs over it. She is both "the Man" and the man behind the man: If the aforementioned British suit is Grendel, Taylor Swift is Grendel's mom.
Now, Roadies doesn't necessarily mean to take down Taylor specifically, but rather the aspects of the industry she represents: In this case, that's bigger concerts, less connection with fans — and, seemingly — better employment contracts. In the world of Roadies, big acts like Swift aren't keeping the music industry alive by putting butts in stadium seats, they're dragging it down by playing to the masses.
I think Swift herself would enjoy Roadies, a big, heavily advertised TV show with a go get 'em spirit and "we're all one big family" vibes. Sure, she sold out to pop, but more than most other stars, Taylor's retained the posture of the permanent best friend (who just happens to be worth $200 million). And like any confessional Swift single, Roadies has the sheen of authenticity, even as it's also a corporate product. Maybe it turns against her because she's selling the same thing it is. Probably Cameron Crowe just doesn't like her music.
Taylor's presumably busy, but imagine if she had a Roadies watching party. If she called up Karlie, Gigi, Selena (who's making her own show, by the way), and maybe even Tom, and they made cookies and poured lemonade, and talked about the joys of being on tour. Then, three minutes in — oh, oh no …