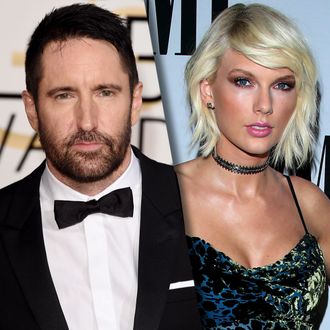 This never gets old.
Photo: Getty Images
Taylor Swift and many in the music industry are officially taking their bad blood with YouTube to Congress. Swift, along with 160 artists and labels, including U2, Paul McCartney, and the Big Three (Universal, Sony, and Warner), has joined a growing petition urging Washington to make serious updates to the Digital Millennium Copyright Act (DMCA). The original act, signed into law by Bill Clinton in 1998, was meant to protect artists' copyright law in light of new technology. But that was long before YouTube upended the music industry, now rendering the law useless and in need of a dramatic overhaul, argues the petition (first filed in April). "[DMCA] has allowed major tech companies to grow and generate huge profits by creating ease of use for consumers to carry almost every recorded song in history in their pocket via a smartphone, while songwriters' and artists' earnings continue to diminish," the petition reads. And it specifically takes aim at YouTube, which the petition's organizer, music manager Irving Azoff, says "threaten[s] the continued viability of songwriters and recording artists to survive." The petition demands YouTube properly compensate artists and allow artists and labels more control over how and when their music can be used on YouTube.
The music industry's beef with YouTube is as old as the video service itself, but the war has largely been reignited this year now that most major labels are under new licensing negotiations with YouTube. (Universal's contract, for example, has already expired.) As such, some of the industry's more outspoken names have conveniently been blasting YouTube. Trent Reznor, who works for Apple Music, recently called YouTube "very disingenuous," arguing that it's "built on the backs of free, stolen content and that's how they got that big. I think any free-tiered service is not fair." The Black Keys' Patrick Carney then tweeted, "Give me five minutes on YouTube and I probably can find 250 songs that are available which the artist isn't getting paid for. At least." By his math, "a song should cost as much as an avocado." (Probably not organic, though.)
But Azoff swears the petition goes beyond changing the law; it's also a warning shot to major labels to protect and care about their artists. "If you [are] one of the big labels, and you continue to do business with YouTube the way you currently have, that's a bad sign for all the people that signed that letter," he says. "This isn't a fee dispute. It's far deeper. That's why it's really dangerous for anybody to hide behind the DMCA if they need a relationship with anybody in the music business." Well, whaddya know, a cause that has even Taylor Swift and Katy Perry fighting on the same side.