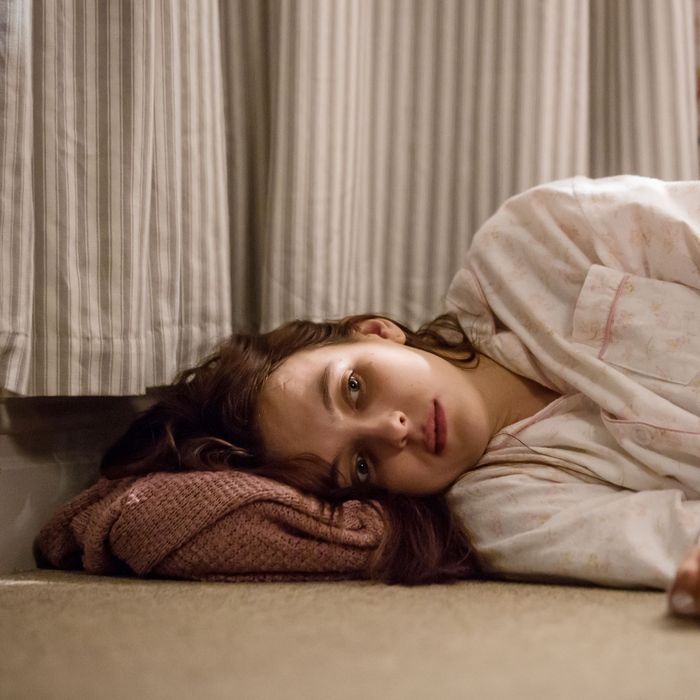 Jodie Comer as Ivy.
Photo: Sophie Mutevelian/BBC
The premiere episode of Thirteen was filled with quiet moments of shock, as each character adjusted to the news that Ivy Moxam had returned after 13 years of captivity. With the mood properly set, the second episode is less focused on creating ambiance and more on moving plot points and conflicts forward.
Things are certainly moving faster at the police station, after Ivy's captor, Mark White, kidnapped a 10-year-old girl named Phoebe only nine hours earlier. Detectives Merchant and Carne interview Ivy to see if she can help them with any ideas of where White might have taken Phoebe. Ivy offers that Mark's mom, Carol, might be a place to start. The only thing she knows, though, is that Carol is in some kind of nursing home.
Meanwhile, Ivy's relationship with her own mother, Christina, is becoming more strained. Christina makes painfully earnest attempts to connect with her daughter (baking a cake, looking through old things), but Ivy routinely shuts her out in a way she doesn't with her sister or dad. Maybe that's why Christina is so against an unexpected visit from Tim. (Either that or because he's, you know, married.) Tim offers to wait for Ivy's return from the police station, but Christina shoos him away. Ivy's dad, though, thinks Tim's presence is helping Ivy, so he offers to be the go-between for their meet-ups.
Soon enough, Ivy is on her way to a secret rendezvous with Tim in a large, open field. She's even put on makeup and changed out of that pink sweater. (Ivy's family-liaison officer, Alia, who still spends her days observing the Moxams, drives Ivy there. How or why she gets involved in this clandestine meeting is unclear.) When Tim greets Ivy, he surprises her with a box of her old letters. Ivy lights up with joy at the thought that Tim saved them all these years.
Ivy doesn't have much in the way of a life right now, which makes her connection with Tim so heartbreaking to watch. At some point, she'll learn the truth about his marriage, and it will devastate her. But for now, she runs, laughing down the field with Tim, out of Alia's sight. As they catch their breath, Tim gives her a hot pink mini-iPod that contains music she missed while she was away. They share ear buds, listen to a Shins song, and gently hold hands. (To be honest, that sums up most of my dates from 2003.) Then, we hear a distinctive click. Unbeknownst to Tim and Ivy, someone is taking pictures of their little moment.
While Ivy romanticizes, the rest of Bristol panics about missing Phoebe. The tip from Ivy about White's mom is a literal dead end: She died in 2002. But because that happened before Ivy was captured, Detective Merchant starts to wonder if Ivy deliberately misdirected their investigation. Merchant and Carne call her in for another interview. They want Ivy to retrace her steps the day she was kidnapped to find out if there's any detail buried in her memories that might help lead them to White's current whereabouts.
In what felt like a forced moment, Merchant then suggests Ivy revisit White's home to see if any memories are triggered. Ivy agrees and the three of them set out in the middle of the night to enter the creepy house. As Ivy examines the house, she starts to hear White's voice. "Will you be a good girl?" She then heads for the cellar. She looks around at the empty walls — White bleached the scene before he escaped — and suddenly, in an agitated tone, Ivy asks the detectives, "What have you done to it? This was ours!" The detectives explain that White was the one who destroyed the cellar, but I get the sense that Ivy will have to do some explaining of her own.
Starting with this: Her mom wants to know why a newspaper published photos of her field date with Tim. Christina is livid and forbids Ivy from calling Tim. Ivy responds that she can't tell her what to do. "I'm not a child anymore," she insists, before adding for emphasis: "I've had sex." Of course, what this means in Ivy's case — i.e., at the hands of her captor — is devastating to her family. But Ivy doesn't seem disturbed by it, which makes it all the more disturbing. When Tim later comes over to break the news that he's married (because his wife also saw the newspaper), she stops him from telling her anything. For a moment, it seems like she might make some move on him, but instead, she puts on music and starts to awkwardly dance. She flings her arms and head around, beckoning Tim to join her. In a dreamlike sequence, the two dance alone, together. Alia walks in to get Ivy for more questioning, and Tim stops dancing. Ivy keeps dancing, however, as if she's headed for some kind of psychotic break.
With Ivy's dreamy dance over, she visits detectives Merchant and Carne for another interview, only this time it's not to seek Ivy's assistance. They want to put her under the spotlight. The detectives play an audio recording of Ivy, as she answers questions about the one time she claimed White let her out of the house. No, she wasn't left alone at any point. No, there was never a time when she could flee. As the recording plays, the detectives simultaneously play security-camera footage of a shopping center, where we see Ivy and White walk in together. Shockingly, Ivy is allowed to go by herself to the restroom, where she stays for six minutes, and then returns straight back to Mark, who's sitting calmly on a bench. Not only that, but when she sits next to Mark, she grabs his hand, not unlike the way she grabbed Tim's earlier in the episode.
This was a great reveal, but I do think the tone and angle of Merchant's questions were a little cheesy. ("Maybe it'd would just be easier if you admit it to us … you love him.") In general, I think the tension between the two detectives — with Merchant as the skeptic and Carne as the softie — seems a little predictable. Maybe that's why, when the detectives' mutual frustration manifests into a hot make-out session, I didn't feel that invested, even though Richard Rankin and Valene Kane are both very pretty to look at. I'm just not sure what this subplot adds.
After the confrontation, Ivy asks Alia to take her to the restaurant where Tim tends bar. (Again, not really getting the scope of Alia's job duties here.) What Ivy doesn't know is that his wife, Yazz, also works there. As Ivy makes a very heartfelt and public plea for Tim's love, Yazz approaches and puts her arm around him, a gesture Ivy can't quite make sense of it, until she finally notices Tim's wedding ring.
Alia later drives a tear-stricken Ivy back home. But before they exit the car, Ivy asks Alia to give her a few minutes in the car alone to gather herself, which she does. My immediate reaction: Why would Alia think, in her professional opinion, that this was a good idea? Ivy's clearly cracking. Being left alone is probably the worst thing for her right now. (Remember: She did jump out of a bathroom window when Tim touched her hand in the last episode.)
Alone, Ivy gets out of the car. But she doesn't run away again. Instead, a hand covers her mouth as she gasps in panic.
Stray Thoughts:
The headmaster, who is conducting his own side investigation into White's employment at the school, has Ivy's mom in his phone as "Christina" — with no last name. I'm curious as to why they're on such friendly terms.
I like the development of Ivy as a possibly unreliable source.
Would Ivy never have heard of an iPod in 2003? It debuted in 2001.