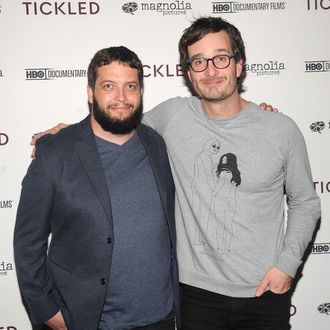 Photo: Brad Barket/2016 Brad Barket
Attendees at Friday's premiere of David Farrier and Dylan Reeve's documentary Tickled may have left the screening squirming, and not just because they don't like it when people touch other people's feet. The film, which is a psychological thrill ride that uncovers the dark underbelly of competitive endurance tickling (an international conspiracy, cyberbullying, and blackmail are involved) has already faced a legal suit from the company at the flick's seedy center. Though that case was dismissed earlier this year, two individuals, David D'Amato and Kevin Clarke, are still fighting to save the reputation of their tickling fetish website. According to Variety, after the Los Angeles premiere, D'Amato and Clarke confronted Reeves during the Q&A portion with questions that were actually accusations regarding the use of what they allege was off-the-record material.
A filmed version of the argument appeared on Tickled's Facebook page. In an ironic twist that anybody who understands publicity could have seen coming, it would seem D'Amato and Clarke's efforts to quiet the film have only further tickled people's interest.