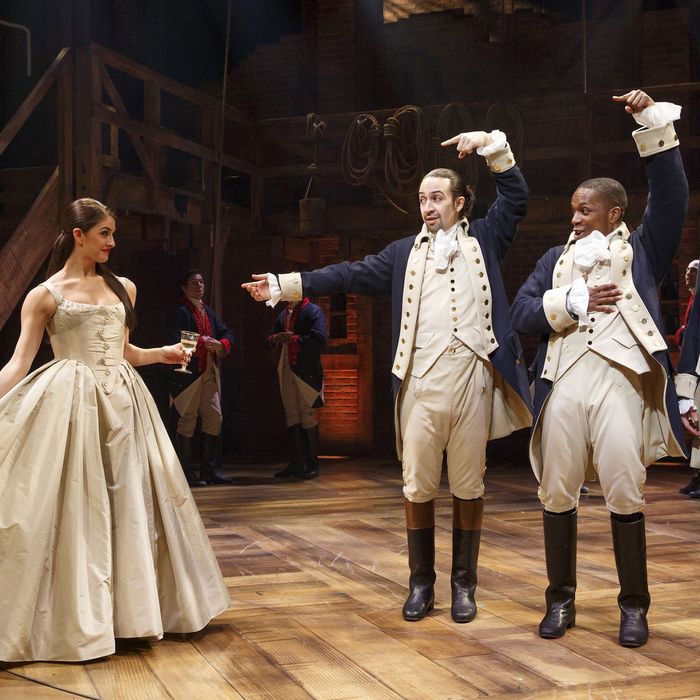 It's not a question of if they'll win, but which ones.
Photo: Joan Marcus
Twenty plays and 16 musicals opened during the 2015–2016 Broadway season. Most of the plays were pretty good or better; most of the musicals were not. Despite this, the musicals, as always, made most of the money and sucked up most of the attention. That inverse relationship is not much altered at the Tonys, which generally reduce the nonmusical awards to the level of the maid in Long Day's Journey Into Night: She's onstage a fair bit but her credit is almost unreadably small. (For the record, in the current revival starring Jessica Lange, she was played, very well, by Colby Minifie.) You might expect that in this year of the Hamiltonys the plays might get some more play; after all, how do you make good television out of repeating the name Lin-Manuel Miranda a hundred times? Perhaps anagrams would help, to which end I submit two starter possibilities: Malarial Denim Nun and Madam Urinal Linen.
Nevertheless, the Alexandrine juggernaut continues, as we'll see in this week's deep dives into many of the Tony categories. Today, the creative awards for musicals.
Best Musical
There were other good new musicals this year, doing the variety of things that musicals do. Though not nominated for anything except its choreography, On Your Feet! is a smartly assembled, dance-heavy hit. School of Rock, not as smart but nominated anyway, is a fairly straight-ahead movie-brand extension, and also a hit. Bright Star is not a hit; indeed it looks likely to expire at any moment. But it has good names attached — notably Steve Martin and Edie Brickell — and probably for that reason snagged five nominations, including one for Best Musical, the only category that demonstrably affects a show's prospects. Waitress, also nominated here, has no chance of winning the award, but it doesn't need it; good word of mouth and smart marketing have recently helped it break into the million-dollar-a-week club where it joins established hits like Wicked and The Book of Mormon.
But Waitress is nobody's great musical; it's a feel-good-if-you-don't-think-about-it-too-hard crowd-pleaser with some good numbers and top-drawer performances. When possible, and with famous exceptions, the Tony voters prefer to honor work that represents the highest ideals of the theater, not just the pocketbook. Two new musicals fit that description this year, and though there is no real suspense about the outcome it's worth noting how Hamilton and Shuffle Along look at the state of the art. Both extend the concept-musical concept well past its former boundaries, and past any purposes to which it has been put before. Their common concern is history: Hamilton, obviously, concerns the nation's founding, and Shuffle Along looks at the origins of popular entertainment in the work of black artists of the 1920s. But more than just presenting facts (or theories) of history, both are also efforts to recolorize it, to assert a cultural claim on the past and thus remake it for today. Hamilton, approaching this task more straightforwardly, succeeds more completely; it has no major faults. What Shuffle Along is trying to do is trickier and does not quite hang together to the end. But until then it is mind-bending, heart-opening theater, every bit as necessary as Hamilton. How lucky we are that it, too, appears to be a hit. (At least until Audra McDonald goes on maternity leave in July.)
BOTTOM LINE
WILL WIN: Hamilton.
SHOULD WIN: Hamilton.
SHOULD HAVE BEEN NOMINATED: On Your Feet!
Best Revival of a Musical
Rule 2(j)(ii)(B) governing the Tony nomination process holds that in a category with five or fewer eligible productions, only three nominations are allowed. An exception is made if the difference in the number of votes between the third-place and fourth-place productions is fewer than three votes, in which case an additional nominee is named. That seems to have happened this year; there were only five musical revivals, but four of them were nominated. Since all four were excellent, this is not a big surprise, though Tony-watchers have been speculating about which show is the hitchhiker. I'm guessing it was Spring Awakening, because it's the only one of the four that isn't currently running. For the same reason I think it's the one least likely to win, though it was a very powerful demonstration of the ability of a revival to remake (and not just remount) an older work.
That distinction is relevant in looking at the remaining three nominees. Two are very fine remountings of superb Bock and Harnick musicals from the 1960s: Fiddler on the Roof and She Loves Me. The text and score of both shows is barely altered, though they have been reorchestrated — in the case of She Loves Me, cutting the instrumentation by a third. Otherwise, She Loves Me, lovingly directed by Scott Ellis, is especially faithful to its original, which has the rare distinction of a nearly perfect book (by Joe Masteroff). Pretty much every critic loved it, and how could we not — it is the height of Broadway charm. But I loved Bartlett Sher's production of Fiddler even more. Exploring details of the material that even after many revivals had remained hidden, like overpainted moldings, it made us feel afresh the tragedy beneath the schmaltz.
The competition between those two revivals doesn't matter, though; I believe most voters will recognize that excellent new versions of excellent shows are not as surprising (or useful) as superior new versions of mediocre ones. That's the case with John Doyle's production of The Color Purple, which seems to reinvent the Broadway sorta-hit of 2005, based on the 1982 Alice Walker novel, entirely. Back in 2005, the musical suffered from some unidentifiable ailment: It had much going for it, but seemed to be stifled, much like its lead character. Now we know it was overpadded, because Doyle's "poor theater" reimagining has not only connected the content to the style (this is, after all, a story set in poverty) but through suppression of traditional Broadway gimmickry has allowed its enormous emotion to surface as a surprise. It's also the case that he has the best imaginable leading actress helping in the reinvention, but Cynthia Erivo's greatness as Celie (which I'll deal with later this week) can be separated from the conditions that permit it by noticing that she does not come across as a star appliqued onto the surface of the story, or a diva upstaging the work of the rest of the cast. She arises from the work they all do together.
BOTTOM LINE
WILL WIN: The Color Purple.
SHOULD WIN: The Color Purple.
SHOULD HAVE BEEN NOMINATED: None.
Best Original Score
The reason most interlopers from the world of pop fail on Broadway is that they know only how to make hits; they don't know how to tell stories. On that basis, two of the nominees for best score may be passed over quickly. In Bright Star, the songs — music by Edie Brickell; lyrics by Brickell and Steve Martin — are delightful, as a swing through the cast album proves. They are contextual, in that the story takes place in approximately the same fairy tale South that the country-and-bluegrass style references. But they are linked by no overarching ideas and have no collective authority, as those in great scores must. Nor, surprisingly, does Andrew Lloyd Webber's score for School of Rock (with lyrics by Glenn Slater, and inclusions from the movie). Lloyd Webber is hardly a pop interloper, but he has not made even a small effort here to string his ditties into a necklace, let alone a choker. The songs are off-the-rack.
Though a pop star herself, Sara Bareilles does quite a bit better in her score for Waitress. What holds the show together is Bareilles's voice itself, which is written into the melodies and faithfully reproduced by the star, Jessie Mueller. Bareilles even aces the kinds of novelty numbers a comedy like this needs: the meet-cute duet, the comedy production number, the 11 o'clock anthem. If this doesn't quite reach the level of philosophy, it is nevertheless an impressive first effort.
But Lin-Manuel Miranda's score for Hamilton is, as we all know, an impressive culmination. I do not happen to be a fan of hip-hop music — the music itself, I mean. I find its harmonic palette and characteristic gestures (the block chords, the heavy beat) nearly stultifying, even if they make perfect sense for the form. (All the energy is in the lyrics, which would be lost against a richer background.) But Hamilton is a nearly through-composed work in which hip-hop is but one of the forms of energy harnessed. When a straight-ahead tune emerges, as in King George's "You'll Be Back" and Jefferson's "What'd I Miss," the joy of Broadway music is amplified by the suppression of it elsewhere. Also in that "elsewhere" is some of the most complicated and satisfying lyric-writing in Broadway history, even as it breaks every Broadway rule. Though I expect that Miranda himself would share the music part of the award with his music director, orchestrator, and arranger Alex Lacamoire, the lyric part of the award is deservedly all his.
BOTTOM LINE
WILL WIN: Lin-Manuel Miranda, Hamilton
SHOULD WIN: Lin-Manuel Miranda, Hamilton
SHOULD HAVE BEEN NOMINATED: None.
Best Book of a Musical
Many people, even critics, don't really know what the book of a musical is, especially when the musical (like Hamilton) has almost no spoken words. It is not the source material of a show, nor its lyrics, but the expression of its story in text and structure. Hamilton's, however invisible, is superb. Think of it this way: How could the composer and lyricist (in this case, Miranda) know what numbers to write, and where to put them, and what work they should do, if no framework existed to hold them together? That's the job of the book writer (in this case, also Miranda, working from Ron Chernow's Hamilton biography). In some ways, I find the book to be Hamilton's greatest achievement, and have rarely encountered any show, except the greatest classics, whose storytelling architecture was as carefully and completely wrought.
Only one other nominee has a book worthy of mention beside it. (Once again we skip right past Bright Star and School of Rock; Steve Martin's hokum-y book for the first and Julian Fellowes's hacky one for the second don't even make an undercard.) The worthy contender is George C. Wolfe's book for Shuffle Along, which in the stupendous first act makes an incredibly tight narrative out of a collection of found materials: theatrical gossip, historical anecdotes, repurposed ditties, old photographs. Wolfe sheepdogs these into the makings of an argument he cleverly disguises as boffo entertainment. Unfortunately, the second act, as mentioned above, cannot quite complete the job; even as the cleverness and integrity of the writing remain at notably high levels, the argument separates from the entertainment and won't re-emulsify however Wolfe shakes them. In almost any other year, he'd win the Tony anyway. But not at the Hamiltonys.
BOTTOM LINE
WILL WIN: Lin-Manuel Miranda, Hamilton
SHOULD WIN: Lin-Manuel Miranda, Hamilton
SHOULD HAVE BEEN NOMINATED: Jessie Nelson, Waitress
Tomorrow, we'll look at the races for Best Play and Best Revival of a Play.
The Tonys will air on CBS on Sunday, June 12.