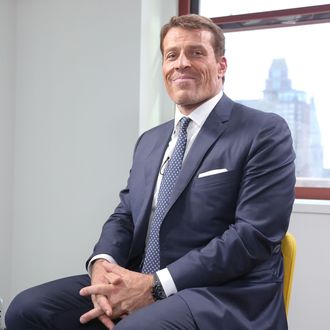 Photo: Taylor Hill/2015 Getty Images
On Friday, motivational speaker Tony Robbins asked those participating in his "Unleash the Power Within" seminar in Dallas to "storm across a bed of hot coals." We're not working with a metaphor here, these were literal hot coals. Though a reported 7,000 participants made it across unharmed, about 40 of the participants were treated for burn injuries, and 5 were taken by ambulance to a nearby hospital.
Jennifer Connelly, a spokeperson for Robbins, told NPR that the coal walk has been "a celebrated part of this event for 35 years," and insisted that fewer than 1 percent of participants typically experience burns. Note: This isn't the first time Robbins' followers have been injured in their journey across the coals. At a previous Robbins fire-walking challenge in 2012 in San Jose, California, about two dozen participants also reported burns.
If you'd rather experience the unleashed power of Tony Robbins from behind the safety of your computer screen, the Robbins-centric documentary I Am Not Your Guru is set to drop on Netflix on July 15.