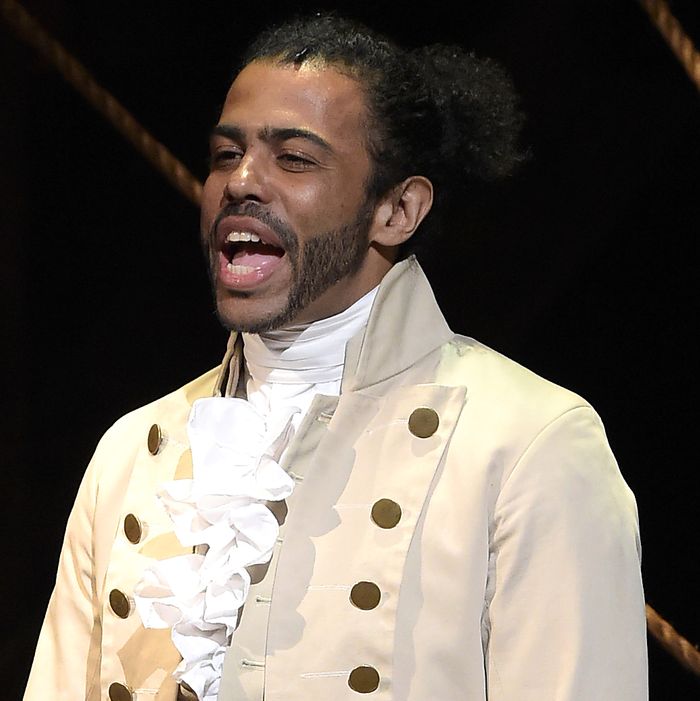 What didn't he miss?
Photo: Theo Wargo/WireImage
Now that we've reached the performance categories — musicals today, plays tomorrow — the time has come to discuss snubs and splits, none of which exist. Snubs are nominations that didn't happen, supposedly with deliberate malice. Benjamin Walker, it is said, was one such snubee; despite a much-praised performance as the title character in American Psycho, he did not reach the final five. This thinking presumes that the Tony nominators are a cabal capable and desirous of conspiring to punish individuals. In fact, there is no discussion among the nominators and the votes are blind. A more likely explanation is that they preferred other performances, or disliked American Psycho so much that Walker, however good they found him, could not, in their individual opinions, rise above it.
You also have to ask: Who among the best-actor nominees should Walker have displaced? With a maximum of five names in each category, and with the quality of performance at a very high level across the board, it's inevitable that some actors giving excellent performances won't make the cut. I list a few of them below, after each category, without necessarily suggesting that someone else took their places unfairly. Awards for great performances are even more nonsensical than awards for great writing, which, being scarcer, is easier to discern. Splits are said to happen when several performers from one production, nominated in the same category, all lose, having divided the voters' allegiances enough to allow a lesser performance to sneak through. I doubt this really happens; shows are not political parties. In any case, the matter will be tested this year by Hamilton, which has multiple nominees in both the leading- and featured-actor categories. It's hard to imagine that any voter trying to choose between, say, Lin-Manuel Miranda (as Hamilton) and Leslie Odom Jr. (as Burr) would mutter, "Oh, screw it; I'll vote for Danny Burstein." Burstein made a terrific Tevye in Fiddler on the Roof, an entirely rethought character from top to bottom; if he wins, it will be on his own merits, not on the agonies of a split vote.
Best Performance by an Actor in a Leading Role in a Musical
That said, I doubt Burstein will win. Less so do I think that Alex Brightman, who plays Dewey in School of Rock, and Zachary Levi, the "Me" in She Loves Me, have much of a chance. Dewey is not so much a coherent character as a comic endurance test, which Brightman passes easily. But that's not the capital-A Acting voters usually look for. Levi, charming in a role that is possibly mislabeled as leading, faces a similar problem: She Loves Me is a comedy. Burstein's role, being both hefty and historical, is the only one in which an excellent performance might provide competition to Miranda and Odom, who together form the helix of Hamilton. Choosing between them is a difficult matter. Miranda is riveting, of course: by definition definitive in the role. (He wrote it to his strengths.) But Odom brings a higher polish to his role, and his technique has kept him at peak level for a year, even as Miranda's voice grows more ragged. I've heard some voters say that because Miranda will likely receive three other major awards — Best Book, Best Score, and Best Musical (which technically is given to a show's producers) — he will magnanimously defer to Odom here. Voting doesn't work that way, though. If it's true that he hopes Odom will win, I think he's going to go home triumphant and disappointed.
BOTTOM LINE
WILL WIN: Lin-Manuel Miranda, Hamilton.
SHOULD WIN: Leslie Odom Jr., Hamilton.
SHOULD HAVE BEEN NOMINATED: None.
Best Performance by an Actress in a Leading Role in a Musical
Audra McDonald, winner of six Tony awards in four different categories, in effect campaigned not to be nominated for another. Her humility was rewarded, but perhaps grudgingly so, because her performance as Lottie Gee in Shuffle Along is at her usual prize-worthy level. Or perhaps, in a season of terrific leading actress showings, the nominators were simply relieved to put McDonald aside with impunity. The job was already hard enough, and made harder by a different panel's decision to consider Eliza Hamilton — Alexander's long-suffering wife — as a leading rather than a featured role. (She does get the show's last word.) That ruling lifted Phillipa Soo out of competition with her cast mate Renée Elise Goldsberry (nominated in the featured-role category) but into the oncoming path of an imposing and probably unbeatable diva phalanx.
Two of those divas are new to Broadway: Carmen Cusack and Cynthia Erivo. Cusack plays a complicated double role in Bright Star: the prickly editor of a literary magazine in the 1940s, and a spunky teenage version of herself in the 1920s. She's terrific, but the show itself is a hobbled mess, and voters almost never give out best-in-a-lost-cause awards unless nothing better is available. Something better is: Erivo in the revival of The Color Purple. Her performance as Celie, universally acclaimed, is not only good in itself but is part of the redemption of the property, which now seems so much more powerful than it did a decade ago.
The two newbies face two much-loved Broadway stalwarts, each with a previous Best Actress award. In Waitress, Jessie Mueller once again combines uncanny mimicry of a pop star — this time Sara Bareilles instead of Carole King — with the kind of personal intensity that overrides potholes in the writing. In She Loves Me, there are no potholes for Laura Benanti to override; it's a perfect musical. All Benanti has to do is give a perfect performance, which she does.
BOTTOM LINE
WILL WIN: Cynthia Erivo, The Color Purple.
SHOULD WIN: Cynthia Erivo, The Color Purple.
SHOULD HAVE BEEN NOMINATED: Audra McDonald, Shuffle Along.
Best Performance by an Actor in a Featured Role in a Musical
If splits existed, this is where one would happen. Daveed Diggs, Jonathan Groff, and Christopher Jackson are all nominated for their performances in Hamilton. As King George III, with about ten minutes of stage time, Groff has the kind of supporting role that voters sometimes reward: a secondary or even tertiary character who makes a strong, quick impression and then goes back to the dressing room. (Groff sings "You'll Be Back" and two reprises thereof at different points in the action.) Christopher Fitzgerald in Waitress has another such role: strange little Ogie, whose one big number — "Never Ever Getting Rid of Me" — stops the show even though it's basically a defense of stalking. Brandon Victor Dixon's role in Shuffle Along is more central; he plays Eubie Blake, the real-life composer of the show's tunes. But Shuffle Along has a very big center. (Brian Stokes Mitchell, Joshua Henry, and Billy Porter also share it, not to mention McDonald.) For those reasons, and also the fact that Groff did not create his role — Brian D'Arcy James did, off Broadway — I think it comes down to the two other Hamilton men.
It would seem hard to beat a guy playing George Washington, the superego of the revolutionary project as Miranda has reimagined it. (Hamilton is the restless ego, and Burr the id.) But Jackson's interpretation is more than schematic; his Washington is as passionate on the inside as he is stern on the outside. In some ways, his is the most, well, revolutionary portrait in the show, since the real man is such a familiar icon. Not so Hamilton, nor the first of two characters played by Diggs, the Marquis de Lafayette. And though Diggs's second character, Thomas Jefferson, is much better known, the role isn't much based on his real personality; he's a comic foil. Tony lore suggests that the more central, serious role would win, but in this case the buzz is mostly in Diggs's favor. Hamilton is a dark work, its humor mostly arriving in the abstract form of puns, rhymes, and anachronisms. Diggs is the only actor in the middle of the action who gets to break through that. It doesn't hurt that, in addition to his mile-a-minute rap skills, he has a terrific singing voice, a sure physicality, and a killer smile. Audiences will probably get to see that smile in full glory on Sunday.
BOTTOM LINE
WILL WIN: Daveed Diggs, Hamilton.
SHOULD WIN: Daveed Diggs, Hamilton.
SHOULD HAVE BEEN NOMINATED: Billy Porter, Shuffle Along.
Best Performance by an Actress in a Featured Role in a Musical
Let's just start with Jennifer Simard, the sole survivor of the sunk ship that was Disaster! (It closed last month, having hobbled through 104 performances.) For all the usual reasons — the role was small; the show was, nominally, a comedy; it's gone — she's not going to win the award. But, boy, was she funny as the requisite nun in the wrong place at the wrong time.
Everyone else in this category was lucky to be handed the opposite situation, and smart enough to make the most of it. The most surprising, perhaps, was Danielle Brooks, previously known as Taystee on Orange Is the New Black, playing the indomitable Sophia in The Color Purple. The role is natural award-bait (it brought Oprah an Oscar nomination in the movie version) but Brooks, under John Doyle's direction, makes it her own. Still, it's the third lead in a top-heavy show, a situation that also diminishes the chances of Adrienne Warren in Shuffle Along. (She plays two minor characters, both marvelously.) That leaves Jane Krakowski in She Loves Me and Renée Elise Goldsberry in Hamilton. Krakowski, who has twice previously been nominated for a Tony, and won for Nine, plays Ilona Ritter, the heroine's humorously dim and romantically unlucky sidekick; the casting would perhaps even seem too on-the-nose, given Krakowski's 30 Rock persona, were it not for her tremendous stage-likability (and a dress slit to the hip for dancing). But Goldsberry, as Angelica Schuyler, has a more challenging job; she is both Hamilton's sister-in-law and his muse, with a lifetime of diverted feeling to master. It's the kind of plum supporting role they don't write any more, except when they do.
BOTTOM LINE
WILL WIN: Renée Elise Goldsberry, Hamilton.
SHOULD WIN: Renée Elise Goldsberry, Hamilton.
SHOULD HAVE BEEN NOMINATED: Jennifer Hudson, The Color Purple.
Tomorrow, we'll look at the races for performers in non-musical plays.
The Tonys will air on CBS on Sunday, June 12.