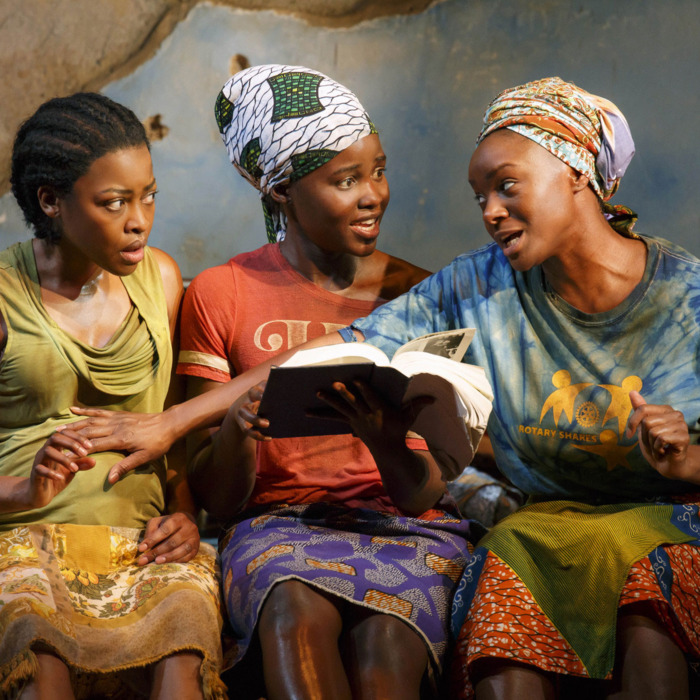 Lupita Nyong'o (center) in Eclipsed.
Photo: Joan Marcus
In part due to Hamilton's dominance, the musical performance categories have been fairly straightforward; the Tony nominators hit their marks and the voters are likely to do so as well. Not so the nonmusical performance categories, which look as if they were populated by throwing darts at a pile of Playbills. That's bound to happen in a season with 20 "straight" plays, of which ten were excellent and another four had plenty to offer. Furthermore, some of the excellent plays featured large ensemble casts, rich from top to bottom. (The Crucible or Noises Off could easily have filled their categories without help from other shows.) However good for the theater this may be, I imagine that for the many fine actors left unacknowledged — I try to acknowledge a few them after each category, below — it's painful. It's also painful for prognosticators, who are left throwing darts themselves.
Best Performance by an Actor in a Leading Role in a Play
Leading roles are not leading merely because they are large; they drive the action of a play and suffer its consequences. The actors who win this award are usually those whose parts allow them to do so commandingly. That's not so much the case with Gabriel Byrne, who as James Tyrone in Long Day's Journey Into Night spends most of three hours reacting to the provocations of his angry sons and drug-addled wife. The putative next monarch of England in King Charles III is in a similar position, reduced to a patsy by the longevity of his mother and the grasping of his children. Though Tim Pigott-Smith captured this quality beautifully, and in delicious blank verse, it simply isn't the kind of performance likely to be remembered. (And the play closed in January.)
Each of the remaining three nominees grabs the reins of his character's destiny and doesn't let go until he is led to disaster. This is most obviously the case for Mark Strong, who as Eddie Carbone in A View From the Bridge begins with quasi-incest and steers himself directly into a bloodbath. (Ivo van Hove's boxing-ring production made the bloodbath literal.) But it is also true, in a way, for Jeff Daniels, even though his character in Blackbird at first seems to be at the receiving end of bad news. This comes in the form of a young woman — Michelle Williams — who returns to accost him 15 years after they had a sexual relationship, when she was 12. But Daniels wastes little time before letting his character's rage and need drive him back into trouble. This would be the darkest journey of all the nominated actors' were it not for the one Frank Langella takes in The Father: a journey, complete with screaming and tears, into dementia. (The play's disorienting structure brings the audience along for the ride.) Although Langella has three Tonys already, at 78 he may reap the culmination-of-a-career vote even though there is clearly more to come from him. Still, the award would not be undeserved; it's a devastating performance.
BOTTOM LINE
WILL WIN: Frank Langella, The Father.
SHOULD WIN: Jeff Daniels, Blackbird.
SHOULD HAVE BEEN NOMINATED: Sam Rockwell, Fool for Love; Ben Whishaw, The Crucible.
Best Performance by an Actress in a Leading Role in a Play
Laurie Metcalf played the nutjob Annie Wilkes in a poor adaptation of the Stephen King story Misery, and though she was solid and even hilarious, I have to think she has been nominated less for her work in the role as for showing up Bruce Willis, who came from Hollywood to play the male lead and didn't. (He just lay there, mumbling.) The other four actresses in the leading-role category were not fighting side-battles with bad material and unstageworthy co-stars. Indeed, two — Jessica Lange and Sophie Okonedo — are in top-notch productions of American classics: Long Day's Journey Into Night and The Crucible, respectively. Lange's performance recalibrates not only her own stage career but the usual balance of power in the play, choosing to give us hope, at first, that her Mary Tyrone might make it through that long journey without the help of morphine. (Mary's failure is thus more devastating.) As Elizabeth Proctor, Okonedo provides not only the bravery and dignity we expect in that tragic character's final submission to Salem's punishment but also, daringly, a sense of her own complicity in the events that lead to it. If it is not exactly a leading role, her artistry made it seem like one.
The other two nominated actresses created memorable new roles. Or newish: Michelle Williams's role in Blackbird was created for American audiences by Alison Pill in a 2007 Manhattan Theatre Club production. Still, Williams's interpretation is so distinct from Pill's it might as well be the first one. Hers is not just a rageful character but a collapsing one, daringly leaving open the question of whether the sexual relationship with Daniels's character caused her trauma or merely contributed to it. Sexual trauma is also at the dark heart of Eclipsed, in which Lupita Nyong'o stars as one of the "wives" — that is, sex slaves — of a rebel overlord at the height of the Liberian civil war in 2003. Even more than in the play's Off Broadway premiere at the Public Theater last fall, Nyong'o has burrowed beneath her character's protective carapace and found ways to let what she finds there leak through. That she was a major force in getting the play produced (without her Oscar fame there's little chance it could have come to Broadway) only enhances the likelihood of her win.
BOTTOM LINE
WILL WIN: Lupita Nyong'o, Eclipsed.
SHOULD WIN: Jessica Lange, Long Day's Journey Into Night.
SHOULD HAVE BEEN NOMINATED: Nicola Walker, A View from the Bridge; Nina Arianda, Fool for Love.
Best Performance by an Actor in a Featured Role in a Play
I don't mean to knock their great performances, but several of the nominees in the featured actor category strike me as ambassadors for their ensemble casts. David Furr, fabulously funny as a pratfalling buffoon in Noises Off (at one point he almost took the whole set down with him) is one of three nominees from that play, which also featured six other performances at approximately the same high level. Likewise, Bill Camp in The Crucible represents the Tony–worthy work of an unusually deep bench of supporting players in what now passes, for Broadway dramas, as an unusually large cast. (Eighteen actors appeared onstage; this season's average is more like five.) Richard Goulding, too, stands for the rest of his company; in King Charles III he played ginger Prince Harry, and his hair color (and anti-Royalist sentiment) helped distinguish him from a supporting cast that also included Prince William, Camilla Parker Bowles, Kate Middleton, and even Lady Diana.
You could say the same, in a way, about Reed Birney, who appears from the credits of The Humans to be an equal member of its six-person ensemble. Tony regulators define actors listed below a show's title on the main page of its Playbill as featured rather than leading, unless a producer's petition convinces them otherwise. In this case, Birney was left as his credit dictated, even though his character, Erik Blake, is the play's driving (and withholding) force. It's a leading role disguised as a supporting one, much as Erik himself disguises his role in the family's dysfunction. However you categorize him, Birney — a local theater treasure much awarded Off Broadway — is superb and heartbreaking. His main competition comes from Michael Shannon, whose trajectory is the reverse of Birney's: He's a movie star who makes stellar stage appearances from time to time. In Long Day's Journey Into Night he plays Jamie Tyrone, the decadent older son, unable to escape the orbit of his selfish actor father. Though Shannon does it well, the role is necessarily passive, and voters tend to go for the most active actors in every category.
BOTTOM LINE
WILL WIN: Reed Birney, The Humans.
SHOULD WIN: Reed Birney, The Humans.
SHOULD HAVE BEEN NOMINATED: Jim Norton, The Crucible.
Best Performance by an Actress in a Featured Role in a Play
What's sauce for the goose is sauce for the gander; the analysis of the men in featured roles goes even more so for the women. The five nominees represent only three plays, and each of them is, in part, holding the honor for her castmates. From Eclipsed come Saycon Sengbloh and Pascale Armand, wives No. 1 and 3 in the makeshift harem of a Liberian warlord. (Nyong'o is No. 4.) Both are terrific, Sengbloh both maternal and forbidding, Armand both amusing and tragic. At the other end of the genre spectrum, Megan Hilty and Andrea Martin were flat-out hysterical in Noises Off. As the actress Dotty Otley, herself unlikely to win any awards playing the housekeeper Mrs. Clackett in the play-within-the-play, Martin seemed to be a comedy computer, spitting out always perfect curlicues of inconsequence. And Hilty did something with the bimbo role of Brooke Ashton I never imagined: She made her serious and, in an absurd way, moving. This caused audiences (all right, me) to scream with laughter.
But Jayne Houdyshell. One of the great things about The Humans is the way it makes what would ordinarily be character roles into the center of the action, never more so than with Deirdre Blake, the warm, prickly, stalwart, crushed moral center of the play. I've never seen a bad Houdyshell performance, but I've never seen a better one either.
BOTTOM LINE
WILL WIN: Jayne Houdyshell, The Humans.
SHOULD WIN: Jayne Houdyshell, The Humans.
SHOULD HAVE BEEN NOMINATED: Cassie Beck, The Humans.
Tomorrow, we'll look at the direction, choreography, and technical categories.
The Tonys will air on CBS on Sunday, June 12.