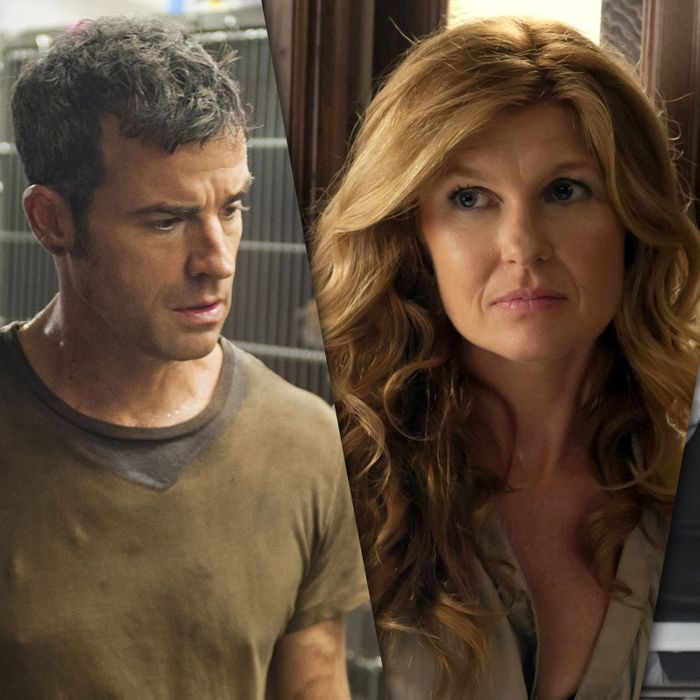 As of today, summer is officially here, which means it's the perfect time to stream new and old favorites, try something unexpected, or fully commit to a long rewatch. Anything is possible! Ahead, we've compiled some of the greatest hits the streaming services have to offer right now, organized by type.
Dark and Heavy Dramas That Go Down Easier Because It's So Hot Out
American Horror Story
Amazon and Netflix and Hulu
You have Connie Britton dealing with a completely deranged family and supernatural drama in season one, and Sarah Paulson living through terrible nightmare after terrible nightmare in season two. It's dark stuff, but damn if these women aren't revelations in their roles.
In Treatment
HBO Now and Amazon
Following a therapist's weekly sessions can be intense, but, boy, is it cathartic. Watch one of these every morning just for a rush of pure emotional honesty before starting the day.
Battlestar Galactica
Hulu
Mary McDonnell as President Laura Roslin goes down as one of the great female characters in TV history. And who wants to pass up a great Edward James Olmos performance? If for nothing else, watch so your friends stop asking you to. Be warned, though: Each episode can feel like a gut-punch, and there aren't many moments of levity during its four seasons. The show is so dark, characters keep a tally of how many human beings are left in the entire universe.
The Leftovers
HBO Now
If the first season bummed you out too much to catch the second, consider this: Even those who didn't like season one almost universally agree that season two was one of the best shows of 2015. New York's Matt Zoller Seitz called it "one of the great dramas in American television."
Teen Wolf
Amazon
Sure, it may not hold a prominent place in "Peak TV," but summer's the perfect time to watch these poor, beautiful teenagers play a bunch of lacrosse and go from one nightmare to the next. Vulture's Kyle Buchanan wrote about a friend yelping at Tyler Hoechlin's muscular body in Everybody Wants Some and, well, that's also a huge part of Teen Wolf.
Hannibal
Season one and two on Amazon
Matt Zoller Seitz placed every season of this show on his year-end lists, calling it "the most visually and atmospherically striking network series since Twin Peaks." Its campy, delightful, and yes, grotesque cooking scenes, combined with its poetically haunting look at violence will make you feel a little colder this summer.
Maybe If We Had Watched These When They Were on They Wouldn't Have Been Canceled
Sports Night
Hulu
Young Josh Charles, Joshua Molina, and Peter Krause: Who could ask for more? Sure, Sorkin did three shows about TV, but his first was his best.
Enlightened
HBO and Amazon
Vulture called the show "a beautiful little tragedy that tricks you into thinking it's a comedy but is actually this haunting fable of the limits of good intentions." In general, we all should've done better by Laura Dern.
Faking It
Hulu
It was never perfect, but often the show's depiction of being in love with a friend who didn't love you back was.
Selfie
Hulu
John Cho said "I've grown accustomed to your face" in episode six of this modern My Fair Lady, and we still allowed this show to get cancelled? It's a quick hit (only 13 episodes), and sure, Karen Gillan's accent can be a little wonky, but it's always good to remember that John Cho deserves all the leading roles.
Political Animals
Netflix
Given the current election climate, this one might be a pretty hard sell. Sigourney Weaver is basically a one-for-one Hillary Clinton after her 2008 primary loss. So if you like Clinton (or really just feel okay about her) this show is perfect for you.
Binges That Will Make You Happy, But That Don't Require a Big Time Investment
Life Unexpected
Amazon and Netflix
If you watch UnREAL unable to take your eyes off of Shiri Appleby, then check her out here where, basically, ditto. She's so compelling and raw as Cate Cassidy — a woman who puts her daughter up for adoption as a baby, only to have her return to her life as a teenager — it feels like you're watching a close friend. (Side note: Appleby's Roswell is also available to stream.)
Catastrophe
Amazon
At only six episodes a season, you could be done with this delightful series starring the hilarious and heartbreaking Sharon Horgan and Rob Delaney before you finish this article.
Project Greenlight
HBO
Last season Project Greenlight found the perfect TV villain in director Jason Mann and TV heroine in Effie Brown. Watch and be filled with righteous rage at Effie's treatment and joy at her incredible competence. Then bask in the irony of how such great TV could lead to such a boring movie.
Avatar: The Last Airbender
Amazon
Yep, it's a cartoon, but it also hits every emotional beat a million times better than the M. Night Shyamalan movie based on it.
Samantha Who
Hulu
Watch Melissa McCarthy, right before she became the biggest movie star in the world, and Christina Applegate charm the hell out of you. The two seasons go by fast, make you laugh, and also deliver a pretty swoony romance.
Burning Love
Hulu
Lots of people have affection for June Diane Raphael because she co-hosts the popular podcast "How Did This Get Made?" But it's her pitch-perfect performance as an unhinged Bachelorette star that will make you ask, "Why isn't she in everything?"
Don't Trust the B—- in Apartment 23
Netflix
Showrunner Nahnatchka Khan now makes you smile every week with Fresh Off the Boat. Krysten Ritter kicks butt on Jessica Jones. But, before that, there was this funny, flawed, crazy show that's so fun to rewatch. Also, Eric Andre!
Drunk History
Hulu
Nothing says summer like drunk comedians giving very detailed history lessons.
Shows With Kick-ass Leading Ladies

Scandal
Netflix 
After an ill-advised kidnapping-and-auctioning-Olivia plot last season, Scandal was back to being excellent in season five. The show doesn't return until winter so you have some time to catch up, and what better way to deal with summer election fatigue than soap-driven politics?
Alias
Netflix and Hulu
Before Star Wars' Rey, J.J. Abrams gave us his first ass-kicking female lead in Sydney Bristow. The show gets a little muddled in mythology in later seasons, but the pilot and first season bring tons of suspense, exceptional cliffhangers, and Bradley Cooper as a journalist.
Ugly Betty
Hulu
Speaking of journalists, Betty Suarez as the assistant with a big dream is the perfect light, fun show. With so much heart, it'll keep you motivated all summer to follow your dreams, even if your dreams are just buying more Popsicles and watching more episodes.
It's High Time For a Big Rewatch
Lost
Netflix
There's a certain calm that comes from rewatching this show, unburdened by weekly discussions about key plot points and increasing hysteria that important questions were never going to get answered. Now you can just let it wash over you and enjoy the polar bears.
Deadwood/The Wire/The Sopranos/Mad Men/Breaking Bad
Netflix for Mad Men and Breaking Bad, HBO and Amazon for Deadwood, The Wire, and The Sopranos
Is it maybe a cop-out to put all of these together? Sure! But as the five shows most commonly hailed as some of the greatest TV of all time, this is just a reminder that they are all very easy to find.
Buffy the Vampire Slayer
Netflix and Hulu
It's always a good time to remember Buffy Summers. She saved the world, a lot.
Veronica Mars
Amazon
If a long time ago you used to consider this show a friend, it is time to give it another go. Then maybe check out Rob Thomas' new leading lady on the also-excellent iZombie.
Sex and the City
Amazon and HBO
I couldn't help but think that summer is the perfect time to watch this classic show.