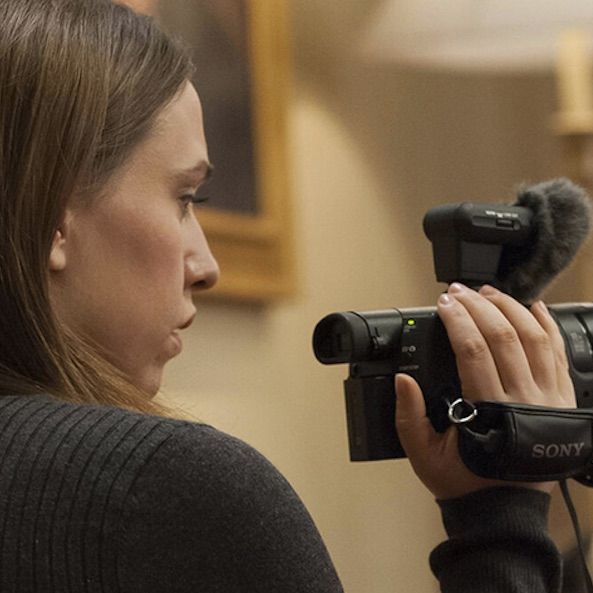 A still from KissingYourSisterFilm.com.
Selina Meyer doesn't have a great relationship with the internet. (To be fair, Selina Meyer doesn't have a great relationship with anyone.) Veep's resident POTUS has accidentally tweeted direct messages to the masses and watched her campaign website, in accordance with the inviolable Rule 34, be made into a porn parody.
But her daughter, Catherine, seems to be succeeding where Selina has failed. The Veep writers built a website for Kissing Your Sister: The Story of a Tie, the documentary she's been filming throughout the show's fifth season. The site is stuffed with bonus footage from this week's episode, as well as (fake) information about (fake) screenings of the film and other (fake) projects in the works by "Marjorine Films."
As Veep showrunner David Mandel told Vulture by phone, he had noticed a few other comedies building out online worlds for their shows. Silicon Valley did it, and the Parks and Rec team produced an official site for the city of Pawnee, Indiana, as well as Tom Haverford's Rent-a-Swag and Ron Swanson's sax-playing alter ego, Duke Silver. "What's really fun about it is, it doesn't have the pressure of being the show," Mandel said. "It can just be. If you find it and enjoy it, great. If you never see it, it doesn't take anything away."
The idea certainly made an impression in the Veep writers' room. And so, when the inimitable Richard Splett shared his email handle, Splett2@splettnet.net, and mentioned his blog in a recent episode, they were prepared to run with it. "Let's Talk About Splett" has entries on everything from "Directed Energy Weapons: My View" ("I know the lethal stuff is considered "sexier" but the non-lethal devices may actually have greater utility in the current geopolitical landscape") to "Good Apples" ("I know I said five, but I couldn't leave off green. Just didn't sit well with me"). You can even download Richard's voicemail, if you're so inclined.
Later, while shooting campaign ads for Jonah Ryan's shockingly successful congressional run, the Veep staff realized they had enough footage to cut a few more commercials. Those ad spots now live on JonahRyanforCongress.com. (Be warned: The site automatically plays loud rock music. So very annoying, so very Jonah.) You can download a campaign poster — though it doesn't quite have that Shepard Fairey cool factor — and learn Jonah's story: "I attended the University of New Hampshire, first in Durham, and then after a year off, at the Manchester campus and, although I left before completing my degree, I can attest firsthand to the world-class quality of that fine institution."
The Kissing Your Sister site was "the logical extension" of the documentary, Mandel said, a public home for all the extra footage they'd shot. "There could have been an hour-plus cut of her movie."
Though that's a lot of extra footage, the script for those scenes wasn't significantly longer than average, Mandel added. "Every time we sat down to do the interviews, we built into our schedule time to play with the actors where we then would ask them 20 minutes worth of questions that they never heard and they had to answer in character. Sometimes we came up with ideas and had them say things, and a lot of times it's just stuff they improved."
They'd ask the same questions to different cast members — "How did you get your start in politics?" — while also employing a second unit, a perk of the production's single-camera style. "We could take David Pasquesi, who plays Selina's ex, and have him go in a separate room with a second unit and ask him 20 minutes of questions, even as we're shooting the rest of the episode," Mandel said.
There was talk of airing a special 70-minute episode, but Sunday nights at HBO are a bit too crowded for that. Given a broadcast schedule that also juggles Game of Thrones, Silicon Valley, and Last Week Tonight, Mandel said, "We are slightly the victim, but also the beneficiary." Just add the full director's cut of Kissing Your Sister to that GOT body count. "There was never a great answer to where that 70-minute cut could go," he explained.
So, who's to thank for this flurry of bonus Veep gags? In Mandel's words, Billy Kimball is the writer who "has been captaining the digital side," though there is no official title for this side gig. (Kimball is the mind behind a lot of Selina's tweets, too.) "Billy has a wonderful ability [to be] very pitch-perfect, accurate and funny" in this space; he wrote Marjorie's biography on the Kissing Your Sister site, as well as an obituary for Catherine's grandmother, Meema. Of course, this isn't a one-person job: All the writers contributed to the project, and the creation of KYS content didn't have to pick up until after the season's production wrapped.
There's already plenty to keep you busy (read: procrastinating through your Monday morning) on the KYS site, but Mandel promised there is "more to come as the week goes by." Tea-making lessons with Gary? Tom James and Selina's sex tape? Long, silent stretches of Marjorie just staring into the middle distance? Until then, we'll have to wait to find out what might fit with Catherine's takes on "issues like environmental degradation, the bitter legacy of colonialism, animal rights, and the stubborn prevalence of the discredited gender binary."