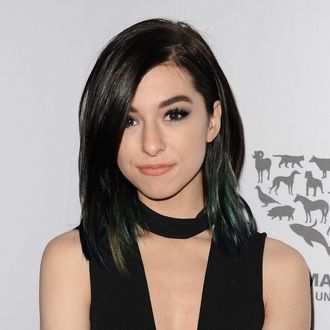 Photo: Jason LaVeris/2016 Jason LaVeris
Christina Grimmie, a former contestant on The Voice, has died at the age of 22 after being fatally shot at a concert in Orlando, Florida, on Friday. Grimmie — who finished third during season six of the singing competition show on Adam Levine's team — was shot while signing autographs for fans at a merchandise table following a performance with the band Before You Exit at the Plaza Live Theater. According to local NBC affiliate WESH, Grimmie's brother immediately tackled the gunman — who was armed with two guns, two loaded magazines, and a large hunting knife — following the shooting; the gunman proceeded to fatally shoot himself during the struggle. Grimmie was transported to Orlando Regional Medical Center in critical condition, and passed away later that evening.
"It is with a heavy heart that we can confirm that Christina has passed and went home to be with the Lord. She was shot at her show in Orlando and, unfortunately, didn't survive the gun shot wounds," a statement from her representatives said. "We ask at this time that you respect the privacy of her family and friends in their time of mourning." Prior to appearing on The Voice, Grimmie achieved success by posting various pop covers on her YouTube channel, which lead to a release of an EP, Find Me, and studio album, With Love. Earlier this year, she released another EP titled Side A.
Update: TMZ is reporting that the gunman was a "deranged fan who had a specific mission" to travel from another city in Florida to Orlando in order to kill Grimmie. There is no apparent connection between the gunman and Grimmie; according to the Orlando police handling the case, he never attempted to get in touch with her over social media. The Plaza Live, the venue where the shooting occurred, has also released a statement that they are "closely working with The Orlando Police Department" and have suspended all activities and events at the site "until further notice." Read the statement in full below.
Update: Police have identified the shooter as Kevin James Loibl of St. Petersburg, Florida. Loibl, 27, died shortly after fatally shooting himself during a struggle with Grimmie's brother. A motive behind the attack has yet to be determined, and police are in the midst of searching Loibl's home, computer, phone, and other personal belongings for information.