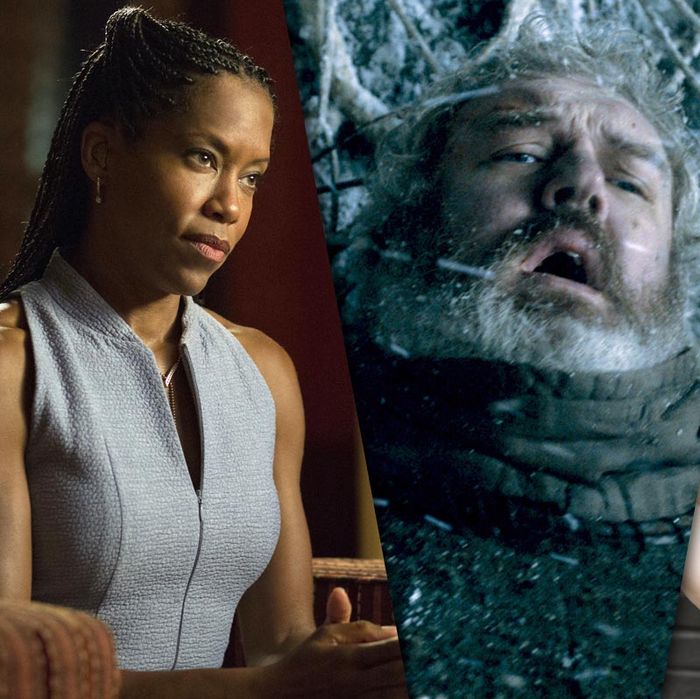 The 2016 Emmy race has begun, and Vulture will take a close look at the contenders until voting closes on June 27.
If there's one thing the release of the new season of Orange Is the New Black reminds us, it's that binge-watching is the new way of consuming television. It's less rare to consume two, three, or four episodes of a show in a sitting, whether that's because you're losing a weekend to the latest streaming release or catching up on something that's already aired. In the world of Peak TV, individual installments matter less; a season can feel more like an episode.
In defiance of that, or at least in celebration of a more old-fashioned kind of television, we Vulture staffers looked back at the last year of television (broadly defined as "episodes that aired between May 2015 and June 2016," or simply "episodes that are Emmy-eligible") and chose our favorite single installments of TV. Our selections aren't meant to be comprehensive, and we'd love to read your picks in the comments. These are simply a few of the pieces of television that stuck with us as pieces of television, regardless of the state of the rest of the show. Long live the bottle and backstory episodes, the finales, and the weird middle chapters that bind everything together.
Game of Thrones, "The Door" (Season 6, Episode 5)
If you would have asked Game of Thrones fans before this season, "Why does Hodor say Hodor?" it would have placed just ahead of "How did Jack get his tattoos on Lost?" in the ranks of TV questions no one needed an answer to. And yet, in the hands of writers David Benioff and D.B. Weiss and director Jack Bender (a Lost veteran himself), the answer was utterly heartbreaking: Hodor was an ordinary kid whose brain was collateral damage in Bran Stark's ventures through the slipstream of time. In an episode where characters weighed the potentially dire consequences of their actions — from Tyrion proposing a seven-year waiting period before banning slavery, to Sansa considering Littlefinger's offer of a Vale army, no strings attached — Hodor's fate was no less tragic for being a complete accident. —Nate Jones (@Kn8)
Downton Abbey, "Part Eight" (Season 6, Episode 8)
Behold, the most Downton Abbey episode of Downton Abbey ever. An illegitimate child reveal! A suicide attempt! A secret identity reveal! A bed-and-breakfast scandal! A wedding! This episode had it all, but nothing compared to its Edith vs. Mary face-off. Finally, after six seasons of Mary tearing Poor Edith down and now attempting to spoil her younger sister's last hope for a happy ending, Edith dragged Mary to hell and back. "I know you to be a nasty, jealous, scheming bitch." (Gasp!) "You're a bitch!" (GASP!) Of course, they reconcile by episode's end, but for those few brief seconds, Julian Fellowes delivered Emmy-deserving fan service. It could only be topped by another tremendously written scene that sees our normally cold Dowager Countess, for once, be a grandmother and empathize with Mary's conflicted mind about remarriage — a moment played to perfection by Maggie Smith and Michelle Dockery. —Dee Lockett (@Dee_Lockett)
Veep, "C**tgate" (Season 5, Episode 6)
I was initially a bit worried — as others may have been, too — when it was announced that Veep creator and showrunner Armando Iannucci would be leaving the show at the end of the fourth season. But after watching this utterly phenomenal episode after a great-but-not-excellent fifth season start, I officially swore my allegiance to the post–Iannucci world. This episode had everything: a compelling — yet hilarious — central narrative about the constant misogyny faced by women in power; Jonah, a.k.a. "the first mentally impaired Frankenstein's monster to ever win an election," clumsily attempting to run for congress in New Hampshire; and some truly unexpected romantic plot twists for kicks. (And for what it's worth, "C**tgate" also birthed perhaps my favorite brief arc on television this year, with Tom Petty repeatedly sending Jonah cease-and-desist letters to stop using his music.) Give ALL THE AWARDS to Julia Louis-Dreyfus. —Devon Ivie (@devonsaysrelax)
Better Call Saul, "Klick" (Season 2, Episode 10)
This season of Better Call Saul revealed that the show isn't so much a solo vehicle for the titular Saul (here, still referred to by his birth name, Jimmy McGill, and played with mendacious aplomb by Bob Odenkirk) as it is an ensemble piece about him, featuring his brother, Chuck (Michael McKean); his sorta-girlfriend, Kim (Rhea Seehorn); and his future partner-in-crime, Mike (Jonathan Banks). In the season finale, "Klick," Mike attempts to execute his long-planned hit on a crime lord in a mostly silent and agonizingly long scene, only to be wordlessly thwarted. Kim doesn't get as much time as one would like, but Seehorn delivers her signature mix of compassion and condescension in her scenes with Jimmy. And most important, we see the Cain-and-Abel struggle between Jimmy and Chuck reach a dizzying intensity. From the devastating opening sequence between the two of them to the somehow even more devastating companion sequence at the end, we see a relationship filled with the kind of excruciating antagonism that can only be built on love. And what a final shot! —Abraham Riesman (@abrahamjoseph)
Togetherness, "Advanced Pretend," (Season 2, Episode 3)
It's a shame that HBO canceled Togetherness after just two seasons. In a way, it's also a shame that "Advanced Pretend" wasn't the series finale. Even though it's only the third episode of that second and last season, its exploration of what happens after Michelle (Melanie Lynskey) reveals she cheated on Brett (Mark Duplass) encapsulates everything the series was about, from its focus on characters exploring paths not taken to repeated two-shots that emphasize how important the marriages between friends and siblings become in times of crisis. Togetherness could be described as a show about "white-people problems," but the final moments of this episode tap into a vein — and a tear duct — that's far more universal. —Jen Chaney (@chaneyj)
Hannibal, "The Wrath of the Lamb," (Season 3, Episode 13)
It's fitting that NBC's Hannibal met its untimely demise with a final fight scene that's staged like a gracefully gruesome ballet. After three criminally underwatched seasons full of psychological manipulation, homoeroticism, art-house aesthetics, and countless lavish dinner parties, "The Wrath of the Lamb" functions as a perfect sendoff because it acts as a microcosm of the series itself. Like the best Hannibal episodes, "The Wrath of the Lamb" takes its time in building to its climax, reveling in moody, coded dialogue and stylized close-up shots as it builds tension between Will (Hugh Dancy) and Hannibal (Mads Mikkelsen) one last time. The result is a visually and thematically stunning final five minutes — perfectly soundtracked by an original Siouxsie Sioux song — that solidifies the nature of Will and Hannibal's complicated relationship in a way that feels final enough for a series finale, but vague enough to keep fannibals' wheels spinning in case of a sudden fourth-season pickup. —Samantha Rollins (@SamanthaRollins)
Girls, "Love Stories" (Season 5, Episode 9)
This felt like the season where we finally got to watch Girls as a TV show, without the hub and bub that has surrounded it from the start. And man, what a TV show it was this season — confident, funny, bold, human. I could easily have picked a few episodes from the season as my favorite (the episode about Shoshanna's life in Japan and the one in which Hannah realizes that Adam and Jessa are dating, for example), but something about all those scenes with Hannah and her nemesis, Tilly (played by the incomparable Jenny Slate), in "Love Stories" felt like something truly special. Through Tilly and her success, it felt like we got a glimpse of what it would be like if Lena Dunham could have a conversation with Hannah, and it was so fun and sad and loving. Also, there's Elijah's beautiful, heartbreaking speech to Dill. All in all, a gift for those who stuck with the show. —Jesse David Fox (@JesseDavidFox)
The Leftovers, "Lens" (Season 2, Episode 6)
In its second season, The Leftovers relocated to Texas, introduced whole new family of characters, set an entire episode in a hotel-slash-Purgatory itself. That episode, titled "International Assassin," is the attention grabber in a standout season, but I prefer the smaller, weirder "Lens," which centers on Erika (Regina King), whose daughter has disappeared, and Nora (Carrie Coon), who worries she is somehow responsible (because of the demon Azrael, it's complicated). The episode spends much of its time threading the season's many plots together, but it's an object lesson on how a single installment can accomplish those utilitarian goals without sacrificing thematic consistency and genuine feeling. Coon and King's bravura confrontation is a whirlpool of The Leftover's core fascinations — guilt, despair, the anxieties of parenthood — pulling the show to mythic and murky depths. "Lens" is a beautiful example of a contained statement that functions as part of a whole, catharsis without resolution. —Jackson McHenry (@McHenryJD)
Orange Is the New Black, "The Animals" (Season 4, Episode 12)
Episodes of television can be memorable for different reasons —  a single performance, a well-executed narrative twist, where you were in your life when you watched it. I was originally going to pick Crazy Ex-Girlfriend's "That Text Was Not Meant for Josh!" here, for some of the most ingenious sitcom-plotting I've seen in recent memory. But then I, like the rest of America, cried my eyes out watching episode 12 of Orange Is the New Black's fourth season, "The Animals," and was reminded that television can make me feel like this. [Spoilers ahead for those who haven't finished the latest season yet.] A number of shows have made admirable attempts to address the Black Lives Matter movement in the past year, from Scandal to Empire, but none tear your heart out like "The Animals" does. After steadily building up empathy for the people involved in the death of Poussey Washington, the actual moment she has the life choked out of her happens in a chaotic scene that is over in about one minute, but seems to move in slow motion. It's the moment after, though, when — after a season of limited one-on-one interaction — Taystee curls around her dear friend Poussey's body and lets out a long, soul-crushing cry, that the episode pulls its biggest gut punch. On Orange Is the New Black, tragedies don't just exist within the world of the show. This is the harshest indictment of a broken prison system the series has made yet, and it's not a point viewers will soon forget. —Gazelle Emami (@gazellephant)