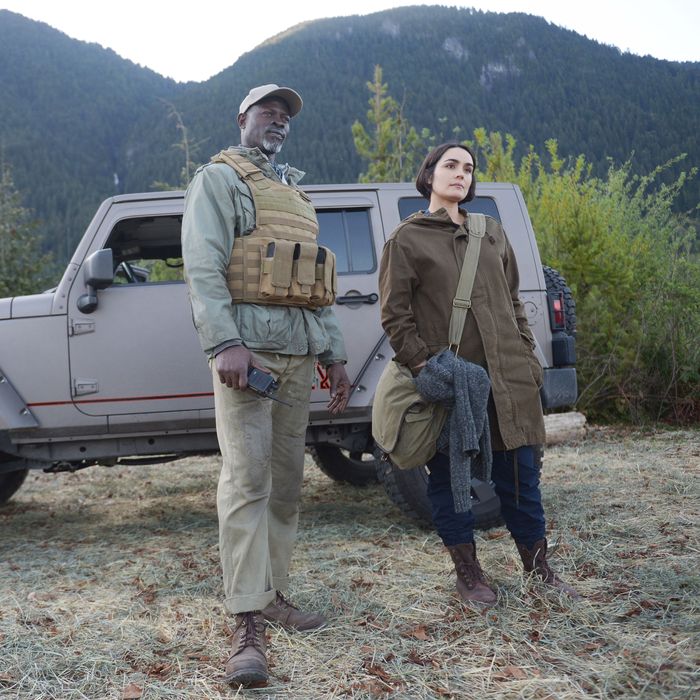 Djimon Hounsou as C.J. Mitchum, Shannyn Sossamon as Theresa Burke.
Photo: Sergei Bachlakov/FOX
A new rule is popping off in Wayward Pines: If you can survive outside the walls with all those ravenous abbies for an extended period of time, they'll open up for the gate and welcome you back with open arms.
That's certainly what happens to the two men brought into the fold in "Exit Strategy." We start off the episode with Xander, that undercover insurgent who was "exiled" with Ben and Yedlin at the top of the season, as he literally climbs out of a hole in the ground. (He does so after offing an abbie by putting it in a sleeper hold and squashing its head with a rock for good measure.) After that, he gets held at knifepoint by none other than Adam Hassler, Ethan's old boss, sporting long hair and a beard. Dude looks like a goddamn Doobie Brothers roadie.
Hassler is back after a long journey of trying to find other people in the barren wasteland that has become Earth. (Last season, you may remember when the Burkes and Kate discovered that lost video dispatch he sent from a desolate San Francisco.) When the Pilcher Youth discovers that both men are alive and well, they open up the gate and let 'em on in.
Hassler was quite talkative to Xander when they were out there in the wild, but he's mum once he steps inside the Pines, only informing Yedlin at the hospital that the abbies are "our replacements." Apparently, Hassler is tormented by years of offing abbies, so he hobbles around Main Street guzzling booze until he stops seeing abbies everywhere. If that isn't bad enough, he also runs into Theresa Burke, who reminds him it's his fault that Ethan is dead and Ben is missing, since he's responsible for sending them into the future as Wayward Pines residents. As for Xander, he goes back to running his sugar shack on Main Street, reassuring a still-suspicious Kerry that he's not out to start any more trouble with Higgins.
While Hassler and Xander reacquaint themselves, C.J. wants to go beyond the walls and find more places to plant crops. With Higgins's blessing, he and some soldiers make a hopeful pilgrimage outside the Pines, since the abbies are still nowhere to be found. Theresa and Hassler tag along for the ride — she's still hoping to find her son — but Hassler eventually finds Ben's corpse, bringing it back to camp for her to identify. (We never see Ben's face, strangely. I guess Charlie Tahan was too busy to literally play dead for a few seconds.)
While Theresa mourns the loss of her son, Fisher is trying to bring new life to the Pines by getting more young residents to smash. Yes, Fisher is still encouraging kids who aren't even teenagers to get their freak on and have babies. This is still the creepiest-ass thing on this creepy-ass show. Rebecca's preteen assistant, Lucy, doesn't want to be a parent just yet, especially after she gets her first period and starts worrying that she'll have to start doing woman things. (Isn't it bad enough that she does child labor at Rebecca's salon?) Lucy tries to keep it quiet, but her big brother, Frank, dimes her out after Fisher lays on some nonsense about the necessity of fulfilling her womanly duties. When Fisher tries to get Lucy, Rebecca protects her, basically telling Fisher to roll her ass out of the salon.
Lucy was obviously pissed at her brother, which leads him to brood and sulk for a while. When he goes out late one evening to snack on a sandwich on Main Street, he sees the Ferris wheel briefly light up and spin around. After it cuts off, guess what he sees lurking around the wheel? An abbie. Oh shit! It's on now!
Unfortunately, "Strategy" is such a mixed bag that even the sight of an abbie in Wayward Pines didn't seem all that startling. Although indie horror director Ti West helmed this episode, it's just too underwhelming and a bit schlocky. (The scene where Hassler limps out of his hospital room, while loopy receptionist Arlene follows him and asks about his haircut, seems like it came from a bad SyFy movie.) Most of the characters are stuck in a disillusioned malaise, as if they're they're too tired (or too bored) to recognize the jacked-up mayhem that's clearly coming.
The world of Wayward Pines is sick and sad. It's hard to blame everyone involved, both humans and abbies, for taking a minute to chill before they ultimately deal with everything.
Stray Thoughts:
How do people keep getting liquor in Wayward Pines? Hassler keeps guzzling that bottle of booze. The Yedlins talk over a couple of beers. Where the hell does all this alcohol come from?
Pines! A Musical Celebration is an amusingly shitty school play.
Am I the only one trying to figure out Rebecca? She keeps encouraging her husband to not rock the boat and accept life as a quiet Pines resident like herself, but it seems like she's more powerful than she lets on. She definitely acts that way when she warns Fisher not to start a beef with her.
Also, what was up with that flirty moment between her and Xander? While Yedlin was asleep, did they have a thing going on?
Fisher still has such a hard-on for the late David Pilcher. I'm waiting for the scene where we see a shrine to the dude in her house.
Higgins only appears in a couple of scenes this week. That's a good thing. A very good thing.
How did Theresa recognize Hassler under all that hair? Dude looked like Loggins and Messina.