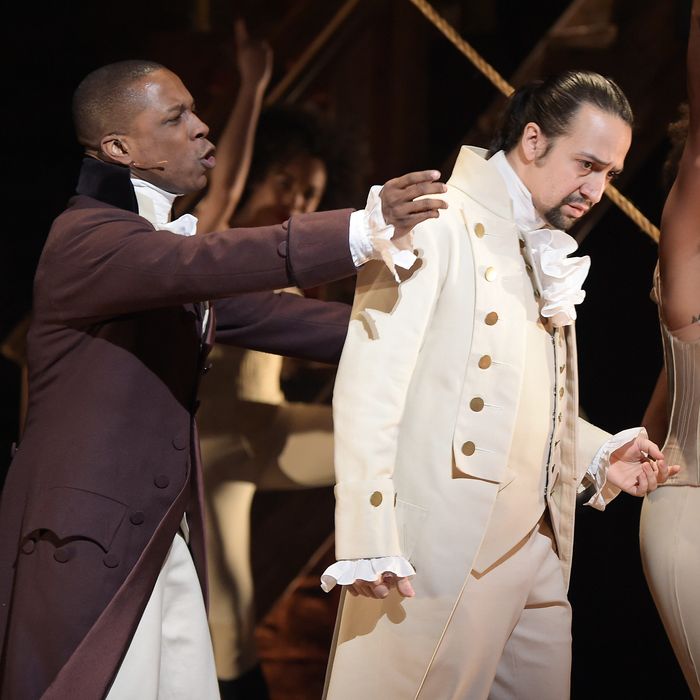 "Hamilton" GRAMMY performance for The 58th GRAMMY Awards at Richard Rodgers Theater.
Photo: Theo Wargo/Getty Images
After making a bunch of people very rich and winning a whopping 11 Tony Awards, what comes next for Hamilton? This summer marked the end of act one for the smash Broadway hit: Unlike Alexander Hamilton himself, many of the people involved are taking a break from the production now that their yearlong contracts are up. With the change in administration, we thought this would be a good time to check in on the future of Hamilton, from cast departures to filmed versions to non-Broadway productions. Take a look below to see what you missed.
CAST DEPARTURES
At the Tonys, Hamilton creator and star Lin-Manuel Miranda confirmed all those rumors and announced he'd be leaving the show after the July 9 performance. However, Miranda says he's not done with Alexander Hamilton for good: "I intend to drop in on this thing … Cut to like 20 years [in the future]; you're going to be like, 'When will you stop playing it?'" After his departure, the role of Hamilton will be played by a familiar face: Javier Muñoz, Miranda's longtime understudy.
Joining Miranda out the door were Tony winner Leslie Odom Jr., who played Aaron Burr, and Tony nominee Philippa Soo, who played Eliza Hamilton. Soo has joined the upcoming musical adaptation of Amélie, while Odom Jr. is in talks to join Kenneth Branagh's Murder on the Orient Express and also has a Christmas album coming out in November. Company member Ariana DeBose, who played the bullet that kills Hamilton, announced that she would be leaving as well. As with Miranda, the final performance for all three was July 9.
In the wake of those departures, Brandon Victor Dixon and Lexi Lawson stepped into the roles of Burr and Eliza, respectively. Dixon, who received a Tony nomination for his role in Shuffle Along, but lost to Hamilton's own Daveed Diggs, began performances in mid-August, after Shuffle Along closed on July 24. Lawson, who is making her Broadway debut in Hamilton after starring in touring productions of Rent and In the Heights, joined the Hamilton cast July 11. Michael Luwoye, meanwhile, fills in as the new Hamilton understudy.
Jonathan Groff, of course, has already left the role of King George. Starting in April, he was replaced by Rory O'Malley.
Renée Elise Goldsberry, who won a Tony for her portrayal of Angelica Schuyler, left the musical in the fall to star in a new Netflix sci-fi series; She's also lined up a starring role in HBO's adaptation of The Immortal Life of Henrietta Lacks. Mandy Gonzalez, who originated the role of Nina in Miranda's In the Heights, stepped into the role on September 6.
Tony-winner Daveed Diggs's last performance as Marquis de Lafayette and Thomas Jefferson came July 15; he was replaced by Seth Stewart. Meanwhile Christopher Jackson (George Washington) will take his final bow on November 13. He's currently appearing in the CBS show Bull, and no replacement has been announced yet.
Anthony Ramos, who played the dual roles of John Laurens and Philip Hamilton, will be leaving the show on November 20 to film Spike Lee's upcoming She's Gotta Have It Netflix series. Jordan Fisher, who's best known for his supporting role on Grease: Live!, will replace him and make his Broadway debut in the roles.
Okieriete Onaodowan (Hercules Mulligan/James Madison) and Jasmine Cephas Jones (Peggy Schuyler/Maria Reynolds) have both renewed their contracts and will stay on for an unspecified time.
FILMED VERSIONS
A little bit of bad news: Any Hamilton movie is likely a decade or two away. Since Broadway producers are loathe to put out a movie that might cannibalize their ticket sales, most film adaptations are only released years after the initial frenzy has died down. (The Wicked movie will hit theaters 15 years after the show opened; Les Miz took 25.) When pressed, Miranda himself says the movie is coming but "probably not for, like, 20 years."
Before the cast departed, though, Miranda promised that the original production will be filmed for posterity. (Jonathan Groff is even coming back!) When and how you will be able to watch it is anyone's guess: On Periscope, Miranda said that the footage is "going to exist, but we don't know what's going to happen with it."
While you're waiting patiently, PBS will air the 90-minute documentary Hamilton's America on October 21*. It's not a filmed version of the play; instead, it's part behind-the-scenes look at the creation of the musical — filmed by Miranda's longtime friend Alex Horwitz, who has been shooting since 2013 — and part talking-head doc, with appearances by Barack and Michelle Obama, Jimmy Fallon, Stephen Sondheim, George W. Bush, and Nas.
THE MIXTAPE
Hamilton's already got a cast recording and a book, and this fall, it will also have a mixtape. As Questlove, who's producing the album, tells Vanity Fair, "Half the songs are cover versions of songs in the show, and the others are interpolations — we'll take some of this, some of that, and make something new out of it." Miranda also says the mixtape will feature some of the songs cut from the final version of the musical, including a third rap battle that centers around slavery. Busta Rhymes, Ben Folds, Regina Spektor, Queen Latifah, Common, and Chance the Rapper are all involved, as well a mystery artist whose cover of "Satisfied," Miranda says, "is going to blow your fucking minds." (After some speculation, he was forced to reveal that it is not Beyoncé.)
OTHER PRODUCTIONS
Just like Alexander Hamilton in the Whiskey Rebellion, Hamilton is putting on its finery and heading west: The show will launch a national tour in spring 2017. The tour will kick off at San Francisco's SHN Orpheum Theatre in March and then head to Los Angeles' Hollywood Pantages Theatre in August. The full list of other confirmed tour stops is below:
Atlanta, GA / Fox Theatre
Boston, MA / Boston Opera House
Charlotte, NC / Blumenthal Performing Arts
Costa Mesa, CA / Segerstrom Center For the Arts
Des Moines, IA / Des Moines Performing Arts
Houston, TX / Hobby Center
Las Vegas, NV / The Smith Center
Portland, OR / Keller Auditorium
Salt Lake City / Eccles Theater
San Diego, CA/ Civic Theatre
Seattle, WA / The Paramount
Tempe, AZ / ASU Gammage
Washington, DC / Kennedy Center
Separate from the tour, Hamilton's Chicago production opens September 27 at the Private Bank Theatre. Like the New York version, it is already drawing extremely large crowds. Tickets are being sold for as much as $10,000 on the resale market. A few cast members for the Chicago Hamilton have been announced: Miguel Cervantes as Alexander Hamilton, Karen Olivo as Angelica Schuyler, Alexander Gemignani as George III, Joshua Henry as Aaron Burr, Jonathan Kirkland as George Washington, Ari Afsar as Eliza Hamilton, and Chris Lee as Marquis de Lafayette/Thomas Jefferson.
Next year, Hamilton will also make the jump across the pond, opening in London's refurbished Victoria Palace Theater in October 2017, with productions in Europe and Australia expected to follow. Broadway smashes aren't guaranteed hits in the West End — Rent and Spring Awakening both had short runs — but at the very least, British audiences are expected to get more of the jokes in "You'll Be Back."
* This post originally misstated the premiere date of Hamilton's America. 
This post has been updated throughout.