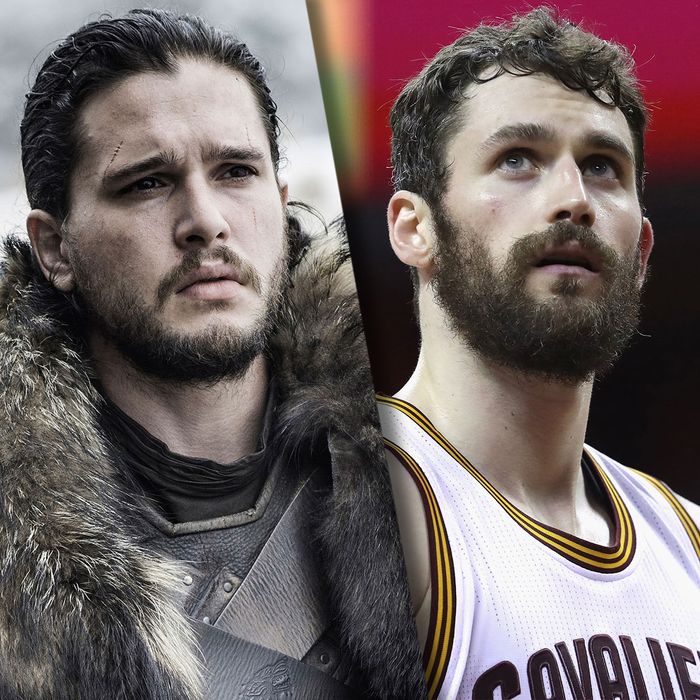 The two saddest boys in the land.
Photo: Helen Sloan/courtesy of HBO
What time is game seven of the NBA finals? 8 p.m. Sunday night, which means that for many people in the country, it's going to overlap with Game of Thrones, which airs an hour later at 9. This isn't just any basketball game: The Cavaliers are trying to bring Cleveland it's first NBA title, and in the process become the only team to ever win an NBA championship after going down 3-1 in the Finals. But this week's episode of GOT is also not just any episode: It's this season's all-important episode nine, "The Battle of the Bastards," in which Jon Snow, Sansa Stark, and the Wildling army will attempt to take back Winterfell from the hated Ramsay Snow. In the absence of a DVR, which one should you watch? Take this handy quiz to find out!
Do you like beards?
Love 'em: Game of Thrones
I like them super-wispy, or as goatees; literally no other way will do: Game 7
Mustaches?
Love 'em: Game of Thrones
Hate 'em: Game 7 
Is live-tweeting acceptable?
Of course: Game 7
What, why would you do that, I told you not to spoil: Game of Thrones
How much violence can you handle?
Probably only minor collisions; at most, a kick to the balls or slight facial trauma from projectile mouthguards: Game 7
I want decapitations, baby: Game of Thrones
How do you say the land?
We capitalize the L: Game  7
The normal way: Game of Thrones
What do warriors wear?
Big furry suits, chainmail, maybe some plate armor: Game of Thrones
Bright yellow, royal blue, and white: Game 7 
Do you want something you can easily remix with a climactic song from Hamilton?
Yes: Game of Thrones
That sounds like the worst thing ever: Game 7 
Little girls should…
Command armies: Game of Thrones
Command press conferences: Game 7 
Cities should be burned …
… as a result of a tragic earthquake: Game 7
… by a vengeful, double-crossing bastard trying to prove himself to his father: Game of Thrones
And finally, how do you like your sad white men?
Recovering from dying, physically: Game of Thrones
Recovering from dying, emotionally: Game 7 
Best of luck to all four teams!