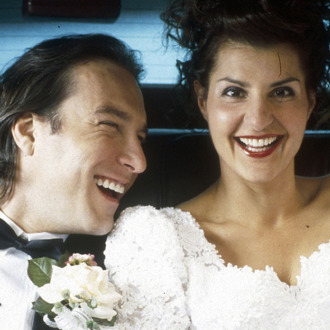 Happily ever after?
Photo: IFC Films
Each month, several films and TV shows leave HBO's catalogue. We provide a list of departing titles so you can watch them before they're gone forever (or are just available on a different site). For more comprehensive coverage of the best titles available on HBO and elsewhere, check out Vulture's What to Stream Now hub, which is updated throughout the month.
The GOAT: Ali (2001)
Michael Mann's Will Smith–starring biopic doesn't quite capture the Greatest of All Time (what could?), but it's a fascinating attempt to reckon with his massive legacy, all the more worth revisiting in light of Ali's recent death. Leaving July 31.
There's no business like show business: Get Shorty (1995)
John Travolta plays a gangster turned movie producer in this witty adaptation of Elmore Leonard's novel. If the pitch alone doesn't grab you, maybe you'd be persuaded by the fact that a TV remake's in the works, or maybe the chance to chart Travolta's career highs and lows (Get Shorty and Pulp Fiction straddle White Man's Burden in his filmography, what a world). Leaving July 31.
Family fun: My Big Fat Greek Wedding (2002)
Back in 2002, My Big Fat Greek Wedding grew from a small indie movie to the biggest romantic comedy of all time. Now, in 2016, the spritely comedy has been weighted down with a ponderous sequel. Ignore that, and enjoy the original, which still feels specific, while being broad enough to accommodate gags for the whole extended family to enjoy. Leaving July 31.
The reigning Campion: The Piano (1993)
The only film from a female director to win the Palme d'Or, Jane Campion's period romance follows a mute woman (Holly Hunter) who travels to New Zealand with her daughter (Anna Paquin, who won an Oscar for her performance) to meet a new husband (Sam Neill). Figuring out how Hunter's character lived until the present day and then founded her own separatist feminist compound is really up to you. Leaving July 31.
FULL LIST OF TITLES LEAVING HBO
Leaving July 19:
Freddy Got Fingered (2001)
Leaving July 31:
Ali (2001)
All the Pretty Horses (2000)
As Above/So Below (2014)
Beerfest (2006)
Cheech & Chong's Next Movie (1980)
The Divergent Series: Insurgent (2015)
Evan Almighty (2007)
Get Shorty (1995)
Kiss the Girls (1997)
A Little Chaos (2014)
The Longest Ride (2015)
Magnolia (1999)
My Big Fat Greek Wedding (2002)
Pathfinder (2007)
The Piano (1993)
Scream (1996)
Sweeney Todd: The Demon Barber of Fleet Street (2007)
Transformers (2007)
The Water Diviner (2014)
What Happens in Vegas (2008)