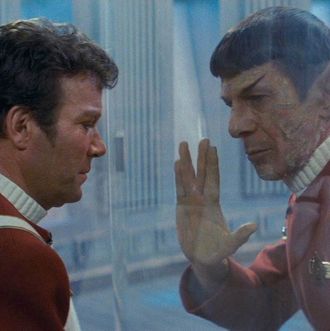 Live long and prosper, just not on Netflix.
Each month, several films and TV shows leave Netflix's catalogue. We provide a list of departing titles so you can watch them before they're gone forever (or are just available on a different site). For more comprehensive coverage of the best titles available on Netflix and elsewhere, check out Vulture's What to Stream Now hub, which is updated throughout the month.
Boldly gone: Star Trek: The Motion Picture (1979), Star Trek II: The Wrath of Khan (1982), Star Trek III: The Search for Spock (1984), Star Trek IV: The Voyage Home (1986), Star Trek V: The Final Frontier (1989), Star Trek VI: The Undiscovered Country (1991), and Star Trek: Generations (1994).
Right before the release of Star Trek Beyond, Netflix loses a whole fleet of Star Trek movies from its catalogue. Most are flawed but fun in their lumpy attempts to fit the square peg of philosophical television into the round hole of action blockbusters — though, of course, The Wrath of Khan is the clear standout. Leaving July 1.
There's no crying in baseball: A League of Their Own (1992)
Based on the real-life history of an all-female baseball league, A League of Their Own stars Geena Davis, Lori Petty (oh, hey there, Lolly), and Madonna as the members of the Rockford Peaches, with Tom Hanks as their put-upon coach. Come for the go-get-'em feminism, stay for the charming, 1940s-style quips. Leaving July 1.
Blue-ribbon comedy: Best in Show (2000)
Christopher Guest assembles many of his best repeat performers, from Parker Posey to Catherine O'Hara, for this mockumentary about a dog show. Each scene is a little sketchlike lesson in comedy, and the best escalate into glorious absurdity — just check out anything involving the Busy Bee. Leaving July 1.
Gold, dug: How to Marry a Millionaire (1953)
Betty Grable, Marilyn Monroe, and Lauren Bacall launch three separate, not-quite-successful schemes to marry into money in this classic comedy. Monroe was on a major career upswing while filming Millionaire (she famously slid in front of Grable to first billing in the movie's advertising), but all three leads give clever, meticulously timed performances. Leaving July 1.
Just a girl, standing in front of a boy: Notting Hill (1999)
Perhaps the peak of Julia Roberts's rom-com career (or at least a close second to My Best Friend's Wedding), Notting Hill follows the pauper-and-princess love affair between the awkwardly British Hugh Grant and movie star Julia Roberts. Among its many achievements, Notting Hill convinced the world that we might all have a chance with movie stars (we don't, sorry), and also gifted us with the world's best wig. Leaving July 1.
TELEVISION
July 1
Caillou (Season 5)
Daniel Tiger's Neighborhood (Seasons 1 and 2)
Dinosaur Train (Season 2)
Flashpoint (Seasons 1 to 5)
The Game (Seasons 1 to 3)
Medium (Seasons 1 to 7)
Numb3rs (Seasons 1 to 6)
Odd Squad (Season 1)
Reading Rainbow (Volume 1) (1985)
Wild Kratts (Seasons 1 to 3)
WordWorld (Season 1)
Zoboomafoo (Season 2)
MOVIES
July 1
2001: A Space Odyssey (1968)
A Clockwork Orange (1971)
A League of Their Own (1992)
Allegiance (2012)|
Along Came Polly (2004)
Best in Show (2000)
The Beverly Hillbillies (1993)
Bulworth (1998)
Butch Cassidy and the Sundance Kid (1969)
The Central Park Five (2012)
Cheech & Chong's Up in Smoke (1978)
The Conspiracy (2012)
Drive Me Crazy (1999)
The Flintstones (1994)
The Flintstones in Viva Rock Vegas (2000)
How to Marry a Millionaire (1953)
Ice Age: The Meltdown (2006)
Mister Rogers' Neighborhood: Volume 1 (1968)
Mouse Hunt (1997)
My Sister's Wedding (2013)
Notting Hill (1999)
The Perfect Storm (2000)
The Quiet Man (1952)
The Right Stuff (1983)
Rubber (2010)
Star Trek: The Motion Picture (1979)
Star Trek II: The Wrath of Khan (1982)
Star Trek III: The Search for Spock (1984)
Star Trek IV: The Voyage Home (1986)
Star Trek V: The Final Frontier (1989)
Star Trek VI: The Undiscovered Country (1991)
Star Trek: Generations (1994)
Talladega Nights: The Ballad of Ricky Bobby (2006)
Team America: World Police (2004)
Tesla: Master of Lightning (2000)
Thumbelina (1994)
The Very Hungry Caterpillar and Other Stories (1993)
Witness (1985)
Women Aren't Funny (2014)
July 1
Venus and Serena (2012)
July 15
Color Crew (2010)
July 16
Serenity (2005)
July 31
Braxton Family Values (Season 3)