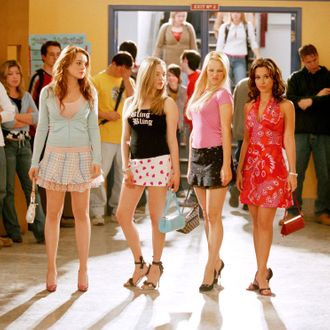 At the beginning of (and during) every month, Netflix adds new movies and TV shows to its library. We figure you might want to know about them. For more comprehensive coverage of the best titles available on Netflix and elsewhere, check out Vulture's What to Stream Now hub, which is updated throughout the month.
We have to go back: Back to the Future (1985), Back to the Future Part II (1989), Back to the Future Part III (1990)
Just in time for a summer trip back to the 1980s (and ahead to last October), all three Back to the Future movies are making their way to Netflix. Like most trilogies, the latter two movies fall off in comedy pretty steeply, but if you're looking for a good Fourth of July marathon, you could certainly do a lot worse. Available July 1.
I just have a lot of feelings: Mean Girls (2004)
More than a decade after its release, Mean Girls still retains its viselike grip on our culture. You might think Mean Girls has a lot of memorable scenes, but, in fact, nearly every scene is memorable, from the oft-quoted classics, like the description of the cafeteria, to other oft-quoted classics, like that phone call. Sure, the fashion is very mid-2000s, and half of the dialogue would have to take place on Snapchat if Mean Girls were set in the present time, but this is still a keeper. Available July 1.
Somewhat epic: Marco Polo (Season 2)
Netflix's big, expensive, and cumbersome history drama is attempting to get a little sprightlier in its second season by adding Michelle Yeoh to its cast. Sure, Yeoh excelled in Crouching Tiger Hidden Dragon, but she also couldn't save Netflix's bumbling sequel, The Sword of Destiny. So, we'll see. Available July 1.
Econ 101: The Big Short (2015)
In the hands of director Adam McKay, the 2008 financial crisis becomes the stuff of spirited, furious comedy. The all-star cast (Ryan Gosling! Brad Pitt! Steve Carell! Christian Bale!) makes the didacticism go down easy, with the help of a few fourth-wall-breaking explainers — though, as great as Margot Robbie is, couldn't we also have a male movie star explain things in the tub? You know, just for the sake of fairness. No other reasons. Available July 6.
Winona is back: Stranger Things (Season 1)
Netflix's new supernatural thriller showcases Winona Ryder as a very '80s mom, and we are so, so happy to have her back. The show itself is more of a mystery, both literally (something spooky is afoot!) and figuratively, as it comes from the team behind Wayward Pines, which came in strong but didn't quite stick the landing. Available July 15.
He was in a very famous TV show: BoJack Horseman (Season 3)
With its stellar second season, BoJack Horseman set the bar for depressing animated comedies, or at least those about washed-up '90s sitcom stars. Expect the show to dive even further into BoJack's (Will Arnett) existential despair in the next season. Think Mad Men, but with animal puns. Available July 22.
Run fjord it: The Wave (2015)
A tsunami threatens an idyllic fjord-adjacent town in Norway's imitation of a big Hollywood disaster movie. Starring Kristoffer Joner (a dead ringer for Norman Reedus), The Wave makes a few scattered comments about the dangers of capitalism — see, because Joner's taken a job at a big oil company — but mostly it's here to stage some big, splashy (sorry) action sequences. Director Roar Uthaug's next gig is the Tomb Raider reboot, so, hey, he did something right. Available July 27.
TELEVISION
July 1
Between (Season 2)
Deep (Season 1)
Marcella (Season 1)
Marco Polo (Season 2)
Raiders of the Lost Art (Season 2)
The Shannara Chronicles (Season 1)
July 4
Kuromukuro (Season 1)
July 7
NSU German History X (Season 1)
July 8
Word Party (Season 1)
July 9
Mystery Files (Season 1)
July 10
The Last Kingdom (Season 1)
July 14
Magi: The Adventures of Sinbad (Season 1)
Todd Margaret (Season 3)
July 15
The Adventures of Puss in Boots (Season 3)
Stranger Things (Season 1)
July 19
Liv and Maddie (Season 3)
July 22
BoJack Horseman (Season 3)
Degrassi: Next Class (Season 2)
July 24
Popples (Season 3)
July 29
Home: Adventures With Tip & Oh (Season 1)
LEGO Bionicle: The Journey to One (Season 2)
MOVIES
July 1
41 on 41 (2014)
A Long Way From Home (2013)
Back to the Future (1985)
Back to the Future Part II (1989)
Back to the Future Part III (1990)
Bad Boys II (2003)
Batman: The Movie (1966)
Beavis and Butt-head Do America (1996)
Beverly Hills Cop (1984)
Beverly Hills Cop II (1987)
Big Trouble in Little China (1986)
Blade 2 (2002)
By the People: The Election of Barack Obama (2009)
Catwoman (2004)
Cheaper by the Dozen (1950)
Cinderella Man (2005)
Conflict (2015)
Death Race 2 (2010)
Death Race 3: Inferno (2013)
Dreamcatcher (2003)
Extremely Loud and Incredibly Close (2011)
Gentlemen Prefer Blondes (1953)
Gladiator (2000)
Hello, Dolly! (1969)
Hey Arnold! The Movie (2002)
Honey (2003)
Insomnia (2002)
The Italian Job (2003)
Jackass: Number Two (2006)
Jim Jefferies: Freedumb (2016)
Lalaloopsy Ponies: The Big Show (2014)
Lethal Weapon (1987)
Lethal Weapon 2 (1989)
Lethal Weapon 3 (1992)
Lethal Weapon 4 (1998)
The Longest Yard (2005)
The Lovely Bones (2009)
Making the American Man (2016)
Mean Girls (2004)
Nevada Smith (1966)
Nick of Time (1995)
The Painted Veil (2006)
Pandemic (2015)
Phenomenon (1996)
Rumor Has It (2005)
Scooby-Doo (2002)
The Sting (1973)
Stomp the Yard: Homecoming (2010)
Talhotblond (2009)
Terminus (2016)
Turner and Hooch (1989)
Twisted (2004)
Watershed: Exploring A New Water Ethic for the New West (2012)
Well Wishes (2015)
Working Girl (1988)
Yours, Mine and Ours (2005)
July 6
The Big Short (2015)
July 7
A War (2015)
The Armor of Light (2015)
Brahman Naman (2016)
July 8
The Invitation (2015)
July 9
Mustang (2015)
July 12
Rolling Papers (2015)
July 14
Gridlocked (2015)
July 15
Ghostheads (2016)
Holidays (2016)
Rebirth (2016)
Tony Robbins: I Am Not Your Guru (2016)
July 16
Fighting (2009)
July 21
Internet Famous (2016)
July 27
The Wave (2015)
July 29
Last Chance U (2016)
Tallulah (2016)
For more details on the best film and television available online, consult Vulture's What to Stream Now hub.