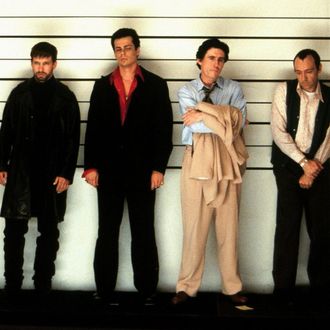 At the beginning of (and during) every month, Showtime adds new movies and TV shows to its library. We figure you might want to know about them. For more comprehensive coverage of the best titles available on Showtime and elsewhere, check out Vulture's What to Stream Now hub, which is updated throughout the month.
Love and hate: Punch-Drunk Love (2002)
Paul Thomas Anderson does his own riff on a romantic comedy, starring Adam Sandler as a troubled loner and Emily Watson as the object of his affections. Oh, and there's also Philip Seymour Hoffman playing that classic rom-com trope: the mattress salesman running a phone sex line/extortion scheme — just like in 27 Dresses! Available July 1.
Horse and hound: Notting Hill (1999)
In you're in the mood for a more traditional love story, there's always Notting Hill, which pairs Julia Roberts's movie star up with Hugh Grant's adorable British schmuck — he runs a bookstore, but you really don't have to remember that. Available July 1.
Who is Keyser Soze? The Usual Suspects (1995)
If, somehow, you don't already know the ending of The Usual Suspects, brace for one of the best twists of all time. If, as is likely, you already do know what happens, you can still appreciate the densely plotted crime story, and Kevin Spacey's all-too-smarmy lead performance. Available July 1.
MOVIES
July 1
The Alamo (2004)
Blood Sand (2015)
Bloodsport (1988)
Blown Away (1994)
Clerks II (2006)
Death Warrant (1990)
The Descent 2 (2010)
Good Luck Chuck (2007)
Intruders (2016)
Notting Hill (1999)
Punch-Drunk Love (2002)
Ray (2004)
Saw (2004)
Saw II (2005)
Sicko (2009)
The Usual Suspects (1995)
War (2007)
The Young Americans (1993)
Available later in July
Southpaw (2015)(July 2)
As I Am: The Life and Times of DJ AM (2015)
No Escape (2015)(July 10)
Man of the Year (2006)(July 16)
High Tension (2003)(July 20)
For more details on the best film and television available online, consult Vulture's What to Stream Now hub.