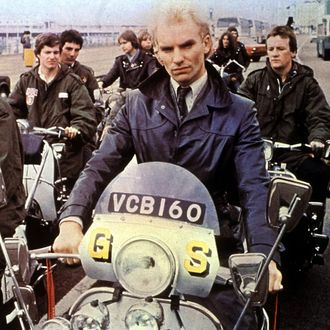 Sting, in the original.
Photo: The Who Films
It was announced last month that a sequel to Quadrophenia — the 1979 mod film loosely based off the Who's seminal rock opera — would begin shooting this summer, taking source material from the 2011 novel To Be Someone, by Peter Meadows, as the main narrative. (It finds the troubled protagonist, Jimmy Cooper, working as a drug-dealing gangster 40 years later.) Roger Daltrey and Pete Townshend have previously remained silent since the sequel's announcement, but have now strongly voiced their disapproval and lack of endorsement of the project.
"Quadrophenia has an enduring appeal and will forever be the definitive mod film," Bill Curbishley, the band's manager, said in a statement. "Quadrophenia is a significant and influential film based on the Who's music, not some Carry On franchise. Any follow-up to this film could only be made by the authors of the original and would need to be worthy of the name. This karaoke sequel announced recently in the press would be totally ridiculous." The film, which will be directed by Ray Burdis, will find previous cast members Phil Daniels, Mark Wingett, Trevor Laird, and Toyah Willcox reprising their roles.
"The new film doesn't feature Sting, Leslie Ash, or Ray Winstone from the original, let alone any words or music from the Who," Curbishley continued. "I find it hard to understand why any of the original cast would lend themselves to this crass attempt to cash in on the excellence of the original, when this quite clearly isn't a sequel." Love, reign o'er Roger and Pete during this awkward time.