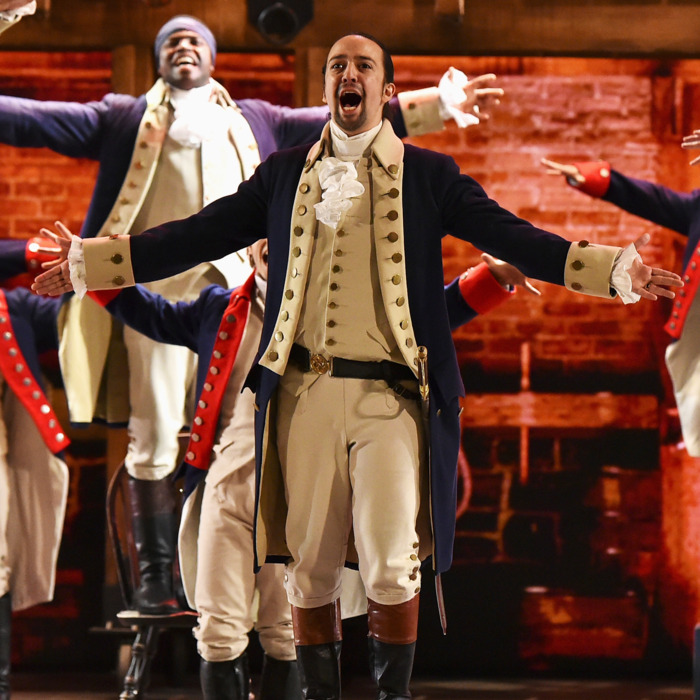 We won we won we won we won!
Photo: Theo Wargo/Getty Images
Even though it did not beat the record of The Producers — which swept 12 categories in a weak season in 2001 — Hamilton's scarfing up of 11 wins, out of 16 nominations, was obviously the big story of the 70th Tony Awards, held last night at the Beacon Theater. But behind those wins, and several others, was another story tying together an extraordinary Broadway season. All four of the musical performance Tonys went to black actors: Cynthia Erivo, for The Color Purple; Leslie Odom Jr., Daveed Diggs, and Renée Elise Goldsberry, for Hamilton. Ten other actors of color were nominated, as were, even more unusually, a number of black and Hispanic and Filipino artists in the creative and technical categories. (The Tonys for costume design went to Paul Tazewell, for Hamilton, and Clint Ramos, for Eclipsed.) As a result, all the attention to diversity on the show seemed natural and coherent, not inanely appliquéd as at February's Academy Awards. Cynics among us may point out that the unusual confluence of productions that led to this result is probably unrepeatable anytime soon: Will next season bring us the likes of Hamilton, Eclipsed, Shuffle Along, Spring Awakening, and On Your Feet! — or color-blind casting in traditionally white shows like Hughie and The Crucible? Not from what we know of it so far.
But the cynics will have missed something. This was not just the least white Tonys I can recall but the most earnest. As one commenter on last night's Vulture liveblog put it, "I am so moved by the lack of cynicism in this broadcast, this theatre season." That feeling arose in part as a natural result of the diversity: When doors first open, exuberance enters. Also responsible for the tone was the evening's unironically enthusiastic host James Corden, whose goofy perma-smile suggested that, unlike some previous hosts, he was living a dream, not enduring an assignment. (Not all of his bits worked, but no matter.) Another expression of unexpected buoyancy came from the cast of Deaf West Theater's Spring Awakening, which despite having no chance at a win in any of its three nominated categories gathered enough funds from a Kickstarter campaign to pay for a spot on the telecast. (Producers of nominated shows must cover the costs of performance — difficult, if your show closed at a loss in January.) And though no awards show can be expected to accommodate a tragedy like the mass shooting in Orlando that occurred early the same day as the broadcast, the Tonys awkwardly and feelingly did what they could. Many presenters and winners (Miranda, Frank Langella, Barbra Streisand) addressed the subject; most everyone wore little silver ribbons whipped up by costume designer William Ivey Long; and, more subtly, the Hamilton team eliminated the prop muskets from its performance of "The Battle of Yorktown" as a gesture to those traumatized. Which, given the nature of the theater community, probably means everyone.
The ribbons will soon get lost in top drawers; the muskets will return to Hamilton tomorrow night.  The theater community is at the same time powerfully feeling and only marginally powerful. To the extent it can change the world it is incrementally (how long did it take to achieve this year's breakthroughs?) and narrowly, through the content it sells. So those winners who made on-with-the-show speeches were not looking (just) at the bottom line. They were looking at the model of community that the New York theater offers its audiences, and justifiably saying — with a pride that is usually hidden behind snark — "Be more like us."
BIG WINS
You really had to have help from a soothsayer to ace your office pool this year; Hamilton made it easy to get more than halfway to a perfect score but difficult to get the last few. (I ended up calling 19 out of 24 categories.) The main suspense in Hamilton's showing was in the overstocked categories of best leading and best featured actor. In the former, Burr once again defeated Hamilton, as Leslie Odom Jr. found himself in the odd position of receiving an award for a role written by his chief competitor. (Miranda didn't seem to mind, having won for score and book.) Daveed Diggs, as expected, won out over cast mate Christopher Jackson and former cast mate Jonathan Groff. (Diggs also won for Best Male Finery; his suit looked like what I wore at my bar mitzvah spliced with what my mother wore.) I was, however, a bit surprised by Hamilton's sweep of all the non-acting categories except set design; I had hoped the voters would throw a little love toward Shuffle Along, whose costumes and lighting and orchestrations and choreography are as good as those things get, and in some ways more prominently contributory to the quality of the work than Hamilton's, which are excellent but necessarily recessive. But they weren't calling it the Hamiltonys for nothing; the only musical wins not associated with that show were the set design nod to She Loves Me's David Rockwell and two — best revival and best performance by a leading actress — for The Color Purple.
On the play side, the awards spread out a bit more. The big winner was, as expected, The Humans, which took not only best play but both featured performance categories, for Jayne Houdyshell and Reed Birney in what are in essence leading roles. (The Humans also won for David Zinn's terrific cutaway set design, which served almost as another actor in the production.) The six other nonmusical awards were shared among four plays, a bit haphazardly. Frank Langella, who played a man facing dementia in The Father, took home the award for best actor, and Jessica Lange, as the morphine addict Mary Tyrone in Long Day's Journey Into Night won for best actress. Both were deserving but not locks. I was surprised that Ivo van Hove was voted the best director of a play for A View From the Bridge — not because it wasn't an excellent production (it also won best revival of a play) but because I imagined the Broadway community would honor Joe Mantello, who directed The Humans. Indeed, in what I think must be a Tonys first, Scott Rudin, the producer of both shows and several others, gave that best play Tony medal to Mantello when a large scrum of humans came onstage to accept it.
BIG LOSSES
One nice thing about the awards this year was that the losers didn't feel so much like losers. Surely this is partly the result of the built-in expectation that Hamilton would eat up most of the prizes, so it seemed no shame to go home empty-handed. That won't make it any easier for the producers of Shuffle Along, say, which had ten deserved nominations and nevertheless got skunked. The show has been selling well, though, and looked great on the air, so it may be able to survive when its star, Audra McDonald, goes on maternity leave next month. Also majorly ignored were Bright Star, School of Rock, and Waitress, which had 13 nominations among them; the latter two will survive but Bright Star, something of a vanity project for Steve Martin and Edie Brickell, seems unlikely without any wins to make it through the summer. Of the other musicals that received nominations, Tuck Everlasting, American Psycho, and Disaster! have already closed; only On Your Feet! — which was apparently review-proof — looks likely to be no-Tony-proof as well.
The most disappointed play is surely Eclipsed, which had a reasonable chance at all six of its nominations but reaped only one award, for costumes. With its directly political story (about women who are collateral damage in the Liberian civil wars) it is in some ways a better representative of the Broadway season's Zeitgeist than is The Humans, a more broadly existential work about a working-class white family. But the quality of The Humans was so universally acknowledged that the other new plays were left with only the one costume award and one acting award — Langella's — among them. King Charles III, notably, went home with nothing. By mid-July only The Humans will be left from this season's crop of plays and revivals. Thanks to last night, it may hang around even longer.
THE TELECAST
Early reports from CBS, which broadcast the awards, suggest that the show's ratings were the highest they have been in 15 years — since the Produceronis. Surely Hamilton and James Corden had a lot to do with that. But if their reputations brought in the audience, which might have been nine or ten million compared to a more typical seven, it will be their performances that do or don't retain that audience next year. Oddly, neither the host nor the elephant-in-the-room musical provided the best pure entertainment. Hamilton's choice to represent itself with "The Battle of Yorktown" (with bits of other numbers thrown in) was perhaps ill-advised, unless they were deliberately lowering expectations; it's an efficient number that works well in context but looked somewhat dour on television. And Corden's material was hit-or-miss. (The opening, a paean to kids getting hooked on theater wherever they live, was a bit of a slog.) The decision to spend a few minutes on an inferior edit of the Broadway Carpool Karaoke that Corden dropped last week was mystifying; it has already been watched on YouTube some eight million times. It would have been better to spend those minutes on more of what makes the live broadcast pop: live performance.
Or semi-live — the vocals for a lot of numbers were, for technical reasons, prerecorded. Still, some shows showed beautifully on television, generally because they focused their presentation narrowly. Shuffle Along, Fiddler on the Roof, and School of Rock probably sold a lot of tickets, and Waitress — though its segment included the songwriter Sara Bareilles, who is not in the show, awkwardly floating into the action with a piano — probably sold even more. (Jessie Mueller sang most of her eleven o'clock number, gorgeously.) Shows like She Loves Me and The Color Purple that chose to do medleys didn't fare as well, though at least The Color Purple provided a taste of what earned Cynthia Erivo her win.
These musical performances, and the surprisingly effective descriptions of the play nominees, helped balance out the evening, as did the ordering of the categories. (Many of Hamilton's awards were presented off camera, and the ones that weren't were often broken up by other awards or numbers.) Still, by the end, when Streisand came out in a colonial-themed outfit, there was no disguising the juggernaut. She did not even appear to open the envelope before saying "Hamilton." It has been an extraordinary year, with a fine awards show as a fitting conclusion. Next year, her successor is going to have to read the card.