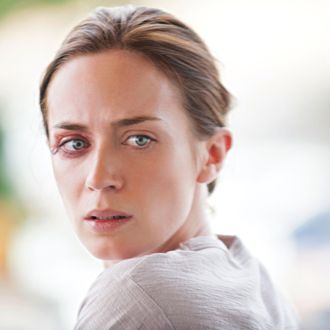 Emily Blunt in Sicario.
Photo: Richard Foreman, Jr. SMPSP/Courtesy of Lionsgate
Now You See Me isn't the only movie to suddenly become a trilogy out of nowhere: In a new interview with The Independent, the new director of the Sicario sequel, Soldado, reveals that a threequel to the 2015 thriller is already in development. "The idea is to make three anthology movies with some of the core actors and [set] in the same world," Italian filmmaker Stefano Sollima tells the British paper.  As for the sequel, "it's absolutely a standalone movie — a completely different story," he promises. "Even the theme is different — it's not drug dealing, it's more on immigration." But despite previous indications, it now seems original star Emily Blunt will not be a part of Soldado. Sollima says "No, no, no" to the idea that she'll be in the sequel, but hints that she might appear in the threequel. If that one's not called 3-cario, we won't know what to do with ourselves.