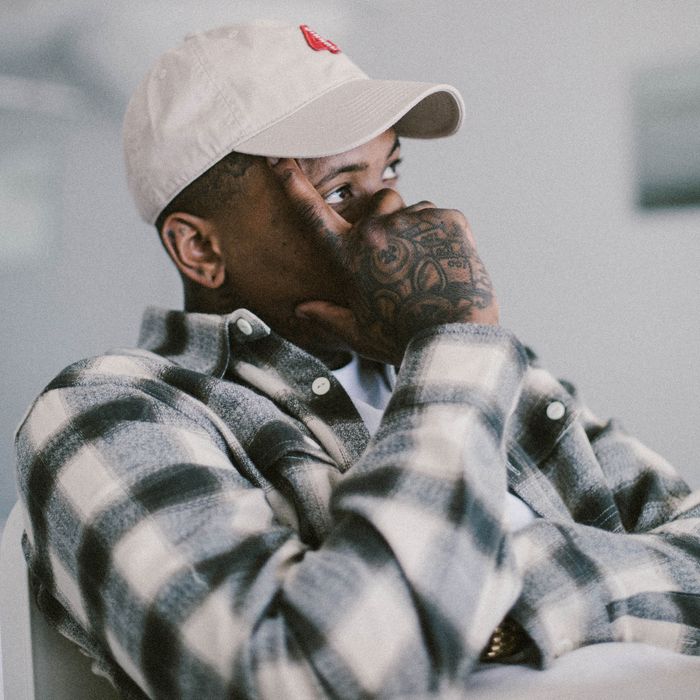 It's not often that getting shot in the hip is only the second-worst setback an artist faces while making an album, but unlike Compton's soldier of the streets, YG, most artists aren't calling out a presidential nominee. In March, YG and fellow L.A. rapper Nipsey Hussle became two of the first artists to channel their fury over Donald Trump's bigotry, releasing the no-holds-barred protest song "Fuck Donald Trump." It became the second single from Still Brazy, the sophomore follow-up to YG's formative 2014 debut, released on Apple Music on Wednesday.
For two rappers entrenched in L.A.'s vicious gang culture — YG has been credited for bringing the Piru vernacular of replacing C's with B's to the mainstream — going to war with the presumptive Republican presidential nominee at the height of the election season came at a cost: When YG and Hussle attempted to stage a peaceful rally for the song's video shoot, the LAPD shut them down (footage from the confrontation now opens the video) — and that interruption proved to be just the beginning of YG vs. the U.S. government.
During a recent conversation with Vulture, YG discussed having his album censored by the government, why he made a song about black-on-black crime, the Irving Plaza shooting, and Snoop Dogg's mentorship.
He had to change the lyrics of "Fuck Donald Trump" to get it on the album.
Before YG could proceed with releasing Still Brazy, he says the repercussions of "Fuck Donald Trump" meant he had to comply with the presidential nominee's demands. In a word: censorship. "The Secret Service was calling my label [Universal] to get the lyrics to my album so they could try to pull it off the shelves," he claims. YG had initially thought to abandon the song for that reason, but was swayed by the album's executive producer Steve-O Carless to keep it no matter what.
The version that exists on the final album has certain lines omitted ("Surprised El Chapo ain't try to snipe you"), leaving awkward pauses in their place. Though not ideal, YG says it was necessary ("We had to do that to get it clear to go on the album"). But Trump's and the Secret Service's complaints about Still Brazy extended beyond that one diss track; YG was also told to alter one of the album's other politically brazen songs, "Blacks and Browns." "[Featured rapper] Sadboy was talking about Trump on his verse. And they told the label I had to change that, too. So we took it out," YG reveals. "That was real. Donald Trump definitely heard 'Fuck Donald Trump.'"

It seems like there are racial undertones in the response to the Irving Plaza shooting.
Just days after a shooting during a T.I. concert at Irving Plaza left one dead and three others injured, YG was set to play the Gramercy Theatre. Live Nation ultimately canceled his show — along with a handful of others, mostly featuring rappers — in response to the shooting. YG wasn't surprised.
"They try to make it seem like trouble follows me, but since my first album came out, I ain't had nothing happen at my show that had something to do with me," he says. "So all that shit [his show getting canceled] is just racist to me, police shit. But you can't get mad at that because that's how it goes. It could happen anywhere. If somebody gets killed at a venue in L.A., they're gonna cancel all the L.A. shows. Mac Miller's show got canceled, too, and he's white."
Back home, he says it's the norm to be seemingly profiled in this way, which is why he and Nipsey Hussle were originally hesitant to go up against Trump. "Me and Nip get blackballed already the most on the West Coast from promoters, shows, and police because of what we represent and their perceptions of us. There's things we've done a long time ago or stuff that's happened around us, but we were still able to do shows," he explains. "Now, I don't know what happened, but one day they just started trippin'. My shows started getting canceled and I didn't do anything wrong."
He made a song about black-on-black crime knowing he might get flak for it.
One of the highlights of Still Brazy is its final act, which features a song targeting one of the most contentious issues within the black community: black-on-black crime. On "Blacks and Browns," he opens with "I'm a nigga and I can't go outside," later handing it over to local Chicano rapper Sadboy Loko to spit similar truths about brown-on-brown crime and the unspoken reality of police brutality. Last summer, A$AP Rocky received a maelstrom of hate for implying that black-on-black crime should receive just as much attention, if not more, than white cops killing unarmed black people. YG isn't worried about backlash.
"When a person is from the streets and they say something like that, people are gonna take it in a different way. Because I'm talking about myself, too. I'm not down-talking nobody," he insists. "I'm saying us — our culture, our race, our people — we need to do better." YG's especially proud of the unity accomplished on both this song and throughout the album: "Me doing a record with Sadboy, who is Hispanic, on our side, that's gonna do a lot. Because we've got a love-hate relationship with Hispanics. We grow up with them, we're neighbors with them, and then on the gang side of things, we beef with them. So it's a lot of back-and-forth, but also a lot of love. They're one of the main supporters of our music at the end of the day."
Snoop Dogg let YG record in his studio when few else would.
Last June, while deep in the making of Still Brazy, YG was shot at an L.A. recording studio in a scene eerily similar to the infamous 1994 Tupac ambush. He ultimately survived, wanting to return to music even the next day. But unsurprisingly, finding a studio that would open its doors to someone that people evidently wanted dead wasn't easy.
YG says he spent the next few months bouncing around studios in both L.A. and the Bay Area — even having to pay as much as $2,000 per session for extra security costs — until January, when Snoop Dogg invited YG to finish the album at his personal studio, famously known as the Mothership. Even for a rapper who boasts on his album, "I'm the only one who made it out the West without Dre," YG recognizes the significance of that mentorship. "It's a big co-sign, but it's more than that. Snoop's family was there. I was the first dude outside of his people that he let come record in there," he says. "So that was personal, like, 'I fuck with you, I trust you, we're peoples.' It was like some big bro shit.'"
He now says both the aftershocks of the shooting ("It made the album darker") and a deeper appreciation for what he represents to rap and Compton, especially, are embedded in Still Brazy. "I'm giving you insight in my life. It's a wake-up call to be proactive, not reactive, and I think it's really gonna wake motherfuckers up. I can't stop everything that's going on, but I can help change some shit or slow it down."