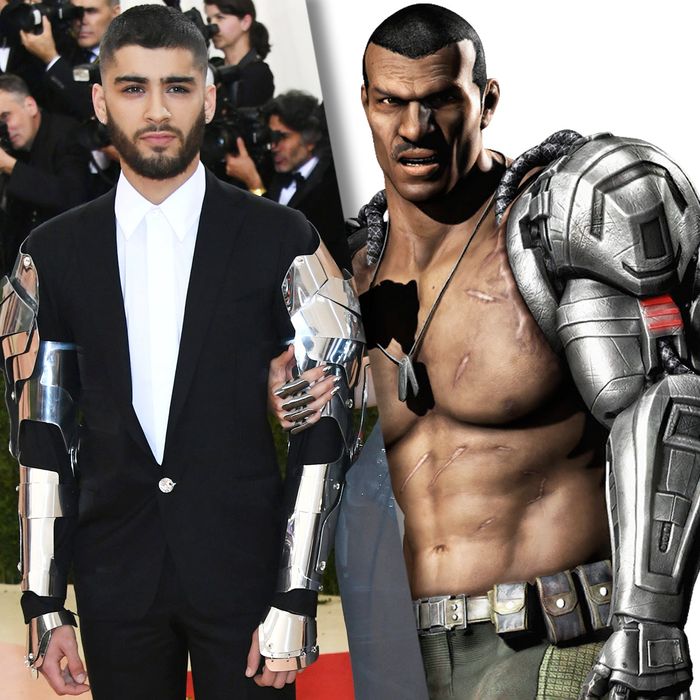 Bionic bros for life.
Photo: Getty Images, Midway Games
Further proof that fashion is just a fancy name for cosplay: In honor of this year's Met Gala theme, "Manus x Machina: Fashion in an Age of Technology," person at the intersection of man and machine Zayn Malik showed up in a pair of robotic arms. On Twitter, we laughed, jeered, and made jokes about how he looked like a video-game character. Guess what? We plebeians were right! "I was asked to design my own costume by Donatella Versace," Zayn told Dazed about the reaction to the outfit. "I had seen a few people hitting me online, saying negative things about it. But I enjoyed it because they were saying I looked like a dude from Mortal Kombat, and it was actually based on a character [from the video-game series] called Jax. He had metal arms, and the theme was technology, so I just took it from him … It's a bit easy to just dress up in a suit. I like to do things that are a bit outside of that."
Megan Fox recently said that she would like to play Kitana in a Mortal Kombat movie. Do we smell a reboot? Oh, wait, that's just a rotting severed head. Get it out of here!