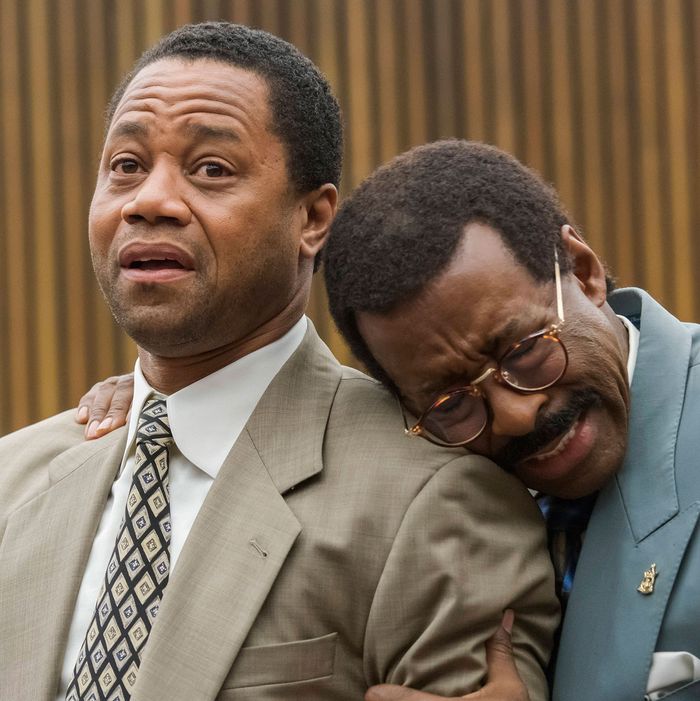 When the Emmys are announced, it's always the same emotional roller coaster. There's excitement over all of the up-and-coming or long-neglected actors who were nominated, followed by irritation over the ones who were overlooked. There's frustration at the same damned mediocre shows getting nominated yet again, just coasting on fumes of past greatness, followed by elation at the excellent, newer series that got well-deserved (and, in some cases, long-delayed) nods. 
Then there's a sort of progressive sugar-rush/diabetic-crash dynamic: It's thrilling to realize that the Emmys have recently become more consistently diverse than the Oscars. This year's list looks more like the real world (as opposed to TV's idea of the world) than any prior roundup. Honorees include Rami Malek for Mr. Robot; Viola Davis for How to Get Away With Murder; Taraji P. Henson for Empire; Anthony Anderson and Tracee Ellis Ross for Black-ish; Aziz Ansari for Master of None; Kerry Washington for the Anita Hill–Clarence Thomas movie Confirmation; Audra McDonald for Lady Day at Emerson's Bar and Grill; Cuba Gooding, Jr., Courtney B. Vance, and Sterling K. Brown for The People v. O.J. Simpson; Titus Burgess for Unbreakable Kimmy Schmidt; Keegan Michael-Key for Key and Peele (though Jordan Peele should've been in here, too); Andre Braugher for Brooklyn Nine-Nine, Bokeem Woodbine as guest actor for season two of Fargo; et al.  
But when you take a step back from the list, it's still, like the industry, overwhelmingly white. The list of nominees for Outstanding Supporting Actor in a Drama Series, for instance, consists of six (accomplished, deserving — but still) white dudes. One of them is Game of Thrones' Kit Harington, a handsome, appealing fellow who's not even the 20th best actor on that show. So, baby steps.
Join me for a bit of whiplash, will you?
DRAMAS
The biggest, most welcome appearances are USA's Mr. Robot and FX's The Americans claiming spots on the Outstanding Drama list: The former is a buzzed-about but far from universally praised series with an arty, dark, anti-Establishment vibe; the latter has been one of the best scripted series on TV since its 2013 debut, but kept getting snubbed by the Academy of Television Arts and Sciences. It got just five Emmy nominations total in its first three seasons: none for direction, one for writing, and just two acting citations, both for Margo Martindale as guest actress. The show's quality in season four apparently proved impossible to ignore, and its five noms this year alone included Keri Russell and Matthew Rhys as leads. 
It's nice to see AMC's Better Call Saul returning as an Outstanding Drama nominee, with Bob Odenkirk and Jonathan Banks up as Outstanding Lead Actor and Outstanding Supporting Actor in a Drama Series, though the fact that none of its nominations are for writing or direction is a shame. 
Homeland, House of Cards, Downtown Abbey, and Game of Thrones round out the list. Homeland is strong but still not as good as ten other dramas you can name; ditto for House of Cards; Downton Abbey has been coasting since season three, while Game of Thrones is as good as it's ever been. (Some feel that Thrones has lost a certain nasty spark now that it's not adapting George R.R. Martin's text anymore. Not having read the books, I have no opinion on that issue. I love the direction it's taken, and I love the show's direction this year, period.)
The Leftovers, which is better than all but one or maybe two of the series on this list, did not get a single nomination in any category, including Outstanding Drama. Jessica Jones got just two, for title design and music. What can you do but shake your head? 
COMEDIES
The comedy nominees constitute an altogether stronger bunch, which makes sense considering the half-hour scripted program is creatively such a strong genre right now — and so willing to play around with tone and form that a lot of the best shows often feel more like Comedies in Theory — that you could kick out most of these nominees and replace them with other, equally good or better shows and not get too many complaints from viewers who watch a lot of television. 
Black-ish was twice as bold and assured in its second season as it was in its first; Silicon Valley, Veep, and Unbreakable Kimmy Schmidt are superior hard-edged yet light sitcoms; Transparent is one of the great series, and a great argument for abolishing the comedy/drama dichotomy. (The continued presence of Modern Family in this category is an embarrassment — reflex ballot-marking at its worst, I'd wager — but at this late date that probably goes without saying.) But this same list would be just as impressive, maybe a bit more so, if it consisted of You're the Worst, BoJack Horseman, the latest season of Girls, the prematurely axed Togetherness, or Crazy Ex-Girlfriend (my pick for the best ongoing series on television).
That Crazy Ex-Girlfriend got three music-related nominations and one editing nomination but nothing else is disgraceful. Science-fiction and fantasy buffs love to martyr themselves over how their genres supposedly get no respect, even though pop culture is built around their preferences now; their lot in life is a cakewalk compared to what musical-comedy fans go through. If nothing else, Rachel Bloom should've been up as Outstanding Actress. As a weekly tour de force, it's as extraordinary in its own way as Tatiana Maslany's work on Orphan Black. 
Louis C.K.'s self-distributed, existential barroom tragedy Horace and Pete was largely snubbed — it picked up two nominations for Laurie Metcalf's guest-acting stint and editing. I have to assume it got shot out of drama (the category it was submitted in), and while I'm disappointed it didn't get more recognition, I'm not surprised. It could have plausibly been slotted as a drama, a comedy, or a mini-series. It was as messy as it was heartfelt, original, and uncompromising. And although the finale was one of the best things I've seen on TV in the last 12 months, it's also the kind of ending that makes you want to wade out into the ocean and not come back.
LIMITED SERIES AND TV MOVIES
When the weakest nominee in the limited-series category is the John le Carré adaptation The Night Manager, it's one hell of a good year. In most other seasons, the Roots remake might take it, for the politics and nostalgia factors as well as for the bold way the filmmakers reimagined a TV classic, but this year it's up against American Crime (as good as any of its competitors, though more somber and less buzzy), The People v. O.J. Simpson, and the dazzling second season of Fargo. I expect the O.J mini-series to take it, and I'll have no complaints if it does. 
A less strong batch, though the TV movie has been so weak lately (usurped in prestige by the limited-run series), I can't say what, exactly, should have been different. A Very Murray Christmas would get my vote, if I had one, because of the way it blurs the line between comedy, drama, and musical-variety show. It strikes me as a violation of the spirit of the rules, if not the letter, to have season four of Luther in this category; it's enjoyably pulpy, as is always the case, but it was presented in the States as a three-hour, one-shot "event," even though it was broken into chunks in the U.K.
ACTING
Across all genres, this year's crop is an embarrassment of riches, as is often the case, with clunkers and head-scratchers here and there. In lead actor, I wouldn't kick anybody out; they're all either good and fun (Kevin Spacey, Liev Schreiber), good and deep (Rami Malek, Kyle Chandler), or good and fun and deep (Bob Odenkirk, Malek). My preference runs toward Malek, my pick for the best, most original actor in a lead role on TV. But if Odenkirk wins, I'll still put on a primary-colored suit and dance. 
I'd like to see Keri Russell take Outstanding Lead Actress this year for The Americans — she's as on-point as Rhys, who's gotten more praise for more seasons. But except for Danes on Homeland, a virtuoso who keeps getting asked to play the same six or seven notes year after year, any outcome would please me, including a repeat win for Viola Davis on How to Get Away With Murder, whose performance outshines the series that showcases it.
The Outstanding Lead Actor in a Limited Series or TV Movie category is formidable. I'm okay with any outcome except Bryan Cranston, whose rendition of Lyndon Baines Johnson in All the Way came across as more a skillful impersonation aided by brilliant prosthetic makeup than a full rounded person. Courtney B. Vance's work as Johnnie Cochran in The People v. O.J. Simpson is my preference as well as my prediction; I hope executive producer Ryan Murphy does the Michael Jackson trial during some future season so he can bring the character back. 
Outstanding Lead Actress in a Limited Series or TV Movie needs to go to Sarah Paulson for playing Marcia Clark in the Simpson mini-series. Case closed. I'd also like Paulson to take supporting actress in the same category for playing Hypodermic Sally in American Horror Story: Hotel; the contrast between that punk-rock wackadoo performance and her subtler, more realistically shaded work in The People v. O.J. Simpson makes you appreciate both performances more. Regina King for American Crime would also be a great choice, but the show is such a tough sit in so many ways that I'm having a hard time imagining the general membership even watching the reel she submitted.  
In the various supporting-actor categories, I'm most interested in the limited-series contenders. I want Bokeem Woodbine to win for playing Mike Milligan on Fargo, a career-capper. But who could argue with a straight face against Hugh Laurie as the arrogant, arms-dealing businessman in The Night Manager, Jesse Plemons in Fargo, or, from the O.J. mini-series, David Schimmer, Sterling K. Brown, or John Travolta? (I know Travolta's Johnny Depp–style waxworks performance as defense attorney Robert Shapiro divided audiences, but I liked it; it was deliberately stylized in a way that helped turn Shapiro and F. Lee Bailey — played by Nathan Lane, who was not nominated — into one of the oddest, funniest comedy teams of last season.) I want Gaby Hoffmann to win Outstanding Supporting Actress in a Comedy for playing Ali Pfefferman on Transparent, and Louie Anderson to take Outstanding Supporting Actor in a Comedy for his work as the hero's mother on Baskets, a role that could've been one joke but turned out to be no joke. Tracy Morgan is probably a lock as Outstanding Guest Actor in a Comedy for sentimental reasons, and who can argue with that, aside from partisans (like me) of Peter MacNicol on Veep? I have no strong rooting interest in Outstanding Guest Actress in a Comedy, though Melora Hardin for Transparent is my preference.
ODDS AND ENDS
I feel I need to repeat here that The Leftovers didn't get a single nomination. 
Trevor Noah, Comedy Central, & Co. have seen better days: The Daily Show failed to get nominated for a single honor, including for Outstanding Variety Talk Series, for the first time since 2000. 
If the category of Outstanding Individual Performance in a Variety or Music Program hadn't been retired in 2008, Samantha Bee would have been my pick for fronting TBS's Full Frontal. The series got a writing nomination, but deserved more love. 
It sucks that Rhea Seehorn didn't get nominated for Better Call Saul; maybe if voters could see what a natural clown she is in real life they'd appreciate her muted, controlled performance more.