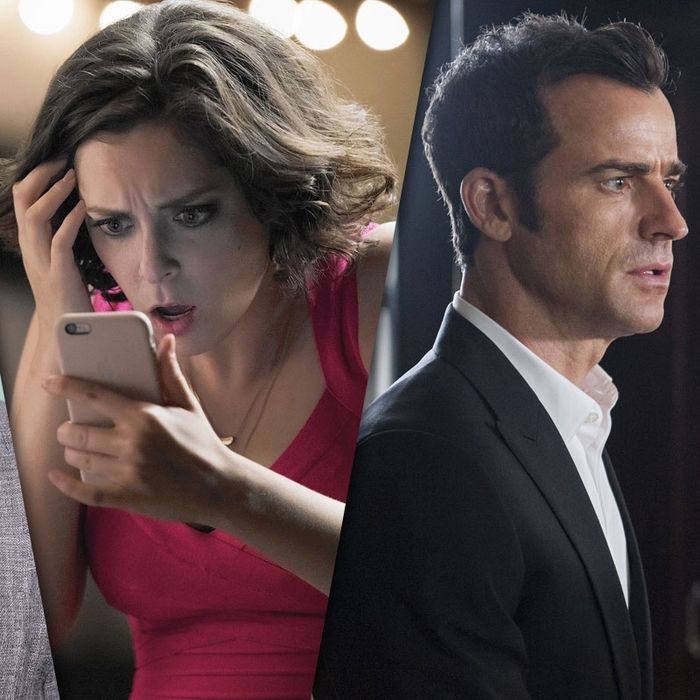 Photo: Getty Images, CW, HBO
Ah, Emmy nomination day, a moment full of highs (The Americans got nominated!), lows (wait, why isn't Rachel Bloom on the list of best actresses in a comedy), and utter befuddlement (Lip Sync Battle was nominated for an Emmy?). Let's get right down to it and discuss all the TV feelings we're feeling.
Emmys 2016: The Snubbed
The Leftovers: The second season of this HBO series made some of the boldest, most emotionally satisfying choices of any TV show in the last year. But as far as Emmy voters were concerned, it either didn't exist or disappeared during the Sudden Departure. It was ignored for outstanding drama and in all the acting categories; it didn't get recognition for its writing or directing either. There is a word for this, and that word is bullshit.
Crazy Ex-Girlfriend: Hey, speaking of bullshit, it's a total bummer that one of the great delights of the 2015–2016 TV season didn't get nominated for best comedy. It's an even bigger bummer that its go-for-broke-in-every-episode star, Rachel Bloom, got bypassed in the lead actress in a comedy category, too. Our Matt Zoller Seitz called Crazy Ex-Girlfriend the best show of the year. Don't Emmy voters know by now that they should listen to Matt Zoller Seitz?
Orange Is the New Black: Last year the Netflix series about life at the Litchfield Correctional Facility was nominated for Outstanding Drama Series, and Uzo Aduba won the Emmy for Outstanding Supporting Actress in a Drama. This year, it got just one measly nod, for its casting.
Christian Slater for Outstanding Supporting Actor in a Drama: Slater won a Golden Globe for his performance as Elliot's not-exactly-better half on Mr. Robot. But while both the show and co-star Rami Malek attracted Emmy attention, Slater was overlooked.
Outlander: The sweeping, time-jumping Starz saga and its star, Caitriona Balfe, seemed poised to maybe, possibly, earn some Emmy love, but the only nominations the drama earned were for its costumes (which are gorgeous) and its art direction (which is also gorgeous). Fans will have to console themselves by staring at pictures of Jamie Fraser, or as I like to call him, Much Hotter Scottish Tom Brady.
Julianna Margulies for Outstanding Lead Actress in a Drama: A two-time previous winner in this category, it seemed like she had a chance of getting nominated one last time for her portrayal of Alicia Florrick on The Good Wife. Didn't happen.
Every actor on Downton Abbey who isn't Dame Maggie Smith: Emmy voters love Downton, and they demonstrated that by showering it with ten nominations, including one for Smith's portrayal of the Dowager Countess. But given that last season was its swan song, it seemed like some of the actors who had been nominated over the years — like Michelle Dockery, Hugh Bonneville, Joanne Froggatt, and Jim Carter — might get one final chance to swing the ol' cricket bat. Instead, Emmy voters treated their performances the way the Crawleys treated Edith for much of her life: totally ignored them.
BoJack Horseman: Some critics, including both Matt Zoller Seitz and my predecessor, Margaret Lyons, included Netflix's BoJack Horseman on their list of the ten best shows of 2015. But BoJack didn't even make the Emmy cut in the best animated series category. I swear, depressed horses never get the respect they deserve.
Full Frontal With Samantha Bee was left out of best variety or talk series: The one and only late-night talk show hosted by a woman was recognized for its writing, but got shut out by when it came to the nominations for overall excellence in this category. Come on, boys, make some room, would ya?
Malachi Kirby in Roots: Kirby took on one of the most iconic television roles in history, Kunta Kinte, and made it his own. Sadly, he didn't get nominated for best actor in a limited series for his efforts. Instead, he was edged out by nominees such as People v. O.J. Simpson stars Cuba Gooding Jr. and Courtney B. Vance, and The Night Manager's Tom Hiddleston, who is totally going to bring Taylor Swift to the Emmys, so please prepare yourselves accordingly.
Girls: The HBO show that has been repeatedly accused of giving millennials a bad name had one of its best seasons this year. But it got nominated for zero Emmys. Even Adam Driver, who's been on the list of outstanding supporting actors for the past three years, got bypassed. To be fair, though, Emmy voters might have been afraid of him after what he did to Han Solo.
Billions: A number of prognosticators thought the inaugural season of this Showtime deep dive into financial chicanery might sneak its way into the outstanding drama category, or at the very least earn nominations for one of its leads, Paul Giamatti or Damian Lewis. It did not.
Emmys 2016: The Surprises
The Americans domination: Emmy voters have ignored this show so many times that I was sure it would happen again. Instead, it received five nominations: for outstanding drama, lead actors Matthew Rhys and Keri Russell, guest actress Margo Martindale, and for its writing. Emmy voters, you finally got with the program. Good work.
Thomas Middleditch for Outstanding Lead Actor in a Comedy: When you say Middle, we say Ditch: MIDDLE! DITCH! MIDDLE! DITCH! Seriously, Middleditch, in addition to having a stellar last name, has made the constant nervous agitation of Richard Hendricks feel thoroughly palpable in every season of Silicon Valley. I wasn't necessarily expecting to hear his name this morning, but I was happy when I did.
Kit Harington gets a nom for Outstanding Supporting Actor in a Drama: All Jon Snow had to do was make us think he was dead for a little while, then come back to life, and blammo! He's an Emmy nominee.  
David Schwimmer was nominated for outstanding supporting actor in The People v. O.J. Simpson: I expected The People v. O.J. folks to own the zone on acting nominations in the limited series categories, so much so that I wasn't even surprised that Cuba Gooding Jr. was nominated. (Some people thought his O.J. wasn't O.J. enough; I actually liked his performance.) But I wasn't sure that Schwimmer — who brought a sense of dignity and heartbreaking conflict to the role of Robert Kardashian — would break in there. Never count out a guy who can say "Juice" with such emotional conviction.
Laurie Metcalf was nominated for Getting On: This HBO series was nominated once before, when Niecy Nash got a nod in the supporting actress in a comedy category last year. She repeated that achievement this year, but I was not expecting Metcalf to also break through in the lead actress category, especially since Getting On has already gotten on and is no longer on the air.
Louie Anderson was nominated for Baskets: I wasn't sure how many Emmy voters would actually make the time to watch Baskets given the abundance of programming and screeners through which to sift. But they managed to throw one nod its way, for Anderson's gender-line-crossing portrayal of Christine Baskets.
Maura Tierney was nominated for The Affair: The second season of the multi-perspective Showtime drama allowed audiences to hear from Tierney's Helen, the scorned wife of adulterer Noah Solloway, for the first time. It also finally gave Tierney the chance  to effectively demonstrate her character's messiness. I was pleasantly surprised that Emmy voters took notice.
Matt Walsh was nominated for Veep: With such a deep ensemble, and with other co-stars Julia Louis-Dreyfus, Tony Hale, and Anna Chlumsky already seemingly primed to enjoy Emmy attention, I didn't expect Walsh to make it into the supporting actor mix. But no one on TV in the past year has done funnier things involving a FitBit.
Crackle: Did you know that Crackle is now an Emmy-nominated streaming platform? It is! It even got a nomination in the high-profile TV variety category courtesy of Jerry Seinfeld's Comedians in Cars Getting Coffee, which I was not expecting. Although doesn't the idea that a platform called Crackle would someday be involved in the Emmy race sound like fodder for a Seinfeld comedy routine?
The degree of House of Cards domination in the guest actor in a drama category: Three out of the six nominees for guest actor in a drama came from House of Cards: Reg E. Cathey, a.k.a. Freddy; Mahershala Ali, who plays Remi; and Paul Sparks, as Underwood hanger-on Thomas Yates. Basically, if you wanted to have a chance in this category, it was either get a spot on House of Cards or go the hell home.
A Very Murray Christmas: I could tell you that I fully expected A Very Murray Christmas to be nominated for best television movie alongside All the Way and Confirmation. But I would be lying. Although, come on, we all knew this moment was Emmy-worthy the minute we saw it.
Lip Sync Battle = Emmy-nominated series: Lip Sync Battle is a lot of things, but Emmy material? I would not have thought so, but here we are today, watching it get nominated for outstanding structured reality program, where it will compete against Antiques Roadshow, Diners, Drive-Ins and Dives, Mythbusters, Shark Tank, and Undercover Boss. That's right: A PBS show about people assessing valuables will compete for the industry's highest honor against a program on which Tim Tebow has pretended to sing "Eye of the Tiger." TV in 2016 is some magical, crazy shit, you guys.