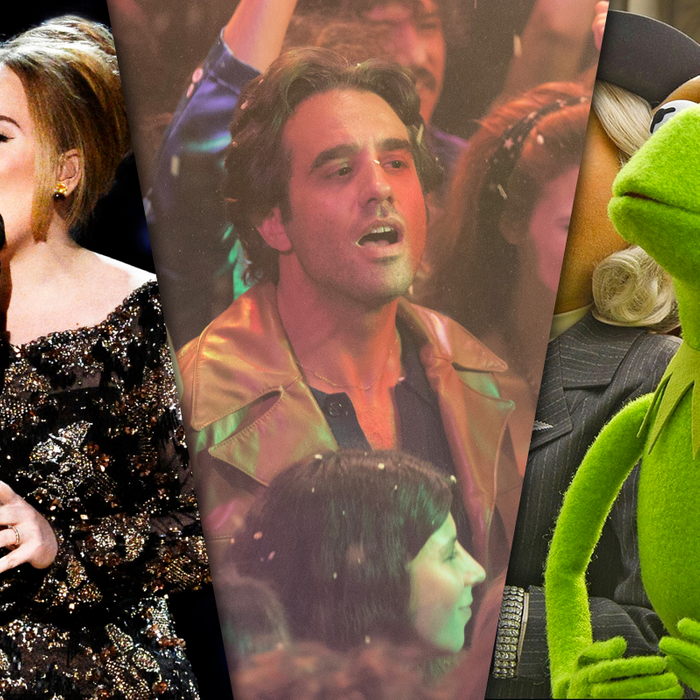 You've had a few hours to process the Emmy nominations. You're well aware that The Americans was finally acknowledged for being the superb drama that it is, and you've begun the lengthy process of coming to terms with the surprises and snubs.
Now it's time to dig deep for a roundup of fun facts and oddities about this year's Emmy Awards. Remember: Knowledge about extremely random Emmy categories is power.
Vinyl was nominated. Yes, Vinyl.
That premium cable show about rock-and-roll that nobody seems to like — the one on HBO that got renewed and then canceled — managed to score two nominations: Outstanding Makeup for a Single-Camera Series and Outstanding Main Title Design. Yeah, its titles were pretty good.
Prepare for an epic battle between Beyoncé and Adele.
Well, sort of. As previously noted, Beyoncé's Lemonade earned four nominations in numerous variety special categories. (For the record, the Super Bowl halftime special in which she performed also was nominated for Outstanding Special Class Program, because Beyoncé slays all day.) In two of those variety categories, Outstanding Variety Special and Outstanding Directing for a Variety Special, her extended music-video exploration of race, betrayal, and flipping Jay Z the bird will compete against Adele Live in New York City, the NBC concert special that ushered the British pop star back into America's spotlight. Thankfully, Taylor Swift wasn't involved in any variety specials last year, because otherwise this could get real messy.
The Late Late Show Carpool Karaoke Primetime Special is also competing for Outstanding Variety Special.
In a way, since Adele was featured in the highlights of this sing-along special, she's also competing against herself. Radio City Music Hall Adele or Passenger Seat Adele: Which one will prevail?
Gay of Thrones snagged a nomination.
The most fab Game of Thrones video recap around, hosted by Jonathan Van Ness and presented by Funny or Die, was nominated for Outstanding Short Form Variety Series. (Question: Does this count as yet another nod for Game of Thrones? They're getting chilly over there in Winterfell with only 23 nominations to keep them warm.)
RuPaul got his first Emmy nod!
The outspoken drag diva was nominated for Outstanding Host for a Reality or Reality-Competition Program. Congrats, Ru!
Making a Murderer received six nominations.
The Netflix true-crime series that everybody talked about last January was honored as one of the year's Outstanding Documentary or Nonfiction Series. It also received nods for directing, writing, sound editing, sound mixing, and picture editing in the nonfiction genre.
The Muppets wasn't totally ignored.
Rejoice, America! ABC's canceled "adult" version of the Muppets got a hat tip from Emmy voters for its production design.
You know that vaguely disturbing Snickers commercial with Willem Dafoe dressed as Marilyn Monroe? 
It's nominated in the commercial category.
Your Pretty Face Is Going to Hell got a nomination, too.
The freaky Adult Swim workplace comedy that's set in Hades earned Jack McBrayer his fourth career Emmy nomination, this time for Outstanding Actor in a Short Form Comedy or Drama Series.
Shockingly, Crazy Ex-Girlfriend only got one song nomination.
I expected this show to dominate the Outstanding Original Music and Lyrics category, given the caliber of its songs, but it actually faces some tough competition: "'Til It Happens to You," is a Diane Warren–penned, Lady Gaga–performed song that also was nominated for an Oscar. (It's also eligible for Emmy consideration because the documentary that featured it, The Hunting Ground, aired on CNN). Anyway, the nominated CXG song is a goodie: "Settle for Me." Enjoy it below.