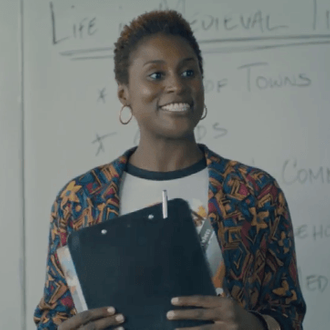 There will inevitably be comparisons to HBO's other female-driven millennial comedy Girls, but the network's new series Insecure bears little resemblance to Lena Dunham's show. The eight-episode, half-hour comedy — produced by The Nightly Show's Larry Wilmore — is an adaptation of star and creator Issa Rae's web series, The Misadventures of Awkward Black Girl, centering on a late-20s woman named Issa Dee, as she awkwardly juggles work, friends, and romance in Los Angeles. Here's what we learned about Insecure during HBO's Television Critics Association session, which featured Rae, showrunner Prentice Penny, and executive producer Melina Matsoukas.
1. It will premiere on Sunday, October 9, alongside Sarah Jessica Parker's Divorce.
2. The show will examine what Rae calls the complexities of "blackness" and the reality that "you can't escape being black." But more than this, it will ask the bigger question: "What does it mean when you don't fit into this definition of being black?"
3. Much like the Brooklyn backdrop of Girls, Los Angeles will be featured prominently in the series, "especially South LA," said Rae.
4. Behind the scenes, the writers room and director roster will reflect the diverse ethos of the series, said Penny. "It's an interesting thing that can't be summed up — whether you are black, Latino, or Asian, it's hard to get a show on the air. It's tough to take a chance on somebody. It's all about: Who is already in the system?" said Penny.
5. Don't worry: Sex scenes in Insecure will feature just as much male nudity as female nudity. "That's absolutely a concern," said Rae.
6. Insecure isn't the first-ever comedy series created by and starring a black woman; comedians Sherri Shepherd and Wanda Sykes each attempted their own sitcoms. But it is a first for premium cable. "Is that true? That's sad!" said Rae.