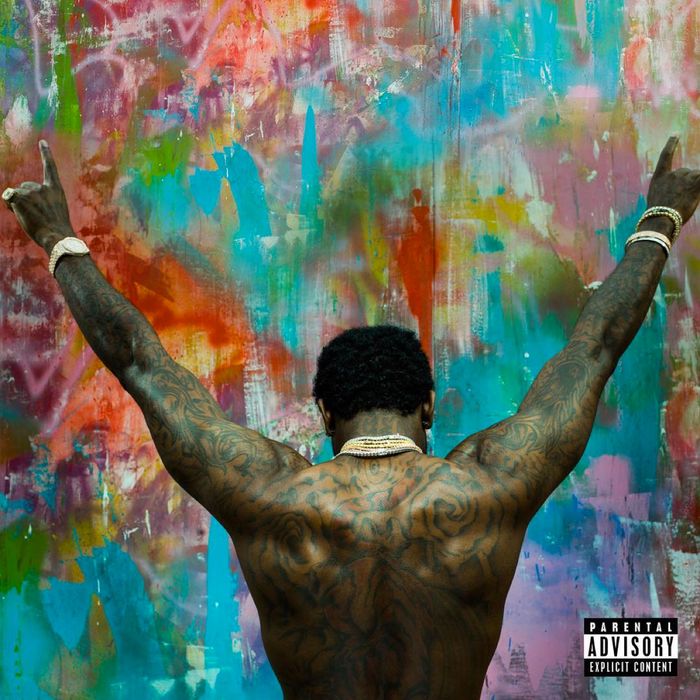 Gucci Mane is an Atlanta trap figurehead whose shiftless prolificacy and innovation are matched only by a propensity for trouble. Over the last decade, he balanced sleek major-label studio albums and memorable guest appearances alongside a fertile mixtape career with a deftness that, short of Lil Wayne, has seen few peers. His keen ear for emerging talent bolstered the careers of rappers from Waka Flocka and Young Thug to Nicki Minaj, and made heroes of Atlanta-based producers like Zaytoven and Mike WiLL Made It. Gucci's career highs have always been undercut by life-threatening encounters and legal troubles, though, from a rap-related murder charge he miraculously beat in 2006 to a baffling string of 2013 assault and weapons-possession charges that culminated in a three-year stay at an Indiana state penitentiary.
Though a dedicated engineer and a sizable cache of unreleased material would keep Gucci Mane mixtapes coming at the staggering rate of 12 a year during his lockup, the music's quality fluctuated, and the quantity often proved forbidding. Still, anticipation for the rapper's release from prison persisted until a quiet afternoon in late May when his model girlfriend Keyshia Ka'oir posted a Snapchat video of her hand clasped in a tattooed hand and forearm voracious fans instantly recognized as Gucci's. Finally free, Gucci now serves the remainder of his sentence on house arrest, where he has returned triumphantly to the business of excellence in rhyme. A new album was completed within a week of Gucci's release with Zaytoven and Mike WiLL overseeing production; Everybody Looking, out today on Atlantic Records, presents the Atlanta rap legend in the finest form he's showcased in years.
The unspoken party line among rap fans is that jail kills a hot streak. Lil Wayne's white-hot mixtape fury cooled after a 2010 stint at Rikers Island following a New York City drug arrest, and T.I.'s stream of pop-trap radio smashes dried up after federal gun charges earned him a 12-month sentence the same year. Gucci Mane breaks the paradigm on Everybody Looking with an hour of raps that careen from his trademark entrepreneurial cockiness to perfect honesty about his shortcomings, and back. "I got the best intentions, but I make rash decisions," album intro "No Sleep" says of the rapper's rocky decade. It turns out his erratic behavior was in part abetted by a crippling promethazine addiction. ("Recovering drug addict, I used to drink a pint a day," he sings in the same song's chorus.) Gucci seems revitalized, but not just in the details of his story. There's a boyish whim in the delivery that was missing from the pre-incarceration material. The rhymes are tighter and punchier. He sounds healthy and happy.
Everybody Looking eschews the mistakes of the last two Gucci albums released by Atlantic. 2009's The State vs. Radric Davis watered down its message, affixing a grip of glossy R&B tracks to an otherwise devilishly dark album of trap bangers, and its follow-up, The Appeal: Georgia's Most Wanted splurged disastrously on hitmakers that poorly complemented the rapper's style. The new album doesn't reach for radio so much as concentrate on offering up the sharpest iteration of Gucci's sound with his closest collaborators. Separately, Zaytoven and Mike WiLL are two of Atlanta's most unique production luminaries; the former imbues his beats with a grounding gospel soul through sheer force of emotive piano playing and the latter fixates on woozy, unearthly textures. Working together, especially on cuts like "Guwop Home" and "At Least a M," the two grant Everybody Looking a sentimental musicality and druggy atmosphere that proves to be the ideal setting for Gucci to detail the trek out of his darkest days.
The list of outside guests here is short, and and they're wholly beholden to Gucci's magnetism. Drake's attempt at grit in the chorus for "Back on Road" is washed out by the lived-in adversity in Gucci's verses. (Much is made of his pop smarts, but the Toronto don's star-making gift is image reform; small wonder he's suddenly sniffing around Guwop for a collaborative EP.) Kanye West shows up in full perv mode on "Pussy Print" and gets out-creeped when Gucci compares his wallet bulge to a woman's labia. Young Thug's guttural blues act on "Guwop Home" is the only guest spot that doesn't feel like magi paying respects to the savior. But now that Gucci Mane is finally selling a major-label studio album that shows off every bit of his worth, Everybody Looking has every right to roll out like a coronation.