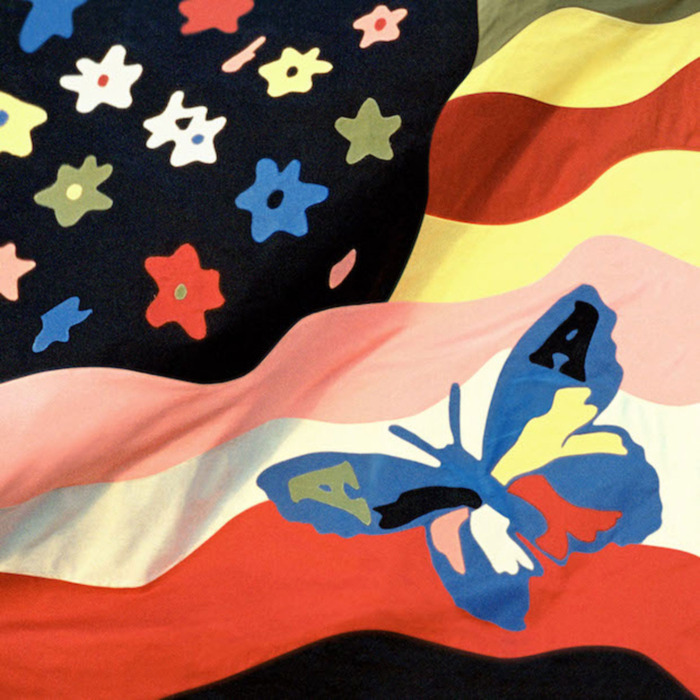 The Avalanches' very-long-awaited new album, Wildflower.
In retrospect, turntablism — the sample-heavy, largely instrumental late-'90s hip-hop movement that elevated DJs from dance-party maestros to abstract artists in their own right — was a logical response to the end of the 20th century, as sage crate-diggers confronted premillennial political flux and information overload with elaborate sound collages stitched together from shards of other people's records. DJ Shadow (né Joshua Paul Davis) was a work-at-home remixer from Northern California, who caught the attention of U.K. beat label Mo' Wax Recordings, which would release his groundbreaking 1996 debut Endtroducing…, a sprawling symphony of loops (and, according to Guinness World Records, the "first album made completely from samples"). The next year, a little-known Australian punk band transformed itself into the DJ collective known as the Avalanches, whose stunning first album, 2000's Since I Left You, was an even denser patchwork of repurposed music, building on sampling techniques used by Shadow, Public Enemy, and Beck and Beastie Boys producers the Dust Brothers.
But in the aughts, as hip-hop inched away from New York City breakbeat cool into southern strip-club thump, DJ Shadow and the Avalanches were set adrift, the former struggling to regroup over a trail of releases that revealed him as a jack of more trades than he'd mastered, and the latter disappearing for 16 years as they tinkered away on a follow-up to Since I Left You, which threatened to become the hip-hop analogue to the Beach Boys' lost masterpiece Smile.
Late this spring, though, long-suffering Avalanches fans' luck finally changed when the outfit sprung back into action as a three-member group (Robbie Chater, James Dela Cruz, and Tony Di Blasi) with the new single "Frankie Sinatra," which borrows its chorus from 1930s calypso king Wilmouth Houdini's "Bobby Sox Idol." The song sounded like the Since I Left You track "Frontier Psychiatrist" recast as bored ska, stoking fears that the group's creative juices had spoiled. But now comes the Avalanches' very-long-awaited new album, Wildflower, which was released shortly after the latest and fifth LP by DJ Shadow, The Mountain Will Fall. Both new works struggle to find a place for turntablism in 2016, with Shadow threading his delicately layered productions with riskier avant-garde sounds and the Avalanches offering pretty much more of the same.
Wildflower retains Since I Left You's balance between meticulous arrangements and spontaneity and has a tighter focus than reports about its tortured genesis might have suggested. The results are like zooming out of town with your car radio on and hearing your local hip-hop station slowly morph into some far-flung small-town AOR affiliate, a string of energetic dance-floor workouts giving way to folkier, druggier ones. One minute, the soulful house of "Subways" and "Going Home" envelops the mix, and the next, you're wheeling through folk, psych, and AM pop on joyful cuts like "Colours" and "Harmony." One major change since the last album: On Since I Left You, the Avalanches let their samples do most of the talking, but Wildflower includes vocal contributions from talented weirdos like Detroit rap wild man Danny Brown, circus-pop auteur Ariel Pink, snarky folkster Father John Misty, and noise legend Jennifer Herrema of Royal Trux. It all sounds great, but apart from the guests, the band hasn't much messed with its blueprint, and it's hard to shake the feeling that they've taken us to most of these places before.
DJ Shadow has never tried to make the same record twice, at times to his detriment. He flirted unsuccessfully with hyphy and indie rock on 2006's The Outsider and metal and postpunk on 2011's The Less You Know, the Better. Every new album showed a crafty mind at work, but the further they strayed from the breakbeat-heavy moodscapes of Endtroducing…, the worse they got. The Mountain Will Fall is Shadow's first for Nas's Mass Appeal Records, and it's his best in a decade. Crushing drums and dark synths remain his inescapable trademarks, but Mountain applies them to compositions that are more sedate and ambient, like its cloudy, laconic title track. Outside an appearance from hip-hop odd couple Run the Jewels, Mountain eschews famous cameos, opting instead for players like trumpeter Matthew Halsall and classical pianist Nils Frahm. The Mountain Will Fall can be discomfiting as it sojourns from the familiar to the bizarre (see the sinister stomp of "California" and "Ghost Town" in the album's back half), but as the document of a veteran musician finding himself again by paring down his sound rather than hitching it to popular styles and names, it's a step in the right direction.
Neither Shadow nor the Avalanches have reinvented any wheels or done much likely to spur a turntablism revival in 2016, but sometimes a couple of cool records will suffice.
*This article appears in the July 11, 2016 issue of New York Magazine.