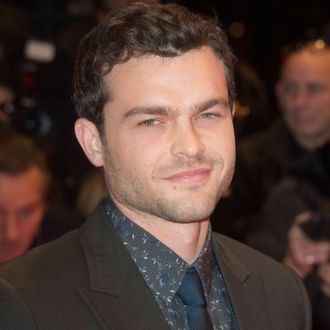 The young, for now, Han Solo.
Photo: Stephane Cardinale - Corbis/Getty Images
Alden Ehrenreich's stand-alone young Han Solo movie may kick off a Han Solo trio. Sources tell the New York Daily News that Disney has signed the Hail, Caesar! star to a three-picture deal, allowing them to plan out future installments if the first film is a success. The studio itself has only announced a first film, from Phil Lord and Chris Miller, and only confirmed Ehrenreich's involvement last week. Disney has made no formal mention of any future installments. "They feel that his character has the right potential to become a central figure in several movies," one source told the Daily News, which, to be fair, is already true of four Star Wars films. If they keep this young Han Solo franchise running long enough, we'll have to start saying things like "the old young Han Solo movie," "the movie with old young Han Solo," so at least headline writers will be happy.