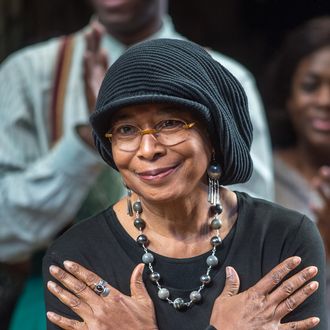 Photo: Mark Sagliocco/2015 Getty Images
Jesse Williams has received his deserved share of praise for his powerful speech accepting his Humanitarian Award at the BET Awards last week. Literary luminary Alice Walker apparently wanted to ensure that her words didn't get lost in a sea of compliments,  so she wrote a poem in honor of Williams's big moment, entitled "Here It Is," and published it on her website. After voicing her annoyance that Williams's speech came right after a McDonald's commercial ("Surely there is a better way to honor our people than by encouraging belief that such a corporation cares about what they eat, unless it makes money for the corporation"), Walker explains in her intro that she wanted to write a poem "about fear of blackness in white culture."
The poem, as follows:
Here it is
the beauty that scares you
-so you believe-
to death.
For he is certainly gorgeous
and he is certainly where whiteness
to your disbelief
has not wandered off
to die.
No. It is there, tawny skin, gray eyes,
a Malcolm-esque jaw. His loyal parents
may Goddess bless them
sitting proud and happy and no doubt
amazed
at what they have done.
For he is black too. And obviously
with a soul
made of everything.
Try to think bigger than you ever have
or had courage enough to do:
that blackness is not where whiteness
wanders off to die: but that it is
like the dark matter
between stars and galaxies in
the Universe
that ultimately
holds it all
together.