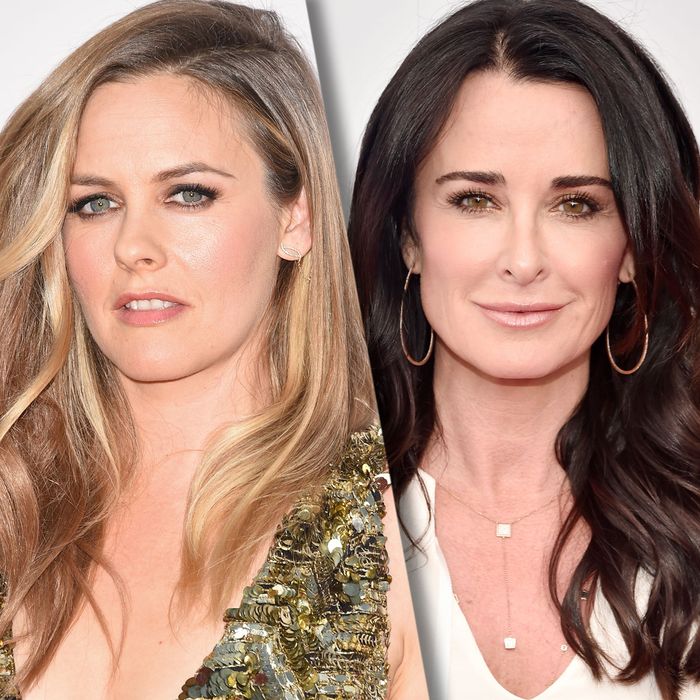 L-R: Alicia Silverstone, Kyle Richards.
Photo: Getty Images
For those who follow entertainment, the news that '90s goddess Alicia Silverstone is returning to television in the TV Land pilot American Woman is exciting. However, for card-carrying members of the Real Housewives Institute it was beyond exciting because it means that Alicia Silverstone is playing Bonnie Nolan, Kim and Kyle Richards's mother.
Yes, the pilot is co-executive produced and based on the life of Real Housewives of Beverly Hills star Kyle Richards who, along with her sister and reality-TV co-star Kim, was a child actress in the '70s, co-starring in Halloween, Watcher in the Woods, and Little House on the Prairie. Sister Kim was even more famous at the time, starring in The Nanny and the Professor, Hello Larry, and the Witch Mountain movies. They were raised by their single mother, Kathy Dugan, along with their older half-sister, Kathy Hilton, mother of Paris and Nicky.
According to TV Land, the show is about a woman named Bonnie raising two daughters in the '70s during the heat of the sexual revolution and the start of feminism. "As she struggles to raise her family, Bonnie sets out to claim her own brand of independence in a world not ready to give it," is how The Hollywood Reporter describes it.
That doesn't sound like the Richards sisters I know. If it is really based on Kyle's life it should be about a notorious stage mother in the vein of Gypsy Rose Lee who put pressure on her daughters to get famous and make money to support the whole clan. I hope that's the case, and should it get a full season order, here are a few story lines for episodes that we would love to see along those lines.
Episode 1: After starring in a Western, Kim thinks she knows how to ride a horse because, on set, there is a trainer who takes the animal and leads it around while she sits in the saddle. Bonnie is dating a wealthy man who owns a ranch. While the family is visiting him, Kim hops on a steed and is immediately bucked because she doesn't really know how to ride. Bonnie's budding relationship is ruined.
Episode 2: Kim has a big audition for a new movie that everyone thinks is going to be huge. Bonnie can't find a babysitter for younger sister Kyle so she brings her along and makes her wait in the lobby. While Bonnie takes Kim in for her reading, Kyle is charming the casting agent in the lobby and gets the big part. Now Bonnie has to choose which one of her daughters to love. (Psst. It's the one with the job.)
Episode 3: Bonnie learns that one of the top casting directors in Hollywood is a woman who enjoys the company of other women. Should Bonnie put on her best tube top and try to charm this woman, giving her daughters a leg up, or should she rely on their talent? We won't spoil the ending, but in this episode Bonnie accidentally coins the acronym YOLO.
Episode 4: Established Hollywood actor Bill Cosby invites Bonnie and her two daughters over to swim in his pool and have some drinks. Bonnie says yes.
Episode 5: Bonnie, sick of running lines with her two girls for all of their scenes, tasks them with running lines for each other. This is when she realizes that neither of them ever bothered to read. It's a very special episode.
Episode 6: Kim is over the moon when she lands a role playing a daughter in a family sitcom on NBC. However, after a few weeks, she hates going to set every day. Bonnie investigates and finds out that she's having problems in the on-set schoolhouse, where she is constantly bullied by the cast of Diff'rent Strokes, a street gang led by Gary Coleman.
Episode 7: Frustrated by her children's lack of success and her inability to do well in the dating pool, Bonnie thinks about giving up the Hollywood life, moving back to Long Island, and reconciling with her husband. However, that night she has a dream where her daughters are famous, not for their acting, but their willingness to have their lives displayed to the public in all of its wilting despair. They are all rich and have their own sprawling families, including daughters that are even more famous than them, and make billions selling perfume to Japanese youth. Bonnie decides that it's all worth it and decides to stay in the land of her dreams, even though it might ruin everything she holds dear.