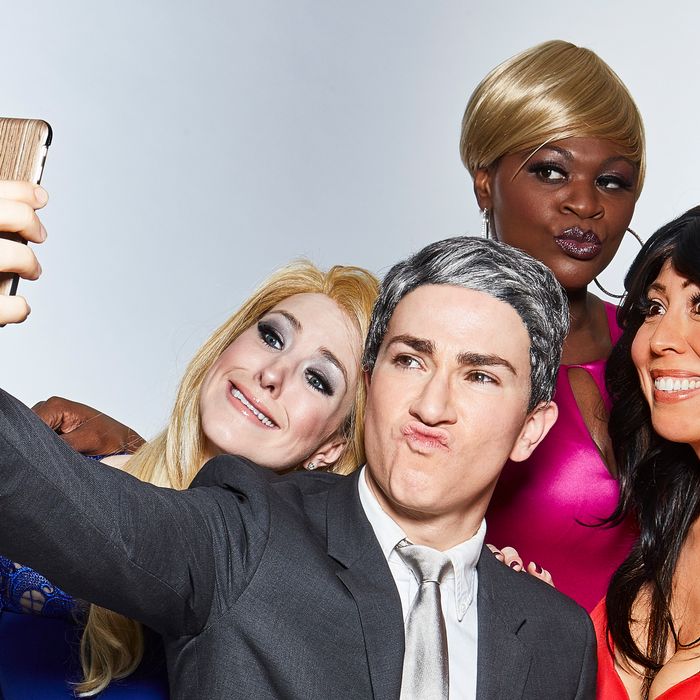 Ryan Raftery (center) as Andy Cohen, surrounded by three Housewives.
Cabaret singer Ryan Raftery is worried about his Andy Cohen wig. "We don't have American Hustle's wig budget," he jokes, adding that it's much harder to find short-hair wigs for men than the sort of ridiculous ones that so often surround Andy Cohen on Real Housewives, some of them even hawked by the Housewives themselves. Two weeks before the already sold-out premiere of Ryan Raftery's Watch What Happens — Live on Stage! at downtown Manhattan performance space Joe's Pub, Raftery, who plays Andy Cohen, is in a Flatiron rehearsal space going over the musical with director Jay Turton and three pseudo-Housewives: NeNe Leakes (Romelda Teron Benjamin), Teresa Giudice (Emily McNamara), and Kim Richards (Miranda Noelle Wilson).
He shouldn't be so concerned about his transformation into the Bravo executive, talk-show host, and Svengali of a reality franchise that started spreading its tentacles across this great nation ten years ago, scooping up outsize personalities and unrepentant narcissists willing to trade their privacy for fame, fortune, and maybe an undrinkable brand of wine. It's not like Raftery is playing the actual Andy Cohen. The musical, based very loosely on Andy Cohen's book, Most Talkative, isn't meant to be a biography. Plus, he's at least a decade too young, doesn't have the same penchant for flashy-yet-tailored clothing, and there isn't even the hint of Cohen's wonky eye.
"I don't do an impression of him," Raftery says. "It's not a four-minute Saturday Night Live skit where I can take a perceived personality trait of his and hype it up. That wouldn't play for 75 minutes. I feel like I created my own character that happens to be Andy Cohen."
While Raftery's version of Andy's life story includes plenty of similarities to the real thing — moving from St. Louis to New York, an obsession with soap actress Susan Lucci, an internship at CBS News where he got his start and worked with Julie Chen — that's where it ends. In Raftery's version, Cohen is driven entirely by his love of Anderson Cooper (also played by Wilson) who he sees as a young man in a magazine with his mother Gloria Vanderbilt, and spends the rest of his life trying to make Anderson fall in love with him. That includes making a bargain with NeNe Leakes to give her a spinoff show if she helps him get his man. (Naturally, this scene is capped off with the song "Fame Me," a retooled version of "Feed Me" from Little Shop of Horrors.)
Raftery's path to Andy Cohen actually starts with another celebrity, Anna Wintour, the Vogue editrix he played in a 2014 show, also at Joe's Pub. After years of struggling to get people to see cabaret performances about his own life, the Brooklyn native was suddenly in the middle of a media tsunami thanks to the fact that he was playing a famous person.
After a string of packed houses, he realized this was clearly a strategy that had some legs. "The reason [it worked] is that I made her relatable for that thing we can all understand," Raftery says, referring the plot of the play, which centers around Wintour's concerns that she's going to get fired for putting Kim Kardashian on the cover of the magazine. Though most of us haven't worn Prada sunglasses in the front row at fashion week, we've all worried about getting sacked for messing something up.
The seeds for a Cohen-based musical were planted when, during his run as Wintour, Cohen had Raftery play a bartender on an episode of Watch What Happens Live. Raftery told the host he was going to do an Andy Cohen project next. Cohen was a little taken aback, as he was a month ago when Raftery ran into Cohen at a party and reminded him of the project.
He originally envisioned the performance as a winter show in the vein of A Christmas Carol, where Cohen is visited upon by the ghosts of three Housewives. But about nine months ago, he decided not to limit himself to the holidays. Around that time, he also went through a breakup, which may be why there is such a sour note to Cohen's unrequited love for Anderson Cooper. This especially resonated with Raftery when Cohen said on the 1,000th episode of WWHL that his relationship with the Housewives was the longest of his life. It reminded him of a lyric from the Lady Gaga song "Gypsy" where she sings, "I don't wanna be alone forever, but I can be tonight." In Raftery's version of the song, he sings, "You're never really alone because, Andy, you're on TV tonight."
Though the show has plenty of jokes and references for those who have never missed a disastrous Housewives trip or explosive reunion special, it's this meditation on fame and its effects that will really connect with the Housewives fan base, which is much more literate than many would imagine. (For proof, just check out this New York Times article about the pleasures of Housewives offshoot Vanderpump Rules.) The deal that Cohen makes in the show is a Faustian one — his fame comes at the cost of his love life. Just like so many Housewives, the show asks, is it worth it?