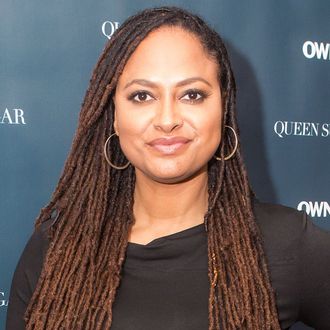 Huge news.
Photo: Josh Brasted/Getty Images
In its 53 years, the New York Film Festival has never opened with a nonfiction work, but this year it's trying something unprecedented: The 13th, a surprise documentary from the increasingly prolific Ava DuVernay, has been selected to debut on opening night on September 30. Not only is it the first time a documentary will open the festival, it's the first time a black woman director has ever opened the festival; DuVernay is also the first woman director to open the festival since Agnès Jaoui did with Look at Me in 2004, and only the fourth woman overall. Through archival footage and interviews with politicians, activists, and scholars, The 13th examines America's history of systemic racism from the introduction of the 13th Amendment, which sought to abolish slavery, to modern slavery as it functions legally within the prison-industrial complex.
"This film was made as an answer to my own questions about how and why we have become the most incarcerated nation in the world, how and why we regard some of our citizens as innately criminal, and how and why good people allow this injustice to happen generation after generation," DuVernay said in a statement. (The 13th will be DuVernay's first film since 2014's Oscar-nominated Selma.) And for those who miss it at NYFF, The 13th will stream on Netflix on October 7 and begin a limited run in theaters the same day.