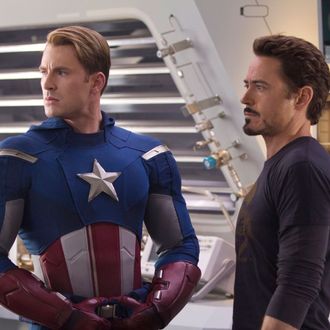 MARVEL'S THE AVENGERS
Photo: Zade Rosenthal/? 2011 MVLFFLLC. TM & ? 2011 Marvel. All Rights Reserved.
To infinity and beyond … or not. Contrary to what had been previously announced, Disney has confirmed that the upcoming Avengers: Infinity War will only be one film, as opposed to two. To be directed by Anthony and Joe Russo, the two Infinity War films were put on the Marvel schedule back in October 2014, with the first one scheduled for May 2018 and the second (initially titled Avengers: Infinity War Part II) scheduled for May 2019. However, Disney now calls the second film an "Untitled Avengers" project, with the same release date still in place. Production on the now-one-and-only Infinity War is scheduled to begin later this year, with Robert Downey Jr. and negotiating-tool extraordinaire Jeremy Renner confirmed to star.