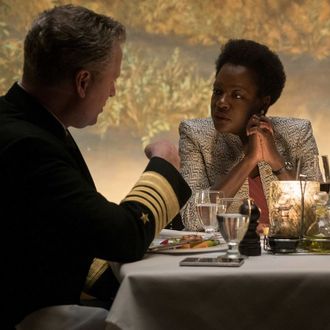 Photo: Karen Brill/Warner Bros. Pictures
It seems an apology to Jared Leto may be in order. Vulture's been pretty hard on Leto for the very bonkers lengths he's taken to embody the Joker on the set of Suicide Squad. But what if Leto, once assumed to be autonomously abusing the method-acting creed, is but a mere symptom of a far more insidious disease? Entertainment Weekly chatted up Viola Davis and — turn your head and gasp — we've got ourselves a credible suspect for puppet master: literal puppet master/director David Ayer. While a director's job is to pull strings, Ayer's been masterminding chaos. Davis revealed: "He would make me call, [Davis starts laughing and can't really stop] Joel Kinnaman a p—y at times. A bitch. [More laughs.]" And Ayer's commands changed Davis. "It's completely politically incorrect but it caused a reaction in me … It made me feel like a straight up thug, and it made Rick Flagg want to kick my ass. So David got what he wanted," she explained.

It seems things on the Suicide Squad set were all about what David wanted — psychologically ruined actors be damned. As Kinnaman revealed, "Some of the stuff she said really pissed me off … And I felt really betrayed. And that's exactly what David wanted me to feel … And now it's in the movie. That's some pretty high-level direction through manipulation." Sure, Joel — but might Ayer have ascended to an even higher level of direction if he didn't require the kind of methods that make human resources go, hmm? Those holding their breath for the blooper reel on this thing: Go ahead and drown.