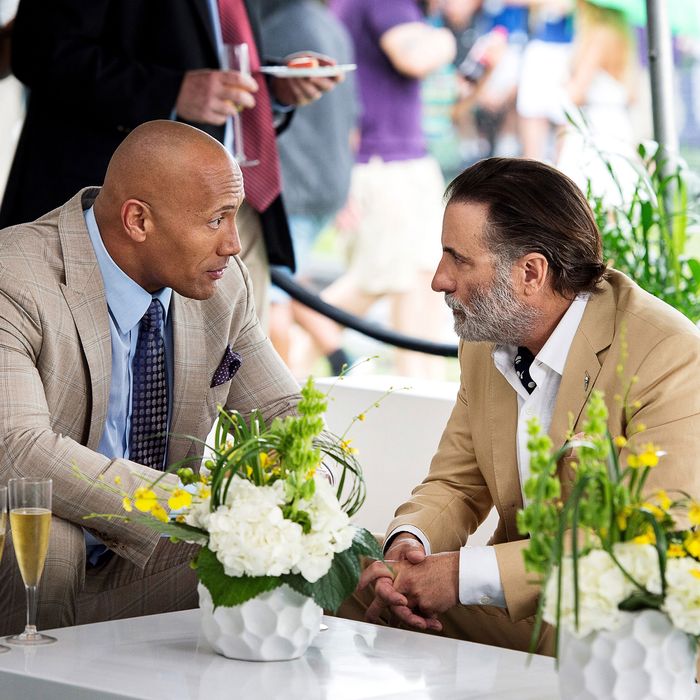 Dwayne Johnson as Spencer, Andy García as Andre.
Photo: HBO
This is a very special episode of Ballers. This week, we're taking on feminism and substance abuse with all the nuance and subtlety of a show that has an extended shot of a woman's ass as she carries a giant tennis ball. Ballers, never change.
Dwayne "La Roca" Johnson wakes up limping to his bathroom and searching for his pill bottle. He takes the last two and chews them up. By chewing pills, you can break them into small bits that will dissolve through your mucus membrane in your mouth for faster absorption. Science!
La Roca gets dressed in some AGGRESSIVE pattern mixing (plaid, stripes, and polka dots) and calls Tracy to finally give a woman some character and plot development. They are trying, y'all. Tracy says the media are reporting that La Roca and Sizzle buried the hatchet at Denzel Jr.'s party, which we see in a flashback just to remind us that tits exist, I guess. She's upset because her bosses hired a new (male) sportscaster, and he makes more than her even though she has four years more experience. So, is equal pay the new feminist issue that men can get onboard with? I mean, Ivanka Trump mentioned it at the RNC, so I guess it's cool for male-capitalist-chauvinist pigs to want women to be paid the same wages. I wonder when Ballers will tackle transgender housing or employment discrimination. Trump did mention that, Q.
At the pharmacy, my eyes are fully assaulted by the ridiculous (but well-fitted) outfit La Roca wears as he waits for the pharmacist to refill his prescription. He's overdrawn, so he goes to get his doctor's permission to refill his Vicodin prescription. He also completely flops an easy joke where he claims to be a subscriber of Ladies' Home Journal. I can't wait for the Botchamania clip show of Ballers. Once he gets to the office, Sizzle is waiting for Joe and La Roca to talk about dropping Andre and picking them up as his managers. Sizzle has $500,000 hidden behind his bathroom wall. He needs a savings account or something. Anything.
Despite the fact that this would be a huge get for the company, Joe isn't jumping for joy because they're still not certified and poaching clients from Andy Garcia isn't a good look. That dude radiates a sinister energy. La Roca doesn't want to look like a pussy, and Joe just repeats the same thing over and over again until La Roca picks him up by the tie. So much for that feminism. Sizzle says that they have to tell Andre for him, then he scoots out of there.
Meanwhile, Tracy is taking on sexism in the workplace and meeting her boss for lunch. He asks her to use her "personal connection" with La Roca to get a story on Denzel Jr. for them. She gets pissed at his not-so-subtle digs about her personal life, then tells him to give the story to her co-worker. Make him earn his salary. Her boss calls her "Legs," then adds that she used to have a sense of humor. Why can't she just take a joke? Every woman watching — yes, all six of us — had a rage blackout. I woke up standing over my boyfriend, screaming about 77 cents on the dollar. Tracy quits her job right there on the spot.
La Roca goes to visit Denzel Jr., only to find Charles smacking him with a foam bat. This show is on the forefront of goofy exercises. La Roca lets Denzel Jr. know that he really messed up in the eyes of the Dolphins, and there's not much he can do. Charless' future is up in the air, so La Roca plans a sit down with the coach for a little performance review. Meanwhile, Joe meets with Reggie so they can do a mock interview to be a paid member of Vernon's staff. He lists his duties on the team: contract advisor, motivator, ho management. Joe agrees that his work merits compensation, then proposes he ask for $1,500 a week. Joe calls Vernon and plants the idea in his head.
Tracy is at home doing her best Olivia Pope impression in her slouchy chic menswear-inspired pajamas, drinking a tiny amount of wine out of a fishbowl-sized wine glass. La Roca offers to beat her boss up, and then he carries her to bed, which is literally my fantasy. But she only has a full-size bed, which is not my fantasy. If you're sleeping with La Roca, you need a California King.
Vernon and Reggie go on a paintball trip and discuss employment opportunities. They say their salary suggestions at the same time. As someone who used to work in HR can tell you, that is a terrible idea. Reggie suggests $3,000 and Vernon suggests $800. Whoops. Later, a frustrated Reggie shoots at Vernon from a distance and knocks him off a ledge and Vernon hurts his leg.
At his doctor's office, La Roca tries to get a new Vicodin prescription and lies lies lies about how many pills he takes every day. His doctor says that if he weren't abusing his medication, he wouldn't have run out so soon. I don't know what happened to La Roca, but his charisma is sucked out in this episode. This is such a flat scene.
Denzel meets with Jason to discuss where he could go next. Apparently, he's a man who likes étoufféé because he's contemplating the New Orleans Saints.
La Roca and Joe go to confront Andre at a tennis match, and we see two scenes that were included in the season promo. La Roca tells Joe how Andre mismanaged his money and Joe actually asks, "So is this personal or is it business?" Any attempt at subtext just curled up and died. They find Andre in the rich person's tent with some charming young tennis player because Serena and Venus were busy. They sit him down and let him know that Sizzle is unhappy, and that they have an advantage over people like him. Then Andre and La Roca have a gravely voice-off and La Roca wins because this is Ballers. Andre is fired.