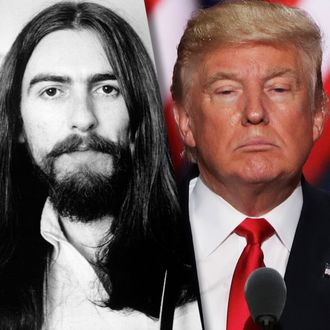 Well, Trump is orange like the sun.
Photo: Getty Images
George Harrison's estate does not approve of Trump's message. Ivanka Trump took the stage at the Republican National Convention to the tune of the Beatles' Abbey Road classic, "Here Comes the Sun," which was penned by Harrison. Harrison's estate then tweeted that the use of the music was "unauthorized," "offensive," and against their wishes. Then, they added, "If it had been Beware of Darkness, then we MAY have approved it! #TrumpYourself."
Harrison's estate joins a growing chorus of musicians, including R.E.M., Adele, Queen, Neil Young, and Aerosmith's Steven Tyler, who want Trump to stop using their music. But you know the Orange One doesn't care! He ended his speech last night at the RNC with the Rolling Stones' "You Can't Always Get What You Want" — an ironic choice he delighted in using on the campaign trail — despite the fact that the band has already asked him to stop using the tune. This doesn't leave a lot of music for Trump's hip-dad playlist. Well, there's always Kid Rock. He's cool, right?