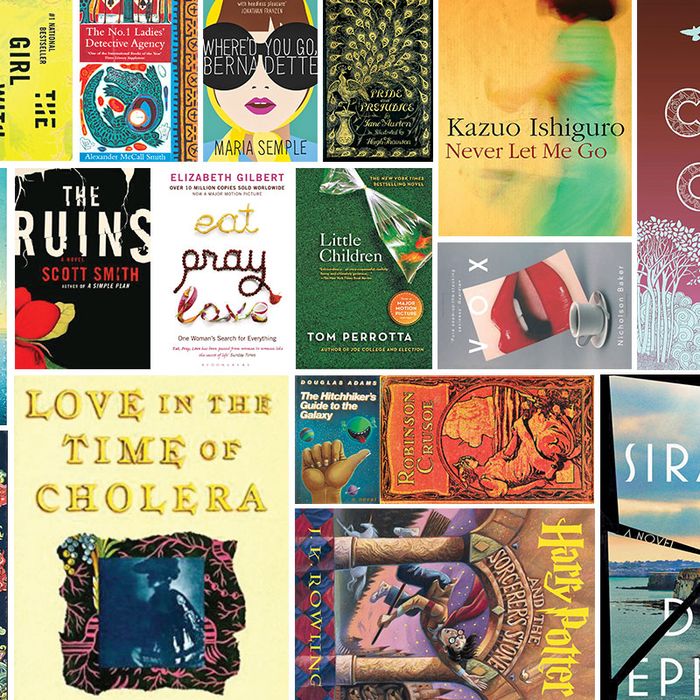 From mass-market candy to high literature.
The 50th-anniversary reissue of Valley of the Dolls has prompted a flood of celebrations of Jacqueline Susann's supposedly disposable chronicle of pill-popping. One reason for that novel's enduring popularity? Its status as an all-time-great Beach Read. That's a slippery category, but the formula is pretty straightforward. Whether mass-market candy or high literature, a beach read needs narrative momentum, a transporting sense of place, and, ideally, a touch of the sordid. Even a book that takes a little work shouldn't feel that way in the hot sun, and you'll hardly break a sweat with any of the 100 greats listed here, in chronological order.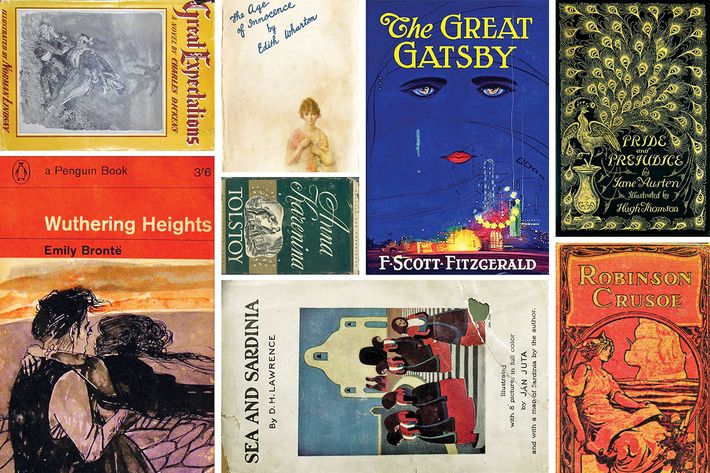 1.  Robinson Crusoe, Daniel Defoe (1719)
The original desert-island tale holds up as high-seas adventure.
2. Pride and Prejudice, Jane Austen (1813)
The novel that launched a thousand modern tributes remains readable, sly, and surprising.
3. Wuthering Heights, Emily Brontë (1847)
In the Brontë oeuvre, this was the dark one — wild, transgressive, unapologetic melodrama.
4. Great Expectations, Charles Dickens (1861)
Crazy twists, reversals of fortune, brilliant satire — and at pleasantly un-Victorian length.
5. Anna Karenina, Leo Tolstoy (1877)
There are the wheat-field longueurs, and we all know the ending, but Tolstoy's doomed romance trumps it all.
6. The Age of Innocence, Edith Wharton (1920)
A clash of erotic passion and upper-class repression imbued with nostalgia and irony.
7. Sea and Sardinia, D. H. Lawrence (1921)
From Sicily to the titular island, Lawrence's travelogue takes in sun-bleached relics both architectural and human.
8. The Great Gatsby, F. Scott Fitzgerald (1925)
Great poolside reading for anyone who's ever wondered about a barbecue's mysterious host.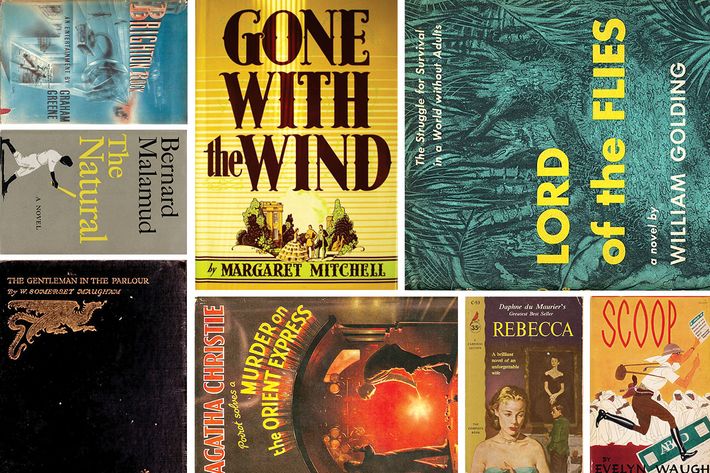 9. The Gentleman in the Parlour, W. Somerset Maugham (1930)
Maugham's veddy English colonial foray into travel writing sketches a trip through Southeast Asia.
10. Murder on the Orient Express, Agatha Christie (1934)
Procedural mysteries are a beachside staple — this is the form's Platonic ideal.
11. Gone With the Wind, Margaret Mitchell (1936)
It's long and problematic, but also a frothy southern bodice-ripper whose pages fly by.
12. Brighton Rock, Graham Greene (1938)
The prolific Brit's seaside "entertainment" is Boardwalk Empire with bigger words and Catholic guilt.
13. Rebecca, Daphne du Maurier (1938)
The dead won't stay dead in du Maurier's famously twisted romance about a widower's new wife.
14. Scoop, Evelyn Waugh (1938)
Waugh's journalism satire is more than just a wacked-out comedy of errors — but thankfully not too much.
15. The Natural, Bernard Malamud (1952)
No novel has better catalogued everything grand and tragic about baseball, our great summer pastime.
16. Lord of the Flies, William Golding (1954)
Kids do the darnedest things when stranded on an island and forced to reinvent society. Still, a fun read.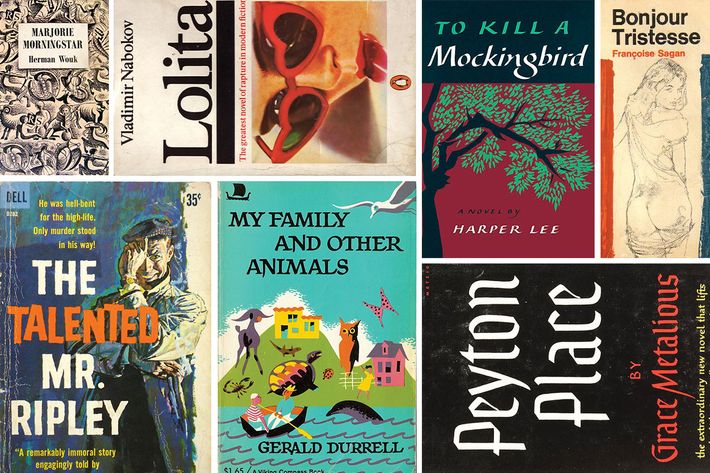 17. Bonjour Tristesse, Françoise Sagan (1954)
This French romantic tragedy has been called "vulgar." That's why we like it.
18. Marjorie Morningstar, Herman Wouk (1955)
The ending is conventional, but Marjorie's picture of old New York and Catskills culture is irresistible.
19. The Talented Mr. Ripley, Patricia Highsmith (1955)
Back in the mid-century, identity theft was accomplished the old-fashioned way: murder.
20. Lolita, Vladimir Nabokov (1955)
Darkness at the heart of the American experiment, coupled with the master's high verbal gloss over low deeds.
21. Peyton Place, Grace Metalious (1956)
Incest, abortion, and murder are awful — and awfully titillating. There's a reason this book sold for years.
22. My Family and Other Animals, Gerald Durrell (1956)
An achingly nostalgic nonfiction account of an eccentric English family's move to flowery Corfu.
23. To Kill a Mockingbird, Harper Lee (1960)
Whatever else it is, Lee's only (yes, only) novel is also the warm tale of a hot southern town.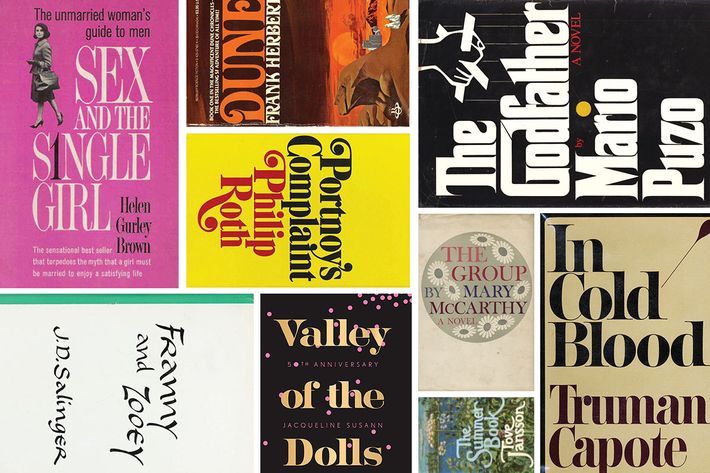 24. Franny and Zooey, J. D. Salinger (1961)
Two talky novellas combine to constitute Salinger's keenest look at the Glass family.
25. Sex and the Single Girl, Helen Gurley Brown (1962)
Brown's guide to not-quite-zipless extramarital sex is breezy and scandalous poolside fun.
26. The Group, Mary McCarthy (1963)
Before St. Elmo's Fire and hundreds of other sagas of college cliques coming of age, McCarthy did it best.
27. Dune, Frank Herbert (1965)
This blockbuster sci-fi novel has stayed exciting and relevant in a genre that dates easily. Watch out for sandworms.
28. In Cold Blood, Truman Capote (1966)
True crime came into its own with this dark, novelistic chronicle of the murder of a Kansas family in their own home.
29. Valley of the Dolls, Jacqueline Susann (1966)
A delirious roman à clef about dosing (and overdosing) on uppers, downers, and fame.
30. The Godfather, Mario Puzo (1969)
It may not be quite as good as the (first two) movies, but it remains a riveting crime-family epic.
31. Portnoy's Complaint, Philip Roth (1969)
The baddest of Roth's bad-boy books goes down as easily as … never mind. Let's not be lewd.
32. The Summer Book, Tove Jansson (1972)
A short novel about a girl and her grandmother together on an isolated island — warm and wise.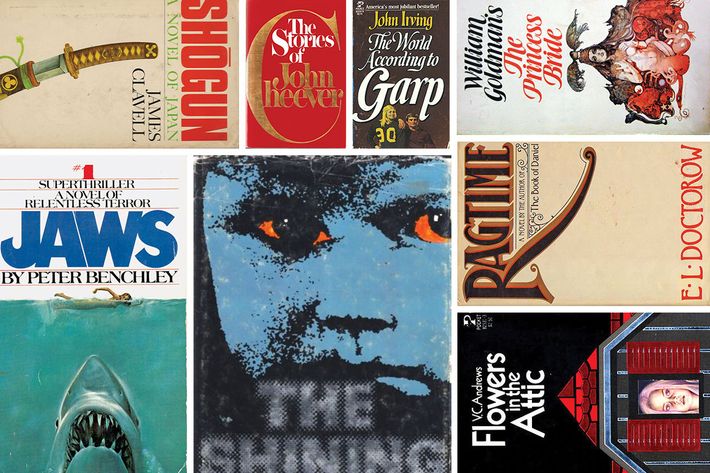 33. The Princess Bride, William Goldman (1973)
The book is so much more than the sum of its movie adaptation's catchphrases.
34. Jaws, Peter Benchley (1974)
For those of us who get a bit of a kick out of paranoia, Benchley's shocker is perfect for the shore.
35. Shogun, James Clavell (1975)
Finishing this historical behemoth about feudal Japan should earn you college credit, but summer school it's not.
36. Ragtime, E. L. Doctorow (1975)
Doctorow briskly tackles seemingly every shortcoming of America's attitudes toward class, race, and virtue.
37. The Shining, Stephen King (1977)
The prospect of being snowed in* with a murderous psychopath isn't quite as terrifying when the air around you feels like soup.
38. The Stories of John Cheever, John Cheever (1978)
Cheever's dark tales of suburbia are good with a poolside cocktail — the drier the better.
39. The World According to Garp, John Irving (1978)
The author's best-known work concerns a novelist and the singular feminist who raises him.
40. Flowers in the Attic, V. C. Andrews (1979)
Incest, child abuse, poisoning! A book so ridiculously dark it comes around to being light.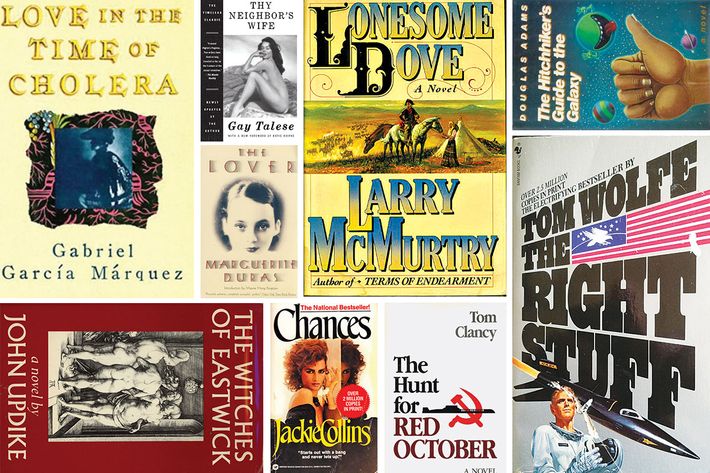 41. The Right Stuff, Tom Wolfe (1979)
Wolfe's account of the space program's first test pilots is the author at his best and most restrained.
42. The Hitchhiker's Guide to the Galaxy, Douglas Adams (1979)
A camp classic that's nerd heaven for anyone trying to avoid the volleyball game.
43. Chances, Jackie Collins (1981)
Set partly during the 1977 New York City blackout, this is the first and juiciest in Collins's Lucky Santangelo series.
44. Thy Neighbor's Wife, Gay Talese (1981)
Talese uses his own infidelity as occasion to jump into the deep end of American perversity.
45. The Hunt for Red October, Tom Clancy (1984)
All the high-stakes underwater drama could well make you nostalgic for the Cold War.
46. The Witches of Eastwick, John Updike (1984)
Updike was clearly having a ball in his story of suburban witches shacking up with a warlock.
47. Lonesome Dove, Larry McMurtry (1985)
The literary-tending novelist set out to write the Great American Cowboy Novel, and he largely succeeded.
48. Love in the Time of Cholera, Gabriel García Márquez (1985)
The magical-realist classic isn't light fare, but the doomed lovers at its heart are unforgettable.
49. The Lover, Marguerite Duras (1985)
Duras reverses the Orientalist paradigm; the teen girl is poor and French, her older paramour rich and Chinese.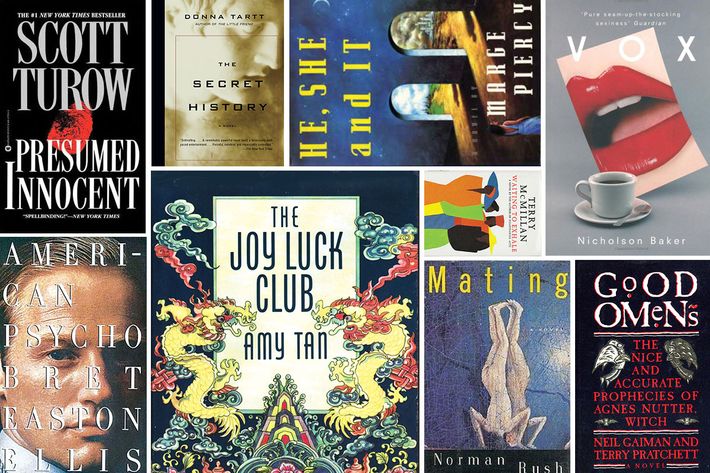 50. Presumed Innocent, Scott Turow (1987)
A legal thriller with a great twist, the lawyer-novelist's debut also has lingering psychological depth.
51. The Joy Luck Club, Amy Tan (1989)
A smash-hit immigrant novel structured as nested stories told around games of mah-jongg.
52. Good Omens, Terry Pratchett and Neil Gaiman (1990)
A collaborative fantasy comedy of errors about Baby Antichrist being given to the wrong parents.
53. Mating, Norman Rush (1991)
Few can write as deeply, beautifully, or sharply as Rush does about lovers and would-be world-savers.
54. American Psycho, Bret Easton Ellis (1991)
Granted, this is not an obvious beach read, but Ellis's Grand Guignol has aged better than expected.
55. He, She and It, Marge Piercy (1991)
Addictive post-apocalypticism in which humanity has retreated to corporate-run communities.
56. The Secret History, Donna Tartt (1992)
Even The Goldfinch can't match the intensity and intrigue of Tartt's debut, a college murder plot.
57. Vox, Nicholson Baker (1992)
Every fictional romance needs an obstacle between lovers, and here it's the alienating medium of the telephone.
58. Waiting to Exhale, Terry McMillan (1992)
Innovative for what it tells and shows about the friendships of black middle-class women.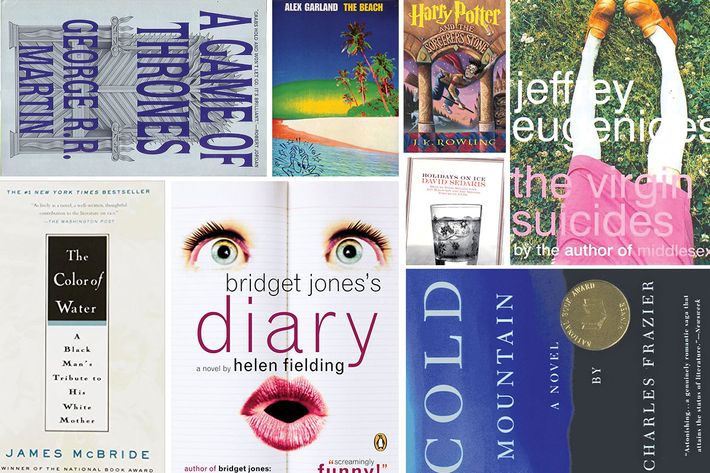 59. The Virgin Suicides, Jeffrey Eugenides (1993)
The meld of nostalgia, postindustrial malaise, and teenage noir is utterly unique.
60. The Color of Water, James McBride (1996)
This memoir, about McBride's mother's passing for black, is more than just a diverting family story.
61. Bridget Jones's Diary, Helen Fielding (1996)
All the cinematic hullabaloo can obscure just how cleverly Fielding transforms Pride and Prejudice.
62. A Game of Thrones, George R.R. Martin (1996)
Far larger, more detailed, and more brutal than what you've already seen on HBO.
63. The Beach, Alex Garland (1997)
Three backpackers find the last Thai beach untainted by tourism. In its place is a half-crazed cult.
64. Holidays on Ice, David Sedaris (1997)
Holidays is Sedaris's funniest collection, and its Christmas themes are good summer counterprogramming.
65. Cold Mountain, Charles Frazier (1997)
Like Homer's Odyssey set during the Civil War, with a lot more dialogue for Penelope.
66. Harry Potter and the Sorcerer's Stone, J. K. Rowling (1997)
See for yourself how Potter so successfully mainstreamed kid's lit for adults.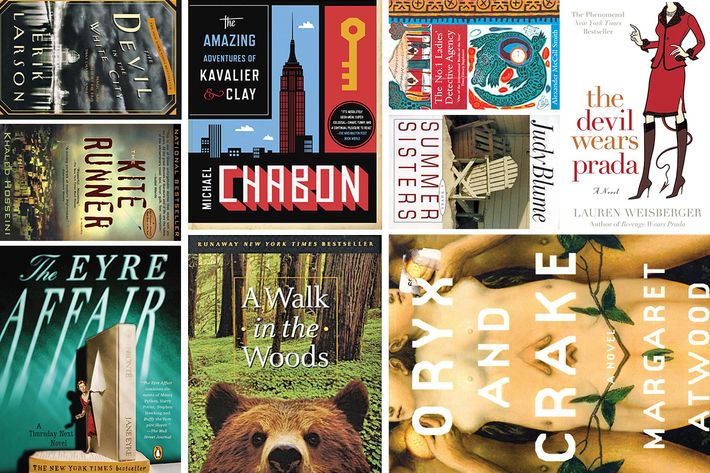 67. A Walk in the Woods, Bill Bryson (1998)
Nonfiction about (not) finishing the Appalachian Trail that's balanced between informative and fun.
68. Summer Sisters, Judy Blume (1998)
Blume's major foray into adult writing is intense and true about female friendship. Gossipy, too.
69. The No. 1 Ladies' Detective Agency, Alexander McCall Smith (1998)
The cozy British procedural takes a refreshing trip to Africa.
70. The Amazing Adventures of Kavalier & Clay, Michael Chabon (2000)
Masterful in its marriage of comic-book-style plot turns and lifelike characters.
71. The Eyre Affair, Jasper Fforde (2001)
No one was ever sure how to classify this wildly fun mash-up of thriller, dystopia, and geeky punning.
72. The Kite Runner, Khaled Hosseini (2003)
A best seller worth revisiting for its story about friendship and as a primer on the refugees of misbegotten wars.
73. The Devil in the White City, Erik Larson (2003)
The intertwined true stories of the 1893 Chicago World's Fair and the serial killer who exploited it.
74. The Devil Wears Prada, Lauren Weisberger (2003)
Divorced from Meryl Streep's iconic portrayal, Weisberger's faux Wintour is even more charismatic.
75. Oryx and Crake, Margaret Atwood (2003)
Atwood's fable of biological apocalypse takes the horrors of human engineering to terrifying and thrilling levels.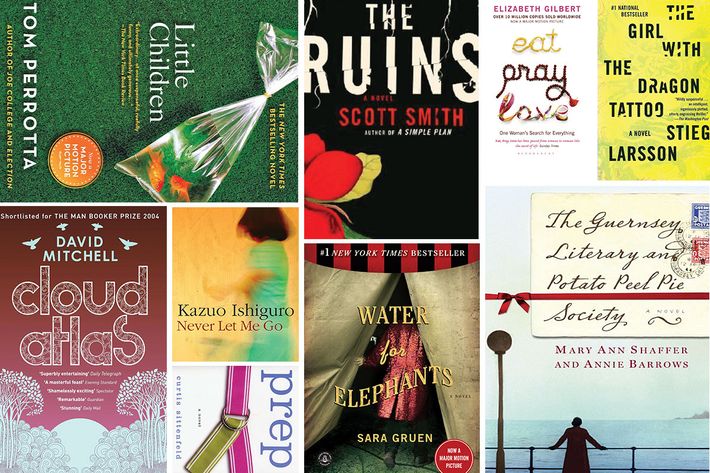 76. Cloud Atlas, David Mitchell (2004)
With an ingenious episodic structure and genre homages, it's six and a half near-perfect beach reads in one book.
77. Little Children, Tom Perrotta (2004)
This story of a doomed affair's consequences is told with irony, gentle wistfulness, and true erotic intensity.
78. Prep, Curtis Sittenfeld (2005)
A charming and wise debut about a New England scholarship kid that's touchingly specific and genuinely universal.
79. Never Let Me Go, Kazuo Ishiguro (2005)
Ishiguro's prep-school novel spirals in unexpected directions, with a wrenching revelation.
80. Water for Elephants, Sara Gruen (2006)
An immigrant orphan joins, then liberates, a circus in Gruen's panoramic book-club blockbuster.
81. The Ruins, Scott Smith (2006)
Killer vines attack! Smith isn't afraid of gore, but treats his premise with psychological acuity — a deadly combo.
82. Eat, Pray, Love, Elizabeth Gilbert (2006)
Gilbert's memoir has been co-opted by TED talkers, but she's a very good writer, with a strong insight-to-cheese ratio.
83. The Girl With the Dragon Tattoo, Stieg Larsson (2008)
The first and best of the Millennium series is equal parts horror story and legal procedural.
84. The Guernsey Literary and Potato Peel Society, Mary Ann Shaffer and Annie Barrows (2008)
An epistolary gem about post-Blitz England.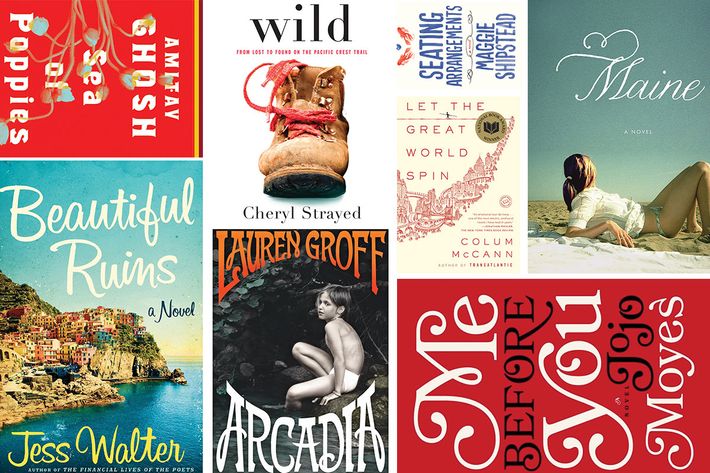 85. Sea of Poppies, Amitav Ghosh (2008)
The first book in Ghosh's trilogy about the opium trade is a pulpy swashbuckler disguised as a primer on globalism.
86. Let the Great World Spin, Colum McCann (2009)
It's hard to pull off a symphonic New York novel. McCann is writer enough to have perfected one.
87. Maine, J. Courtney Sullivan (2011)
A fractious Irish-Catholic clan convenes in the family's beachfront home and lets the (metaphorical) fireworks fly.
88. Seating Arrangements, Maggie Shipstead (2012)
Another New England family convenes, this one for a wedding. But Dad's got an eye for a bridesmaid.
89. Wild, Cheryl Strayed (2012)
This travelogue of a woman's solo hike across the Pacific Crest Trail is also the story of redemption by sheer force of will.
90. Me Before You, Jojo Moyes (2012)
A caregiver who hasn't truly lived meets a quadriplegic who doesn't want to; they have no choice but to save each other.
91. Arcadia, Lauren Groff (2012)
A polyamorous hippie commune produces its first child, Bit, who grows up ambivalent about the insular paradise.
92. Beautiful Ruins, Jess Walter (2012)
An artful matrix of locales and characters — the Italian Riviera, Hollywood — held together by melancholy.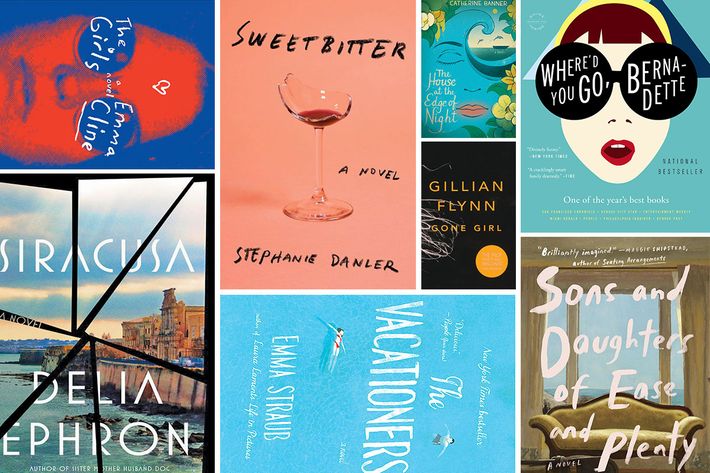 93. Gone Girl, Gillian Flynn (2012)
By this point you know what happened to Amy, but the pleasure is in the how and the why.
94. Where'd You Go, Bernadette?, Maria Semple (2012)
Gone Girl as social comedy; the mystery turns on the disappearance of a tech employee's wife.
95. The Vacationers, Emma Straub (2014)
A delicious vacation-hothouse scorcher, rife with adultery both contemplated and consummated.
96. Sweetbitter, Stephanie Danler (2016)
The author's fictional alter ego waitresses, snorts, and sleeps her way to something resembling understanding.
97. The Girls, Emma Cline (2016)
A retelling of the Manson-cult story focusing on the women, shot through with sensuality and sensation.
98. Sons and Daughters of Ease and Plenty, Ramona Ausubel (2016)
A wife and husband separately flee the family — leaving their small kids behind.
99. Siracusa, Delia Ephron (2016)
The ancient Sicilian town is a lovely and foreboding backdrop to Ephron's Rashomon-like novel.
100. The House at the Edge of Night, Catherine Banner (2016)
A hot-blooded family history set on a fictional Italian island.
*This article appears in the July 11, 2016 issue of New York Magazine.
*This post has been corrected to show that in the book version of The Shining, Jack Torrance does not freeze to death in the ice maze.