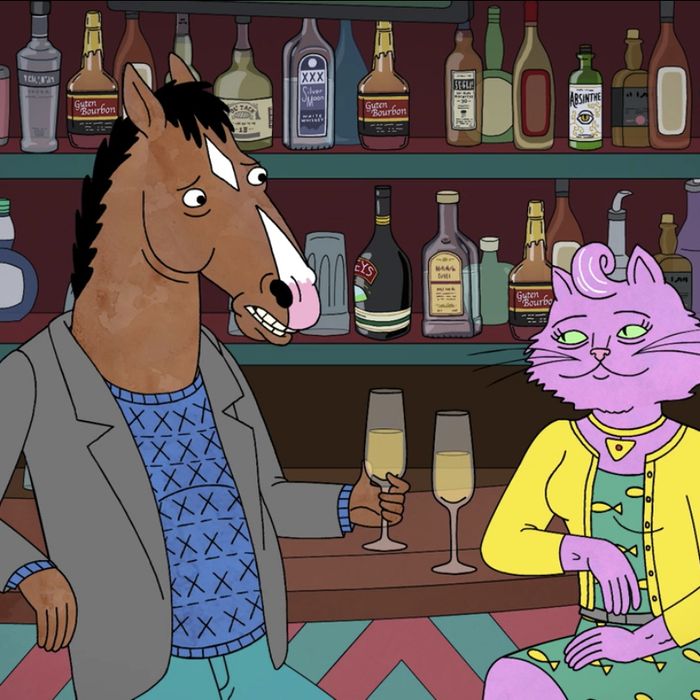 Will Arnett as BoJack, Amy Sedaris as Princess Carolyn.
Photo: Netflix
Nine episodes in, the third season of BoJack Horseman is less about plot (since BoJack can only go so far before the Oscars) and more about the quiet details shaping each relationship. It's a well-executed narrative choice, and it's completely earned. Few shows understand their characters or their interpersonal dynamics quite as well as BoJack Horseman does.
"Best Thing That Ever Happened" begins in 2007, the day after The BoJack Horseman Show flopped, and BoJack is a mess. After a day spent binging happy pills and pizza, he calls Princess Carolyn and gets a bit more romantic than he had before. Although she'd vowed to keep things professional, they end up sleeping together. Afterward, mostly whispered to herself as he's sleeping, she asks him not to break her heart.
In the present day, BoJack and Princess Carolyn meet at Elefante to talk about his potential offers, but they're quickly interrupted by Sandro, the manager who's run the place for years. A restaurant critic is in tonight, and Sandro's absolutely terrified of what she'll say. Brushing that aside, BoJack tells Princess Carolyn that he's "very disappointed" she managed to lose two huge projects, and fires her. Except Sandro thinks he's the one getting fired, so he storms off in a blaze of Italian stereotypes and malapropisms. Princess Carolyn rejects the idea of being fired, especially since BoJack done this so many times before, but he holds steadfast.
Princess Carolyn blames this sudden rejection on Ana Spanikopita. (I don't know why, but it feels weird to just type her first name.) She lays into him with a litany of everything she's wanted to say over the past 23 years, and insists that getting fired is the best thing that's ever happened to her.
BoJack is pulled into the kitchen, where he learns that almost every Elefante employee quit in protest of Sandro's firing … and the food critic has yet to get her dinner. In a pinch, he promotes the waiter to head chef. (Poor guy. He just wants to siiiiing.)
Princess Carolyn and BoJack have another argument, which leads BoJack to admit that he ruined Princess Carolyn's thirties. He confesses that he's not only firing her because of her professional failures, but also because of their relationship. Being around her makes him feel bad. When he reveals that Ana did play a role in the firing, that's when the literal claws come out. Princess Carolyn attacks BoJack in front of the whole restaurant, then he pulls her into the kitchen's fridge to continue arguing. They really dig into each other: Even when Princess Carolyn attempts to say 10 nice things about BoJack, he dismisses her every idea.
In the kitchen, the new chef struggles to preheat the oven, not to mention any other food-related task. When a donkey mom wanders back to complain about the slow service, he recruits her to be Elefante's new waiter. This episode really swings back and forth, doesn't it? One minute, it's a wacky sitcom farce. The next, it's Portnoy's Complaint.
Shivering in the fridge, Princess Carolyn admits that she doesn't regret any of the time she spent with BoJack, and that she did this to herself. BoJack suggests an instinctive flaw in her character: "Maybe if you're good at putting out fires, you just run from fire to fire." That's when, in a really fantastic joke, the chef flings open the door and tells them that everything is on fire.
The restaurant critic still hasn't been served, and she still wants her mushroom risotto. Princess Carolyn is the only one who knows how to make it, but she realizes that she doesn't know why she's still trying to help BoJack, so she walks away. Despite a remarkably appropriate song on her car radio, she doesn't get very far before her need to fix everything pulls her back to the restaurant. It turns out that her mom worked for a rich family that loved Italian food, but of course, BoJack doesn't remember the stories she told him about her childhood. Nor does he remember the first time they met. And really, he's ignored the fact that she brought herself up from nothing. He asks Princess Carolyn why she's an agent when it clearly makes her miserable, and she says it's because she's good at it. He says that isn't a good enough reason to do something. Then, he says he loves her as much as he's capable of loving anyone.
They deliver the risotto to the food critic, and it's good! But they still made her wait for two hours, so she's only going to give Elefante a rating of 412 out of one billion stars. It also turns out she's a Tumblr critic, so it doesn't really matter — even if she uses "scathing" GIFs in her review.
Princess Carolyn then recalls the second time she and BoJack met, when he was kind of an asshole to her. She tells him it's okay, because he acts that way to protect his heart. She asks him not to leave her. She asks him to give her just six months. She promises to never ask for anything ever again.
And he says no.
"Best Thing That Ever Happened" masterfully walks the tightrope between the unbelievable and the all-too-real, which is exactly what BoJack has always done at its best. It also establishes a critical turning point: BoJack is now without Princess Carolyn, and Princess Carolyn is now without BoJack. The entire show has hinged on their codependency, and now they'll have to function without each other. And at such a difficult stage in BoJack's career. It'll require a lot of growing pains, but I think this will force them both into healthier relationships. I certainly hope so.
Other Thoughts:
Mockumentary WAS already over in 2007. Thank you, BoJack!
"Now let us bow our heads and bray" is one of the silliest jokes that's made me laugh out loud.
The minor character I want to see again: The possum at the bar who asks for BoJack's sweater, closely followed by the fish in the bathroom stall.
"A sex mommy who also keeps her boundaries" is an apt description of what BoJack wants, and a role far too many women have had to play for the men in their lives.
"Keep driving, keep driving … Don't go back to the restaurant, Princess Carolyn, just keep driving away."
The donkey mom's constant delegation of power is so good. I'd watch a show about her family. Spin-off, maybe?