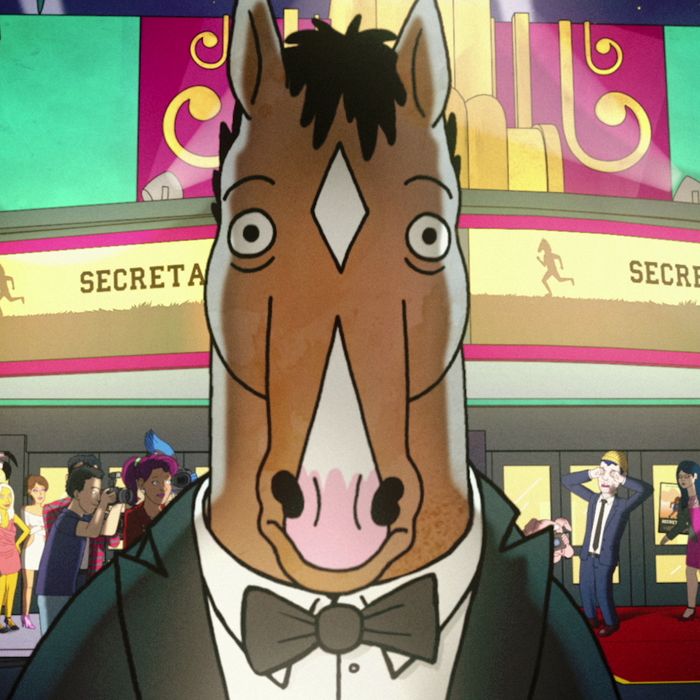 Will Arnett as BoJack Horseman.
Photo: Netflix
The BoJack Horseman of season three has everything he wanted: a hit movie, Oscar buzz, the renewed respect of Hollywoo(d). But this BoJack is a very different horseman than he once was. The things that once mattered to him don't matter anymore. He's finally made it, but it might be too late.
In "Start Spreading the News," we first see BoJack in the middle of a New York City press junket for Secretariat. Although "Oscar whisperer" Anna Spanakopita (Angela Bassett, never not a delight) is coaching him toward an Academy Award, BoJack is clearly experiencing guilt over the fact that he was replaced in Secretariat by a CGI facsimile. On top of that, Anna is pressuring him to distance himself from Horsin' Around, a show of which he remains proud, despite the pain it's caused over the years. But this time around, although obstacles still exist between BoJack and happiness, he's found slivers of redemption through the people who helped him see what's really important in life. Whether or not this recognition actually precipitates meaningful change will be the thrust of season three.
Meanwhile, Princess Carolyn is enjoying less complicated success at her busy new agency, where she has Diane writing copy for celebrities' social-media accounts. Running a solo operation has its downside, though, as she's so busy she can't give her clients enough individual attention. (Even J.D. Salinger walks out!) On a conference call with her biggest and most frustrating client, we hear Diane and Mr. Peanutbutter communicate like two people who have clearly spent some time in couples' counseling, even as Princess Carolyn tries to convince him to get back on the horse (as it were) after the cancellation of Hollywoo Stars and Celebrities: What Do They Know? Do They Know Things?? Let's Find Out! Mr. Peanutbutter doesn't seem particularly interested in getting back into the TV world, so he decides to reopen his ill-advised lifestyle brand, PB Livin'.
Back in New York, Todd has stowed away in BoJack's suitcase. Anna sends Todd on a mission to get ice down the hall to get him out of their hair, but he ends up getting lost on the labyrinthine hotel floor. BoJack goes to see The Tragedie of Greg Kinglear, a bizarre downtown show starring a marionette version of Greg Kinnear that's manipulated by an old friend of BoJack's, the spider thespian Jill Pill (the brilliant Mara Wilson, who I've admitted a bit of a bias towards). BoJack and Jill go out to dinner, where Jill tries to convince BoJack to stay in New York and do theater acting with her. She then questions why BoJack actually wants to win an Oscar. His answer: "So that I'll be remembered." Jill asks him to check on their mutual friend Cuddlywhiskers when he gets back to Hollywoo.
Later, BoJack gives an interview to Manatee Fair, and finds himself frustrated that everyone always asks him about what he's going to next. The interviewer ends up seducing him instead, and Anna Spanikopita listens in as BoJack flashes back to his illicit almost-tryst with Charlotte's daughter, Penny, then confesses that he's not really in Secretariat. In the morning, the manatee is gone — with a recording of the entire confession to boot — but Anna ominously reassures BoJack that she handled it. Still, BoJack realizes that he actually would have been relieved had the truth come out. After all, as Jill asked him, what would an Oscar really mean?
Anna tells him it would mean nothing — just one really good night.
Later, during a Q&A at a Secretariat screening, BoJack decides to play Anna's game and derides Horsin' Around. An Oscar may not actually mean he's a good actor, and it may not actually guarantee that he's be remembered, but to BoJack, one good night seems worth whatever he might have to do to get there.
And lest we forget: The season premiere finds Mr. Peanutbutter coming up with new venture ideas for PB Livin', Princess Carolyn agreeing to make her assistant Judah an agent, and Todd endlessly lost in the middle of the hotel. Even if these end up being important tendrils of season three, they are all eclipsed by BoJack's already upsetting arc. This season will be DARK, my friends. One episode in, and it's already teasing out some really big themes. It reminds of the poem that opens Jacqueline Susann's Valley of the Dolls:
"You've got to climb to the top of Mount Everest / to reach the Valley of the Dolls. / It's a brutal climb to reach that peak, / which so few have seen […] You stand there, waiting for / the rush of exhilaration / you thought you'd feel — but / it doesn't come. / You're too far away to hear the applause / and take your bows. / And there's no place left to climb."
Strap in, folks: BoJack Horseman is back, and there's no place left to climb.
Other Thoughts:
"As Carrie from Sex and the City might say — I'm Carrie!" and "Am I Sarah Koenig? Because I'm about to get cereal." Never change, Todd.
That "Cats in the Cradle" joke when Mr. Peanutbutter forces Oxnard to come work through PB Livin' ideas with him is phenomenal.
This episode is equal parts honest introspection and some of the goofiest gags ever seen on the show. That pigeon trying (and failing) to commit suicide may be the neatest summary yet of BoJack Horseman.
The opening sequence now features the Secretariat marquee, which adds just another layer of implied regret in BoJack's thousand-yard stare.